Angels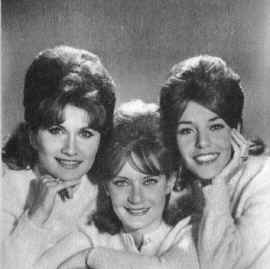 (left to right Peggy Santiglia,
Barbara Allbut, and Phyliss "Jiggs"Allbut)
The Angels were the most successful of the early Sixties girl groups.

Members:
Linda Jankowski - lead - replaced by Peggy Santiglia in 1962
Barbara Allbut
Phyllis " Jiggs" Allbut
The Angels were formed in Orange, New Jersey in 1961.
Originally sisters Barbara and Phyllis "Jiggs" Allbut, as a lark, went to a street corner record your voice outlet and sang a few songs they had written. Overheard by another songwriter, they were asked to sing on his demos. Soon they added friends, Linda Malzone and Bernadette Carroll and called themselves the Starlets.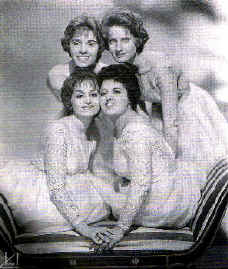 Starlets 1960
(clockwise from top left) Phyliss Allbut, Barbara Allbut, Lida Malzone, Bernadett Carroll
Originally called the Starlets, Barbara and Phyllis "Jiggs" Allbut were two sisters that sang together in high school. They recorded "P.S. I Love You" for Astro Records, a tiny New Jersey jazz label. They received airplay in the New Jersey-New York area and Canadian-American Records did the distribution. They also did "Better Tell Him No" for Pam Records. Neither which went anywhere. By mid-1961 Bernadette left for a solo career and was replaced Linda Jansen in doing vocal back-up work in New York.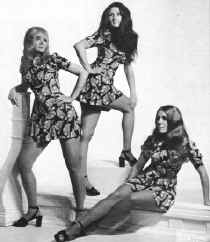 The Canadian-American connection led to a deal with Caprice, a small New York City label, by Gerry Granahan. Their first Caprice release in the summer of 1961 the girls was "Till," a Top 30 hit five years earlier for Roger Williams. After signing with Caprice Records, Jiggs dropped out of college and Barbara ended her studies at the Julliard School of Music. Shortly before the release of their first record "Till," to choose a name, each girl placed a name on a piece of paper in a hat. The name Blue Angels was drawn with Blue later being dropped. "Till" hit the charts in October 1961, rising to #14.
It was after their second release "Cry Baby Cry" (#38) that Linda Jansen left the group and was replaced by Peggy Santiglia, who had sung commercials and appeared on Broadway in Do Re Mi. Poor material haunted the Angels for the next year and in the spring of 1963 they found themselves without a contract. Then two things happened: they signed with Mercury Records and they came up with a song written by Jerry Goldstein, Rich Gottehrer, and Bobby Feldman. Already familiar with the Angels having produced producing the B side of their last Caprice single, Goldstein, Gottehrer, and Feldman convinced Mercury to let them produce the Angels on a song they had written. By late summer "My Boyfriends Back" was number one nationally on Mercury's Smash affiliate. It even reached number two on the R&B charts.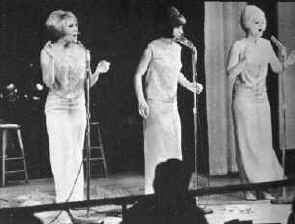 Their next release "I Adore Him" went to number twenty-five and the B side "Thank You and Good Night" became the sign-off theme on the Murray the K's WINS radio show in New York.
The Angels then went on tour in both America and Europe in 1964, performing with acts like Gerry and the Pacemakers. They also provided back up vocals for other singers, including Jackie Wilson and Lou Christie, continued to record, and did commercials until they signed with RCA in 1967. They broke up in 1969, then reformed in the early Seventies for rock and roll revival shows. Their last major label single was for Polydor Records in 1974, "Papa's Side of the Bed." They are still reportedly doing occasional oldies shows on the East Coast.