Beach Boys
| | | |
| --- | --- | --- |
| Al Jardine | Brian Wilson | Dennis Wilson |
"Sloop John B,'" a 1927 folk song , with Al Jardine went to number three on May 7, 1966.
It was followed by "Wouldn't It Be Nice" (#8). The flip side, "God Only Knows," though it only reached number thirty-nine, had the distinction of being called the greatest love song ever written by Paul McCartney.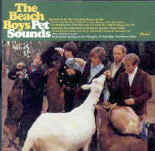 No longer touring, Brian Wilson concentrated on writing for the Beach Boys and using elaborate production techniques on the group's recordings. While the rest of the group was touring Brian began working on the Pet Sounds album, employing scores of studio musicians and utilizing advanced studio techniques. However, despite lush orchestral sound and songs such as "God Only Knows," "Wouldn't It Be Nice," "Caroline No," and "Sloop John B," Pet Sounds sold poorly compared to other releases.
Severely disappointed, Brian began work on the next album Smile. While working on this project Capitol Records released the Beach Boys next hit. It was a song that Brian and Mike wrote and Brian spent six months working on. The song recorded in seventeen different sessions in four Los Angeles studios and cost over sixteen thousand dollars, was "Good Vibration". Influenced by Phil Spector, Brian built a heavily overdubbed and echoed rock symphony that appealed to the public. complexities and all. On December 10. 1966 it reached number one. Meanwhile, Brian began behaving erratically as rumors of heavy drug use circulated. For whatever reason Smile was not released. Smiley Smile was released on the group's recently formed label, Brother Records, distributed by Capitol.

It took Capitol Records ten months to release the Beach Boy's next single "Heroes and Villains," a complex but less commercial record which reached number twelve.
Pulling out of a scheduled appearance at the Monterey International Pop Festival in June, 1967 The Beach Boys met Maharishi Mahesh Yogi In December. Their fascination with his transcendental meditation culminated with a near disastrous tour with him in the spring of 1968.
The group's next recordings were straight rock, "Wild Honey" (#31 1967), "Darlin'" (#19 1967), "Do It Again" (#20 1968), and "I Can Hear Music" (#24 1969.)
In the summer the Beach Boys recorded their last record for Capitol, "Break Away (#63 1969). They then signed with Warner Brother's Reprise label and charted May 7, 1970 with "Add Some Music to Your Day" (#64).
In the late 60s the Beach Boys imaged suffered as they were perceived as an oldies group in the midst of the progressive rock movement. That changed in 1970 when they appeared at the Big Sur Festival in North California, making fans out of the new hip rock crowd.
They solidified that status in February 1971, playing Carnegie Hall in New York to an overwhelming response and sharing billing with the Grateful Dead at the Fillmore East in April.
In 1972 Dennis was sidelined after he injured his hand because of a windowpane mishap. Bruce Johnson left for a solo career. They were replaced by Rick Fataar and Blondie Chaplin of the South African group Flame.
Meanwhile, their Warner Brothers records weren't as high quality as their Capitol sides. A reissue by Capitol of "Surfin' U.S.A". in the summer of 1974, reached #6, higher than any of the six singles they had done for Warner Brothers. The Warner Brothers material was getting more creative input from the group and less from Brian. Brian returned to produce the 15 Big Ones album. The album included "Rock and Roll Music" that brought the group back to the top five for the first time in ten years. The album contained mostly oldies and hit number eight.
By now Dennis was back and Fataar and Chaplin were out.
That year the Beach Boys sang back up for Chicago's hit "Wishing You Were Here" (#11).
In 1977, the Beach Boys signed with Caribou records and by 1979 charted with a disco flavored remake of "Here Comes the Night" (#44) originally on their Wild Honey album.
Johnson rejoined the group in 1979. On July 4, 1980 the Beach Boys played a free concert in Washington, D.C. before a half million people, which became an annual event through the eighties.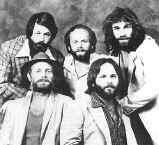 Mike Love became the front man for The Beach Boys during the '80s, as Brian Wilson began a rehabilitation program under therapist Eugene Lundy between 1985 and 1988.
In December 1983, Dennis Wilson drowned while swimming alongside of his boat at Marina Del Ray Harbor in Los Angeles, an ironic twist of fate for the only actual surfing Beach Boy.
In 1985 the Beach Boys recorded their best original record since the early days. With Mike Love on lead and Brian's strong falsetto "Getcha Back" and its harmony right out of the Mystics "Hushabye," reached number twenty-six.. Next came "Rock and Roll to the Rescue (#68 1986) and a remake of the Mama and Papa's "California Dreamin'" (#57 1986).
The Beach Boys performed at Ronald Reagan's Inaugural in January 1985 and Live Aid the following July. In 1987 they had a major hit with a remake of the surf classic "Wipeout," recorded with the Fat Boys rap group.
In 1988, the Beach Boys had a number one hit with the Jamaica-rhythm "Kokomo," from the film Cocktail, with Mike on the lead.


Carnie, Brian, and Wendy Wilson
By 1988, Brian Wilson's daughters Carnie and Wendy had formed the vocal group Wilson Phillips with Chynna Phillips, oldest daughter of John and Michelle Phillips of The Mamas and the Papas. Their debut album produced five hits, including "Hold On," "Release Me," and "You're In Love." By 1993 Wilson Phillips had disbanded. Carnie and Wendy Wilson soon recorded the Christmas album Hey! Santa and later recorded as The Wilsons for Mercury Records.
An amazing barometer of their appeal is that between 1961 and 1981 they were only off the charts two years, 1972 and 1979.
The Beach Boys were inducted into the Rock and Roll Hall of Fame in 1988.
BEACH BOYS Fan Club
4860 San Jacinto Cir., #F,
Fallbrook, CA 92028