Carole Klein was born February 1942, the daughter of a firefighter and school teacher. King with perfect pitch began playing the piano at four. While attending James Madison High School, she along with other female students formed a group called the Co-Sines.
In her freshman year, Klein played piano in the annual Madison Sing as classes competed in elaborate musical productions. By her senior year Klein had released her first single on ABC-Paramount Records as Carole King.
After graduation she enrolled in Queens College intending to become a school teacher. During this time Klein recorded several demos with her classmate Paul Simon for which they were paid $25 apiece. King played piano and drums, Simon guitar and bass. One demo Just To Be With You became a minor hit for the Passions.
During the spring semester of her freshman year, King was introduced to Gerry Goffin while at the student lounge. Goffin three years older than King was looking for someone to write lyrics for a musical he was writing based on a novel by Julian Halevy. King took a look, said she wasn't interested and added "You know, I write rock 'n' roll songs" but allowed Goffin drive her home. Soon she was writing songs for his musical, he writing lyrics for her songs.
Gerald Goffin was born February 11, 1939 in Jamaica Queens, his father a salesman and mother a housewife. When Goffin was five his mother divorced his father and moved in with her parents. His grandfather, a Russian Jew, was a furrier who Goffin worked for in the basement earning 75 cents an hour.
It was Goffin's father that originally exposed him to Broadway musicals when he occasionally took him to Rodgers and Hammerstein musicals. By the time he was eight he was writing lyrics.
Goffin graduated from Brooklyn Tech, an elite all boys high school, concentrating on on math and science after which he attended Queens College.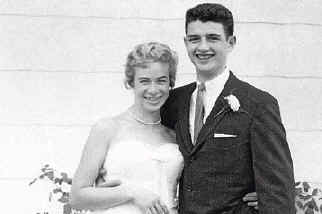 As Goffin got to know King better he began listening to Chuck Berry, Little Richard and Jerry Lee Lewis leading to a rock and roll romance. In the summer of 1959 King became pregnant with the pair marrying in August, then moving into a Flatbush basement apartment. Later they would move to 2635 Brown Street in Sheepshead Bay not far from King's parents' apartment. Dropping out of college she worked as a secretary until late in her pregnancy, while Goffin tested polymers and epoxies at a chemical plant.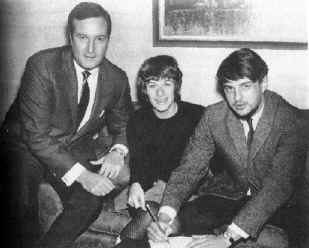 Don Kirshner, Carole King, Gerry Goffin circa 1964
Photo courtesy Photofest
In the evenings Goffin and King began writing songs. Finances were a powerful incentive to collaborate - all the more after their daughter Louise birth born March 23, 1960. The couple shared an instinct for classic pop song construction, but it was Carole's lifelong desire for a career in music that convinced Gerry to give it a try. High school friend Neil Sedaka got them an audition with Don Kirshner, Kirshner offered a guaranteed advance against royalties of $1000 a year, to be doubled if Aldon renewed the deal for a second year and tripled it if for a third. The rest is history.
Their songs were always impeccably structured. Their music was for teens and dealt with themes of love, rejection, and jealously and teenagers dealing with them on their own terms. Carole's heart tugging melodies and Gerry's lyrics captured the tone and the vernacular of their audience's inner experiences with uncanny accuracy.
Carole had a gift for arrangement, knowing how to build a song to the hook through subtle chord manipulation and instrumental counterpoint. To help sell her songs, she began low cost demos to demonstrate her ideas to the producers . These demos were so good that often the producer only had to copy them with the proper instrumentation to have a hit record.
One night in the fall, King after returning from play mah-jongg, Goffin bowling they found a note from Kirshner that saying he needed a lyric by the next day for the Shirelles. Goffin immediately began writing and King composing, The result was "Will You Still Love Me Tomorrow." In January, 1961, "Will You Still Love Me Tomorrow" became the first song by a female group to reach #1 on the pop charts since the McGuirre Sisters in 1958, and first ever for a black woman group.
Kirshner soon realizing that he had begun increasing King's production jobs in addition to first chance at every hit to be written. With Sedaka busy with his singing career, Goffin & King were Aldon Music's only bankable asset until Mann & Weil came along in late 1961. A few months later Don Kirshner, head of Aldon Music, rewarded King with the release of "It Might as Well Rain Until September" under her name, instead of it being given to Bobby Vee as planned. "It Might as Well Rain Until September" reached #22 on the charts.
Kirshner decided that Goffin & King were capable of running a record label and put them in charge of Dimension Records. For over a year they had a more consistent track record than any of its competition, including Phil Spector's Philles Records. The label was sold in mid-63 as part of Kirshner's deal with Screen Gems and continued for another few years.. Goffin & King were assigned to bolster the careers of Screen Gems mediocre rooster while taking care of Kirshner's clients. By 1964 they had come up with another twenty three hits, but their best work was behind them and the British Invasion had begun.
However Goffin & King were heroes to these English groups. The Beatles recorded "Chains" and McCartney was quoted as saying he wished he could write as well. On their first U.S. tour meeting them was a priority. The Beatles were not the only British band that felt that way.
They with Phil Spector wrote for the Righteous Brothers, and while continuing to write for other artists, with an increasing amount of the songs being rhythm and blues or soul. By 1965, their talents were becoming less important as groups like the Byrds, The Young Rascals, and the Beach Boys, set the tone for other upcoming artists who wrote their own material.
Kirshner responded to the changing times with a renewed faith in simple music, now targeted the new generation to young to be smoking pot and protesting on campus. The Monkees were an instant sensation and Kirshner turned to Goffin & King who gave him "Pleasant Valley Sunday." By 1967 Goffin & Kings marriage was crumbling due to creative disenchantment, internal pressures, and the times. They were divorced with King moving to California where she started a group called The City and came into her own as a performer on Lou Adler's Ode label. Though they since had written together, when King found her solo niche, the Goffin & King team had ended.
Goffin went on to write two number one somgs with Michael Masser: Diana Ross's Theme from Mahogany (Do You Where You're Going To) in 1967 and Whitney Hoston's Saving All My Love For You in 1985, as well as Top Ten Hits for Gladys Knight and the Pips and the Partridge Family.
Carole King and Gerry Goffin were inducted into the Rock and Hall of Fame in 1990
Carole King