Cathy Jean and the Roommates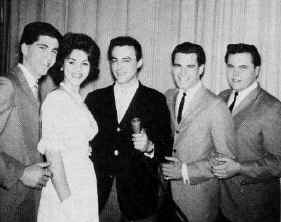 Thanks to the hit "Please Love Me Forever," Cathy Jean and the Roommates were perceived as friends. The truth was that the Roommates and Cathy Jean recorded "Please Love Me Forever" without ever meeting each other.

Members:
Cathy Jean Giordano
Jack Carlso - tenor
Felix Alverez - first tenor
Steve Susskind - baritone
Bob Minsky - bass
From Kew Gardens, Queens New York, the Roommates were fifteen year old Steve Susskind and Bob Minsky of Russell Sage Junior High. Susskind originally sang with a local quartet called the Sparklers, but in 1959 he and Minsky became a duo. Later that year they took second place at a Forest Hills High School competition losing to Tom and Jerry who would later become Simon and Garfunkel.
Deciding to become a group several members came and went until the 1960 members included Steve Susskind (lead), Jack Carlson (first tenor and falsetto), Felix Alvarez (second tenor) and Bob Minsky (bass).
The group practiced after school and began writing songs. Realizing the songs weren't good enough they began going through their 45s to find workable material coming up with "One Summer Night" and "The Glory of Love." The group often sang in the lobby of the Forest Hills apartment building where Jody Malis lived. Malis was the record librarian at WMGM radio, which had one of the nation's first top 40 formats. Along with her husband Gene she signed them to a management contract.
The Roommates first single was a country hit from the '50s "Making Believe". "Making Believe " received some airplay, but soon disappeared.
On May 3, 1960 the Malis' recorded another new single for their recently established Valmor label. The singer, fourteen year old Cathy Jean Giordano, recorded the ballad "Please Love Me Forever." Feeling that something was missing the Roommates were brought in and overdubbed the harmony parts. Cathy Jean had already left the studio by the time the Roommates recorded so they never met her. Feeling that if they had a hit they would have two acts, the Malis' credited both on the label.
"Please Love Me Forever" won Murray the K's Boss record of the Week on WINS in New York City in late 1960. On February 27th it entered the Billboard Hot 100 and by April it was at number twelve, reaching number two in New York. None of Cathy's follow-ups sold many copies.
As a reward for their part in "Please Love Me Forever" The Malises gave the Roommates a free session at the Regent Sound Studio. That night, November 25, 1960 they recorded "Band of Gold," "Glory of Love," and "My Foolish Heart." "Glory of Love" entered the charts and rose to #49. "Band of Gold," made it into the top twenty in New York, but failed to chart nationally for a technical reason.
Before Valmor Records closed down in 1962 a Cathy and the Roommates album was issued. George Rodriguez was added to the Roommates. Versions of "Gee" and "A Sunday Kind of Love" were recorded, but no one was buying. In the spring of 1965 the Roommates disbanded. Jody Malis later wrote and produced recordings for the children's labels Peter Pan and Golden Records
Cathy later got married and quit the business. With her children grown Cathy is back. As Cathy Jean Ruiz she sings with a new version of the Roommates and has hosted a Saturday morning talk show on WNYG in Long Island, NY.
1n 1991, Cathy recorded her first single in thirty years. "You Don't Have To Say You Love Me" was released by Cure Records a New York label.
As for the Roomates, Steve Susskind enjoyed success as a character actor, appearing in Friday the 13th: 3D and Star Trek V: The Voyage Home -- he was killed in an automobile accident on January 21, 2005. After battling cancer, Bob Minsky died on August 25, 2006.