Chantels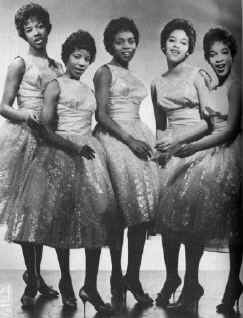 (L to R) Arlene Smith, Lois Harris, Renne Minus, Sonia Goring, Jackie Landary
Considered by many to have been the best of the girl groups, the Chantels were one of the first female R&B vocal groups to have nationwide success.

Members:
1957-1959 1961-1962 1963-1964 1965-66
Arlene Smith, Lead Annette Smith, Lead Sandra Dawn, Lead Renee Minus, Lead
Louis Harris, First Soprano Sonia Goring Sandra Goring Sonia Goring
Sonia Goring, Second Soprano Jackie Landry Jackie Landry Jackie Landry
Jackie Landry, First Alto Renee Minus Renee Minus Helen Liebowitz (Powell
Rene Minus, Second Alto/Bass

Arlene Smith (lead), Lois Harris (first tenor), Sonia Goring (second tenor), Jackie Landry (second alto), and Rene Minus began their musical journey in their preteens while attending choir practice at St. Anthony of Padua school in the Bronx. By 1957, they had been singing together for more than seven years. A staple of their diet was Gregorian chants taught to such perfection that changing notes and parts were second nature.
Unlike their male counterparts, girls weren't able to "hangout" on street corners at all hours practicing. So in 1957 much of their practice took place in the girl's lockeroom at St. Anthony's. Arlene Smith was a member of the girl's basketball team and, win or lose, the group would sing after every game.
Smith who had been trained as a classical singer had performed solo at Carnegie Hall when she was twelve. All the girls had sung in the choir where classical music was interspersed with Latin hymns. Their ages ranged between thirteen and sixteen.
The Chantels began doing talent shows with the Sequins and the Crows at the P.S. 60 Community Center and St. Augustine's church. That same year their school team played St. Francis de Chantelle. One of the girls suggested that they end their seach for a group name by calling themselves the Chantelles. It soon became the Chantels.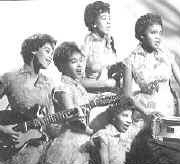 The strength of the group apart from its vocal presence was the writing ability of lead singer Arlene Smith. There weren't many girl groups in the mid-50s and even less that wrote their own material. Arlene contributed both words and music, and the combination of her classical and gospel background with simple yet poignant lyrics made her more successful at sixteen then she could have possibly imagined. Her first song "He's Gone" was written about a boyfriend while she was practicing piano.
Legend has it the Chantels were on the second floor of the Broadway Building on Broadway and 53rd when the Valentines passed underneath the window. The girls recognized them from an Alan Freed performance and went down to ask for their autographs. During the conversation it was mentioned that the girls were a singing group. Producer /writer/ arranger and Valentines' lead Richard Barrett asked them to sing right there under the Broadway Theatre marquee. Floored at the sound of the girls singing a hymn, and with his leaning to rhythm and blue, perhaps he wondered how they would sound sound singing that music. He took their phone number.
The girls were thrilled at Barett's interest as they knew that he was George Goldner's , owner of Gee and Roulette Records, right hand man. Ironically, they had tried to sing for Goldner only a few weeks before, but he hadn't been in when they showed up to audition at Gee Records 42nd street office.
Several weeks passed without a call from Barett. Not being timid, Jackie Landry told a friend of hers in the Teen Chords of their encounter and he gave her Barrett's address. The Chantels dropped by to see Barrett and reminded him of their meeting. Barrett wasted no time in setting up a rehearsal, meeting the group's mothers, and arranging the Chantel's first two songs, the Arlene Smith compositions "The Plea" and "He's Gone."
By early summer of 1957 the Chantels were signed to Goldner's End label which he had just formed after selling Roulette/Rama/Gee. In fact, the Chantels' first single was the second release on the label that was to be the future home of Little Anthony and the Imperials, Frankie Lymon and the Teenagers, and The Bobbettes.
The Chantels' first single "He's Gone," was released in August 1957. From the four part a capella chime harmony intro topped by Arlene's floating falsetto to its duplicate ending, "He's Gone" instantly set a new standard of quality for female group recording. By September 30, the record was on the Billboard national Top 100 charts but inexplicably stopped at number 71. This record charted only seven weeks after Bobbettes hit the top 100 with their first release "Mr. Lee." Ironically, these two trend setting groups of the 50s only lived a few mile apart.
The Chantels first live performance was at a Jocko show at the Apollo Theatre (Jocko was a legendary New York disc jockey at the time) in which the group was not even on the bill. Richard Barrett brought them on stage and waited for Jocko to present them. The Chantels wowed the audience with "He's Gone."
The next recording session, on October 16, 1957 was scheduled not at a regular recording studio, but a refurbished church in midtown Manhattan, apparently for its acoustics. Barrett played the piano along with the supportive bass and drums for the Chantels recording of Arlene Smith's "Maybe." Released in December; by January 20, 1958, it was climbing the pop charts and a week later the rhythm and blues charts. "Maybe" reached number 15 Pop and number two R&B by late winter. Interestingly, though not unusual for the time, the original records writer credit s read Casey and Goldner. Later issues and reissues had Arlene Smith and Goldner. As recently as 1987 a Chantels compilation on a Murray Hill three LP set with "Maybe" listed as being written by R. Barrett.
Two days after "Maybe" hit the pop charts the group was recording again. Barrett was devoting his attention to the Chantels, even dropping his own group the Valentines by the summer of 1957. On January 22, 1958 a recording session was held that generated five sides, all eventually released on singles or EPS.
The Chantels' third single for End was " Every Night (I Pray)," another gem that sounded like Arlene's writing style, although it showed Goldner's name on the record. "Every Night" hit the pop charts on March 31, 1958, and reached number 39 pop and number 16 R&B.
That spring the Chantels became the first female rhythm and blues group to release an EP: it included, "Sure of Love," "Prayee," "I Love You So," and "How Could You Call It Off." The later two became the Chantels' fourth single in April "I Love You So" became the first non-Arlene Smith composition to be released as an A side. It was written by Watkins and Davis, the latter a member of the Crows.
"I Love You So" was another perfect Chantels confection (#42 pop, #14 R&B), but it would turn out to be their last hit on End. After "I Love You So" End released a second EP, an unprecedented move for an act that had only released four singles. This honor was usually reserved for acts like the Clovers and Coasters that had been having hits for years. Three singles followed and failed.
The success of Little Anthony and the Imperials kept End Records preoccupied in late 1958 and 1959, the result being less promotional support for the Chantels. End stood to earn more from a touring group of male vocalists than five high school girls still tied to their parents. Although the Chantels were one of the first female vocal groups of the rock era to have an album released under their own name, they were dropped by End in April 1959.
Arlene Smith now decided to go solo. Chantel records continued being released with Richard Barrett on lead and by Gone Records an affiliate of End. In May 1959 "Come Softly to Me" was released and quickly failed. In July of 1959 "Summer's Love" was released and read Richard Barrett and the Chantels. Recorded in late 1958, the ballad had all the makings of a hit, but only went to #93 pop (#29 R&B). Over the years it would show up on three different labels with three distinctively different background vocal arrangements.
In 1960 Barrett started his own label and recorded a new girl group similar to the Chantels called the Veneers. Their release "I" went unnoticed, but helped him solve his Chantel problem by matching the Venners' lead singer Annette Smith with the three remaining Chantels. In April 1960 trying to capitalize on the name End released "Whoever You Are". It had all of the original Chantel magic, but lacked the full commitment of the label.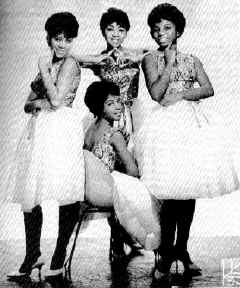 Chantels 1961
(Standing L-R) Sonia Goring, Annette Smith, Renee Minus (seated), Jackie Landry
In the Summer of 1961 Barrett took the Chantels to Carlton Records.Their first release on Carlton "Look in My Eyes" went all the way to #14 on the pop charts (#6 R&B). The ballad was reminiscent of the Chantels early records and only the most discerning ear could tell that Anette had replaced Arlene.
With the Chantels on the rise End released an album of canned tracks. By 1962 Carlton released their own album called The Chantels on Tour. The album contained their second Carlton single "Well I Told You, an answer to Ray Charles' number one record "Hit the Road Jack". The song was the Chantels' first up-tempo single an reached #29 Pop by December 1961.
This was the Chantels last big record. One more single for Carlton "Summertime" and they moved to Ludix Records.
The Chantels' first Ludix release was "Eternally" and was produced by Richard Barrett. This was the third time in six years that their initial release on a label had charted. Still there were more records coming out and failing then succeeding. The moved to a number labels before they disbanded in 1970. The public had become oblivious to fine harmonies and melodic ballads, now favoring records with a harder edge.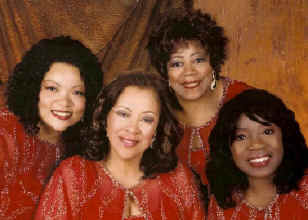 Chantels 2013: (L-R) Ami Ortez, Sonia Goring, Lois, Renee Minus
The following is of 2013:
Louis Harris Powell is currently a Nurse Practioner in Psychiarty. In 1972, Jackie Laundry became a court reporter and teacher of court reporting in White Plains, New York, until her death from breast cancer 1997. Sonia Goring was briefly a member of The Three Degrees andis a retired school teacher. Renee Minus White is the fashion and beauty editor for Harlem"s Amsterdam News. and licsensed realtor. Annette Smith lives in Manhatta, where she designs her own jewelry and clothing. Arlene Smith taught elementary school in The Bronx until her retirerment
In 1973 Arlene Smith reformed the Chantels with newcomers Barbara Murray and Pauline Moore for some oldies shows. By the early 80s Sonia Goring, Lois Harris, Rene Minus, and Jackie Landry were all married and living in the New York area. Arlene became a elementary school teacher in the Bronx. She is presently highly involved in her work in the black community, both as as a singer and teacher.
Jackie Landry died from breast cancer December 23, 1997, she was 56.