Donays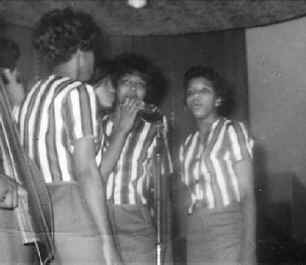 The Donays made just one single, and that record -- though a very good girl group/pop disc -- would likely be totally forgotten today if not for one stroke of chance. The record was "Devil in His Heart," and the stroke of chance was the Beatles somehow finding it and covering it.

Members:
Yvonne Allen aka Yvonne Vernee - lead
During the peak years of the girl group era, usually 1961-1966, many obscure groups came and went from the music scene with very little notice. Although these groups recorded many great songs which, in hindsight, should have been classics. One group which could have been just another statistic actually played a part in a rock and roll revolution.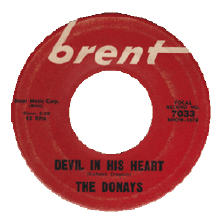 The Donays, featuring lead vocalist Yvonne Allen (aka Yvonne Vernee) recorded a two sided single in 1961 titled "Devil In His Heart b/w Bad Boy." Although it definitely sounds as though it was recorded in Detroit by members of the Funk Brothers (the Motown house band), some historians claim it was actually created in Los Angeles. The result was a beautiful example of early girl pop. The song did not stir much interest in the record buying public, and the group split up soon afterward.

The single, with "Bad Boy" on the B-side, was produced in Detroit by Richard "Popcorn" Wylie, who had recorded for Motown. "Devil in His Heart" was indeed reminiscent of some of Motown's early-'60s girl group-flavored tracks, as well as of the Shirelles. But it was quite strong on its own merits, with an outstanding melody that owed debts to Latin music in its riffs and rhythms. It was strong enough to be a hit, but it wasn't, although it was picked up by Brent Records in New York and did well in Michigan. How it made its way across the ocean and into the hands of the Beatles is a mystery; perhaps George Harrison was the one who found it, as he sang lead. The Beatles changed the title to "Devil in Her Heart," and transformed it into a pounding rocker with great call-response backup vocals and imaginative guitar flourishes. While their version is superior, it doesn't diminish the class of the Donays' original, which had a slightly slower tempo, strong
harmonies, and more soul-pop-oriented production.

Yvonne went on to record a few rare solo numbers, but the Donays soon found themselves back in the spotlight when the Beatles cut the top-side of their sole single for their first album. "Devil In Her Heart," as it was now called, gained a wide audience as the Beatles soon became house-hold names. The Donays did not reunite or tour to promote their original version, however, and Allen soon found her way to Motown. She replaced Saundra Mallet as lead voice in the Elgins, and has stayed with that group ever since.