The Rivingtons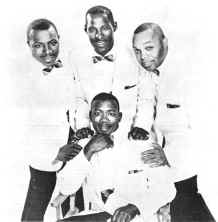 Clockwise from left: Carl White, Rocky Wilson Jr., Al Frazier, Sonny Harris
The Rivingtons were a Southern California vocal quartet of the early 60s that hit big with two novelty records.

Members:
Carl White - lead
John "Sonny" Harris
Al Frazier
Rocky Wilson - bass
The Rivingtons were a West Coast vocal group featuring Al Frazier, Carl White, John "Sonny" Harris, and Turner "Rocky" Wilson Jr. Though they are best known for their string of early-'60s novelties, The Rivingtons in reality had a rich tradition of doo-wop in their background, going back to their original recordings for Federal as The Lamplighters in 1953. They did extensive backup group work throughout the '50s between their own stray releases under a number of different names; The Sharps (singing on the original "Little Bitty Pretty One" and "Over and Over" by Thurston Harris), the Tenderfoots, The Rebels (they do all the backups on the Duane Eddy hits), The Four After Fives, The Crenshaws. They even sang backup on Paul Anka's first record, credited as the Jacks! In 1962 they became The Rivingtons and hit pay dirt with their first record, the self-penned "Pa Pa Ooh Mow Mow," one of the truly great rock & roll songs to make a virtue of sheer gibberish. They hit the charts again a year later with "The Bird's the Word," capitalizing on a current West Coast dance fad that teenagers were doing to "Pa Pa Ooh Mow Mow." A landlocked surf-teen combo from Minnesota called The Trashmen combined the two songs, revved up the beat to warp factor nine, and scored a massive hit with "Surfin' Bird." Despite no further chart success, their place in rock & roll history (both for the classic performances they recorded and for being the inspiration behind one of the great noise-rock anthems of all time) is assured. ~ Cub Koda, All-Music Guide
Norman Fox and the Rob Roys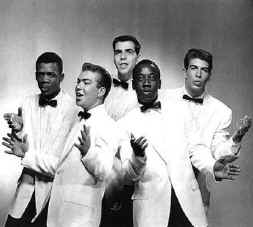 Members:
Norman Fox - lead
Bobby Thotman - first tenor
Andre Lilly - second tenor
Bob Thierer - baritone
Marshall "Buzzy" Helfand - bass - replaced by Paul Schneller 1959
A rock 'n' roll vocal group from Manhattan, New York City, New York, USA, who had one hit song, 'Tell Me Why' (1957). Members came from Dewitt Clinton High School and were Norm Fox (lead tenor), Bobby Troutman (tenor), Andre Lilly (second tenor), Bobby Thierer (baritone) and Buzz Halfan (bass). The group surprisingly recorded on a Houston, Texas imprint, Backbeat, a subsidiary of Don Robey's Duke label. A follow-up, 'Dance Girl Dance', met with no success upon its release in 1958. One more recording for Hammer (later on Capitol) in 1959, 'Pizza Pie', likewise failed to find an audience and the group not long after
broke up. In the late 80s, Fox and Thierer re-formed the Rob-Roys with three new members and recorded some a cappella sides for the Starlight label.
A rock 'n' roll vocal group from Manhattan, New York City, New York, USA, who had one hit song, 'Tell Me Why' (1957). Members came from Dewitt Clinton High School and were Norm Fox (lead tenor), Bobby Troutman (tenor), Andre Lilly (second tenor), Bobby Thierer (baritone) and Buzz Halfan (bass). The group surprisingly recorded on a Houston, Texas imprint, Backbeat, a subsidiary of Don Robey's Duke label. A follow-up, 'Dance Girl Dance', met with no success upon its release in 1958. One more recording for Hammer (later on Capitol) in 1959, 'Pizza Pie', likewise failed to find an audience and the group not long after
broke up. In the late 80s, Fox and Thierer re-formed the Rob-Roys with three new members and recorded some a cappella sides for the Starlight label.

The group formed in New York in 1956, and were one of the few interracial groups recording at this time. The group takes its name from the Rob Roy cocktail. The members of the group were Norman Fox (lead), Bob Trotman (first tenor), Andre Lilly (second tenor), Robert Thierer (baritone), and Marshall "Buzzy" Helfand (bass). The group signed to the Backbeat label, a subsidiary of Duke/Peacock in 1957, and recorded three singles, generally upbeat doo-wop tracks: "Tell Me Why", "Lover Doll", and "Dance Girl Dance".[1]

The group then signed to Capitol Records in 1958. Helfand left the group at this time, and was replaced by new bass Paul Schneller. One single was recorded, "Pizza Pie", but it was not released as the group was still under contract to Backbeat. After they released enough singles to fulfill their contract, Capitol declined to release it. After recording two unissued singles for Time Records, the group split in 1963.[1]

The group reunited for a show in 1971, with Fox, Trotman, Lilly, and Thierer. After another gap, the group returned in 1986 with Fox, Thierer, Stuart Morgan (first tenor; he'd toured with a Drifters group and performed with The Channels in the late 1990s-early 2000s), Alex Augustine[2] (second tenor; former member of The Charts), and Leon McClain (bass, of The Quinns). In the early 90s, the group recorded several a cappella tracks for multiple Starlight Records compilation
albums. Some featured Norman's daughter Kim on lead vocals.[1] By this time, Morgan and McClain had been replaced by Nelson "Tino" Alvarez and Les Levine.[3] Later, the group was Fox, Thierer, Augustine, Alvarez, and Jay McKnight, a previous member of The Dubs.[4] Levine is a current member of The Del Vikings.

As of 2004, the group was Fox, Thierer, Alvarez, the returning Leon McClain, and Warren Tesoro (second tenor; joined 2003).[5]
Little Caesar and the Romans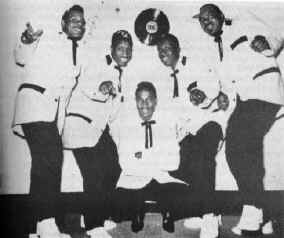 Around the time the term "oldies but goodies" was coined, Little Caesar and the Romans turned it into a hit record

Members:
Carl Burnett - lead
Johnny Simmons - tenor
Early Harris - second tenor
David Johnson - baritone
Leroy Sanders - bass
Little Caesar was actually David "Caesar" Johnson of Chicago. He cut his musical teeth on gospel music and later did doo wop street-corner duty with some high school friends. When he joined the air force the young Windy City resident formed a gospel act called the Northern Crusaders, and upon his discharge he created a secular group in San Diego named the Ivory Tones after member Ivory Wemberly. David headed for Los Angeles and joined up with Johnny Simmons (first
tenor), Early Harris (second tenor), Leroy Sanders (bass), and someone named Curtis ( second tenor) to form the Cubans in 1955 (though none of the members were Cuban) .

They signed with Charlie Reynolds' Watts- based record label/record store, Flash Records. The Cubans' only single out of Flash's 623 East Vernon Avenue address was an enjoyable ballad called "Tell Me," with Early on lead, backed by a blues-styled jump tune similar to THE PARAGONS' later "Stick with
Me Baby" titled "You've Been Gone so Long," Featuring David.

In 1959 the Cubans disbanded (they would not have been too popular under that name anyway during Castro's Cuban revolution), and David hooked up with Lummtone Records, owned by Lummie Fowler. He formed the Upfronts (a name Lummie came up with), who included Harris and Sanders of the Cubans, Bobby Relf of the Laurels (lead and second tenor), and a mystery man remembered only as Theotis (first tenor).

Their first 45, "It Took Time," got a good LA response, but their second, "Too Late to Turn Around," did nothing. When not singing or recording David and company would hang around and drink with the likes of Johnny "Guitar" Watson and Jess Belvin. When they ran out of wine money, Jesse would go to the piano like it was an instant teller machine, knock out a song in 15 or 20 minutes and drive off to Hollywood where he'd unload his rights for a quick 50 to 100 dollar

One evening in 1961 at Lummie's house David met songwriter Paul Politti, who played him his composition "Those Oldies But Goodies (Remind Me of You)." When David agreed to record it, the 17-year-old writer went to Art Laboe at Original Sound Records, who had started his own series of "oldies but goodies" LPs in 1959.

Laboe passed on the song. Politti then sold the idea to Del Fi's Bob keene, so David had to secure a release for his Upfronts from Lummie. When he did, a new act was formed with Johnson, Early Harris, Leroy Sanders, former Cuban Johnny Simmons, and David's first baritone, Carl Burnett. A new Upfronts was formed by Lummie Fowler that included a young bass singer from the area named Barry White

Now dubbed Little Caesar and the Romans by Paul Politti, David and company ( complete with togas, which the group despised) recorded and released the ode to oldies in the spring of 1961. By July 3rd it was number nine in the nation, heavily outscoring NINO AND THE EBB TIDES' East Coast version. The Romans began touring the country with artists like Etta James, THE VIBRATIONS, and the amazing Jackie Wilson.

They appeared on Dick Clark's "American Bandstand," togas and all. On one show in Philadelphia the group lost their togas to overexuberant fans and finished the show in their shorts.Their follow-up 45, a takeoff on THE OLYMPICS' "Hully Gully Baby" titled "Hully Gully Again," made it to number 54 in August. Their
third single on Del Fi was their most nostalgic, combining the most memorable phrases from a whole host of oldies including "A Thousand Miles Away," "In the Still of the Night," "Oh What a Night," "Earth Angel," and the only slow version of "Stranded in the Jungle" ever recorded.

The record only " bubbled under" at number 101 in September 1961. Del Fi was losing interest in the group. The Romans recorded an LP that included their fourth single, a nice reworking of the Moonglows classic, "Ten Commandments of Love," along with versions of THE COASTERS' " Searchin ," THE COLTS' "Adorable," and THE ELEGANTS' "Little Star." The group broke up in 1962 and Caesar became a solo act in the '60s and '70s. Jay Warner (American singing groups: a history from 1940s to today)
The Safaris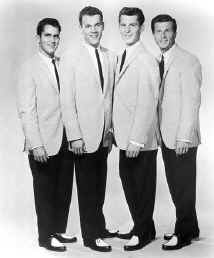 A soft vocal group from Los Angeles, the Safaris went through four names and three labels before reaching their one-hit.

Members:
Jim Stephens - lead
Marv Rosenberg
Richard Claskey
Shedon Briar
Artist Biography by Andrew Hamilton

Led by Jimmy Stephens, the light-singing Safaris hit the first time out with "Image of a Girl" (number seven Billboard) in 1960 on Eldo Records, but the So Cal based group never had another one. The calypso-ish, amateurish "Girl With the Story in Her Eyes" looked promising before it withered off the map. And "In the Still of the Night" and "Soldier of Fortune" (1961 releases) didn't attract any attention. Severing their ties with Eldo, the Safaris released "Legion of the Lost" in 1961 on Image Records. It was promptly lost in space as far as record buyers and DJs mattered. Late that same year, a final single by them came out, not as the Safaris, but as the Suddens. "Childish Ways" b/w "Garden of Love," which also served as the B-Side of "Legion of the Lost," dropped on Sudden Records and reached obscurity faster than a computer purchase. A remake of "Image of a Girl" provided Mark Wynter with a number 11 hit in the U.K. in 1962. After maybe two years of recording, the Safaris/Suddens became chapter members of the where are they now club society. "Girl With the Story..." is a popular item among oldie collectors.
Vito and the Salutations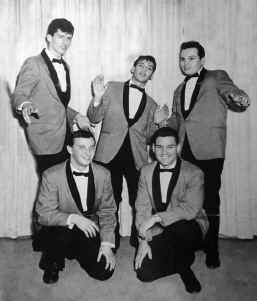 A Brooklyn group who became known for reviving standards in a most unorthodox way.

Member:
Vito Balsamo - lead and baritone
Barry Solomon - left group 1962
Bob DePallo - left group 1962
Bobby Mitchell - baritone
Randy Silverman - lead and first tenor
A doo-wop vocal group from Brooklyn, New York City, New York, USA. The original members were Vito Balsamo (lead), Shelly Buchansky (first and second tenor), Lenny Citrin (baritone, bass), Randy Silverman (first tenor), and Frankie Fox (baritone, bass). The group is known for their wild, up-tempo doo-wop version of 'Unchained Melody' (number 66 pop) from 1963. The record, employing a exotic falsetto and an aggressive bass, was largely an east coast phenomenon, which was then undergoing a doo-wop revival spearheaded by Italian-American groups like Vito And The Salutations. The group's first record was 'Gloria' a perennial
east coast doo-wop favourite. Despite it being a hit previously for the Cadillacs and the Passions, 'Gloria' effectively launched the group. The English invasion in 1964 made it difficult for Vito And The Salutations to put out records in a neo-doo-wop sound, and the group broke up in 1966. Like many such groups they experienced periodic reunions, especially during the doo-wop revival scene of the 70s.
Members:
Leslie Martin - lead
James Holland Edwards - aka James Hammond - first tenor
Roger Hayes - second tenor
James Charlie McKay - baritone
Renaldo Gamble - bass
Artist Biography by Bruce Eder

The Schoolboys sound almost uncannily similar to Frankie Lymon & the Teenagers, but they predate them by close to a year in terms of recording and success. Formed in Harlem's Cooper Junior High School in 1954 or early 1955, with Harold Atley as leader, James Edwards (first tenor), Roger Hayes (second tenor), James "Charlie" McKay (baritone), and Renaldo Gamble (bass), they performed in school talent shows and became popular locally, only to see Atley exit after a few months. He was replaced by Leslie Martin, a boy soprano who had an almost operatic intensity to his singing and intonation. They appeared on Ted
Mack's Original Amateur Hour and won first prize, which brought them the chance to record soon after, under the aegis of disc jockey Tommy Smalls, who had the popular Dr. Jive Show on WWRL in New York -- he gave them the name the Schoolboys and got them their recording. Their debut single, "Please Say You Want Me," a slow, moon/June-rhymed ballad featuring Martin's astonishingly powerful boy soprano voice, became a hit in the fall of 1955 and led to a series of releases,
notable for the pleading nature of their lyrics, especially the ballads, which were usually backed by songs titled with girls' names. The group was never able to match the success of its debut release, however, and by 1956, the Teenagers Featuring Frankie Lymon, also organized in upper Manhattan, had supplanted them in the minds of the listening public.


The Schoolboys' original lineup disintegrated not too long after their one hit -- Renaldo Gamble joined Pearl McKinnon (herself a Frankie Lymon sound-alike) and the Kodaks. By 1957, the Schoolboys were history, their moment having passed to Lymon and company. It is alleged that some of the work credited to the group was really Martin and members of the Cadillacs, rather than his own group.
The Shells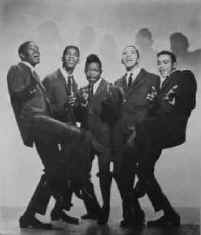 In one of the more unusual success stories, the Shells owe their one- hit status to a pair of record collectors

Members:
Nate Bouknight - lead
Bobby Nurse - first tenor
Randy Alston - second tenor
Gus Geter - baritone
Daniel Small - bass
Roy Jones - lead 1958
Artist Biography by Bryan Thomas
The Shells -- led by Nate Bouknight (aka "Little Nat") -- scored with a Top 30 hit with "Baby Oh Baby," charting for the tiny Johnson label in 1957. The group -- Bouknight, Randy "Shade Alston (tenor), Bobby Nurse (tenor), Danny Small (bass), and Gus Geter(baritone) -- continued to wax impressive 45s into the early '60s without much commercial interest, including 1958's "Sippin' Soda" and 1959's "She Wasn't Meant for Me."

In 1960, "Baby Oh Baby" was given a rare second chance when record collector archivists/reissue producers Donn Fileti and Wayne Stierle reissued the track to give it a second chance, hitting the pop charts on its second time around, charting at number 21. The Shells then made a hasty comeback, recording a mix of soul and pop standards as well as straight-ahead doo wop, such as "Be Sure My Love" and "So Fine." 1961 brought another fine effort, "Explain It to Me," and in 1962, the quintet cut the popular "Happy Holiday" with Ray Jones (aka Ray Lamont Jones) taking over lead vocals. In 1963, the Josie label paired the group together with the Dubs for half an LP, The Dubs Meet the Shells, a battle of the bands album in the tradition of The Paragons Meet the Jesters).
Members:
Frankie Ervin - lead
Jesse Belvin - first tenor
Mel Williams - second tenor
Johnny "Guitar" Watson
Tommy Williams - bass
This R&B vocal group came from Los Angeles, California, USA. The Shields were an ad hoc group formed in 1958 by producer George Motolato record a cover version of the Slades' 'You Cheated'. The membership has always been conjectural, but it is generally accepted to have comprised lead Frankie Ervin (b. 27 March 1926, Blythe, California,USA), falsetto Jesse Belvin (b. 15 December 1932, San Antonio, Texas,USA, d. 6 February 1960), Johnny 'Guitar' Watson (b. 3 February 1935,Houston, Texas, USA, d. 17 May 1996, Yokohama, Japan), Mel Williams and Buster Williams. 'You Cheated', which went to number 11 R&B and number 12 pop in 1958, was the group's only hit, and the song remains one of the most enduring legacies of the age of doo-wop.