Ronnie and the Hi-Lites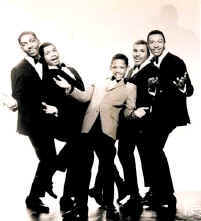 An overlooked group of the early '60s, Ronnie and the Hi-Lites had a short career but a lot of talent

Members:
Ronnie Goodson - lead
Sonny Caldwell - first tenor
John Whitney - second tenor
Stanley Brown - baritone - replaced by Bill Scruggs - replaced by Richmond Charles
Kenny Overby - bass
Formed in Jersey City, New Jersey, USA in the early 60s, Ronnie and the Hi-Lites were a doo-wop group best remembered for one recording, the 1962 US Top 20 ballad 'I Wish That We Were Married'. The group, originally called the Cascades, initially consisted of tenors Sonny Caldwell and John Whitney, bass singer Kenny Overby and baritone Stanley Brown. Adding 12-year-old Ronnie Goodson as their lead singer, they were soon introduced to songwriter Marian Weiss, who offered them 'I Wish That We Were Married'. The small Joy Records label picked up the demo recording the group had made and, renaming the ensemble, released the single. The group released only one other single for Joy and it was unsuccessful. They recorded a few more singles for Win Records, without success. Ronnie Goodson died 4 November 1980.
Hollywood Flames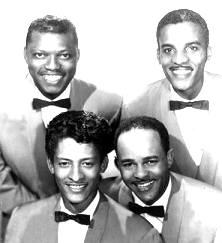 The Hollywood Flames were one off the West Coast's earliest rhythm and blues groups

Members:
David Ford - lead
Willie Ray Rockwell - second tenor
Curley Dinkins - baritone
Robert Byrd - bass
Long-lasting Los Angeles doo-wop aggregation with a very fluid personnel roster. Bobby Day was one of the group's founders in 1950, and they recorded prolifically for Hollywood, Specialty, Lucky, Swingtime, Money, and other firms before cutting their one major hit, the rocking

"Buzz Buzz Buzz," in 1957 for Ebb Records. Earl Nelson, who was later half of Bob And Earl, sang lead on the tune, and some of their subsequent Ebb 45s were rocking novelties. Day went on to solo success with "Rockin' Robin," and the group managed one more chart item, "Gee," for Chess in 1961 with Donald Height as lead. ~ Bill Dahl, All-Music Guide
Jaguars

Impalas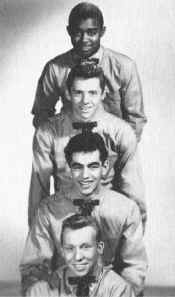 Top to bottom: Joe Frazier, Richie Wagner, Lenny Renda, Tony Carlucci
The Impalas were a Brooklyn vocal group with the distinction of being one of the few white groups with a black lead singer

Members:
Joe "Speedo" Frazier - lead
Tony Carlucci - tenor
Lenny Renda - baritone
Richie Wagner - baritone
Artist Biography by Bryan Thomas
The Impalas were a racially integrated vocal group from Brooklyn who are best remembered for their 1959 hit "Sorry (I Ran All the Way Home)," which scored them their only Top 20 hit (number two pop, number 14 R&B). Forming in 1958, the group -- Joe "Speedo" Frazier (the only black singer), Richard Wagner, Lenny Renda, and Tony Carlucci -- were signed to the Cub label, a subsidiary label of MGM that also issued high-quality stereo recordings by the Five Satins,
the Harptones, the Stereos, the Velours and the Wanderers, to name a few. In August of 1959, Cub issued an album, Sorry I Ran All the Way Home, which featured other recordings the Impalas made for the label. Unfortunately, no further hits ever came, and they disbanded in 1961.
Little Anthony and the Imperials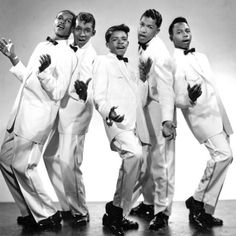 L to R: Glouster Rogers, Tracy Lord, Anthony Gourdine, Clarence Collins, Ernest Wright
Little Anthony and the Imperials is considered one of the best late 50s doo wop groups. Their first and biggest hit was the million selling "Tears On My Pillow" (#4 1958.)

Member:
Anthony Gourdine - lead
Tracy Lord - first tenor - replaced by Sam Strain
Ernie Wright - second tenor
Clarence Collins - bass
Glouster Rogers - baritone
Artist Biography by Steve Huey
Little Anthony & the Imperials enjoyed one of the longest career runs of any doo wop group, adapting their honey-smooth style to fit the sweet uptown soul sound of the mid-'60s. Right from the beginning, Little Anthony's aching way with a ballad was the group's calling card, but their repertoire was balanced by more R&B-inflected dance tunes. Little Anthony was born Jerome Anthony Gourdine in 1940, and grew up in Brooklyn's Fort Greene projects. While in high school, he
sang in a doo wop group called the Duponts, who recorded a single called "Prove It Now" in 1957. They disbanded after graduation, however, and Gourdine joined another group called the Chesters, which had been formed by his friend Clarence Collins (baritone) and also featured longtime friend Ernest Wright, Jr. (tenor); the other members were Tracy Lord (tenor) and Nat Rogers (bass). After a one-off single for Apollo, they landed a record deal with the End label in 1958, at which point their name was changed to the Imperials. ("Little Anthony" was later tagged onto the beginning by DJ Alan Freed.)
The Imperials' first single for End was the classic heartache ballad "Tears on My Pillow," a Top Five smash on both the pop and R&B charts. Little Anthony's dramatic interpretation was certainly helped in the public eye by his youthful-sounding voice and name, which recalled the recently popular Frankie Lymon. The single's B-side, "Two People in the World," was also something of a hit, making the Imperials one of the hottest vocal groups around. Landing a follow-up hit proved difficult, however; the group charted several singles -- "So Much," "Wishful Thinking," "A Prayer and a Juke Box" -- without even approaching their earlier success. Finally, the novelty dance track "Shimmy, Shimmy, Ko-Ko-Bop" caught on in 1960 and returned Little Anthony & the Imperials to the upper reaches of the charts (though it missed the Top Ten). The follow-ups "My Empty Room" and "Please Say You Want Me" flopped, however, and Little Anthony decided to try a solo career in late 1961.

The Imperials continued on with a new lineup of Collins, Wright, Sammy Strain, and George Kerr, the latter of whom was replaced by Kenny Seymour in 1962. Neither Little Anthony nor his erstwhile group had any luck on their own, and in late 1963 he returned to the fold, replacing Seymour. The next summer, the reconstituted Imperials signed with the DCP label, where producer/songwriter Teddy Randazzo made them a priority. His first effort with the group, "I'm on the Outside (Looking In)," reached number 15 on both the pop and R&B charts in 1964, reestablishing the Imperials as a commercial presence. The follow-up, "Goin' Out of My Head," was a smash, returning them to the pop Top Ten for the first time since "Tears on My Pillow"; it was covered quite often in the years that followed, and grew into something of a pop standard. The Imperials' streak of good fortune continued with the equally dramatic ballad "Hurt So Bad," another Top
Ten hit that also became their second R&B Top Fiver in 1965. A couple of smaller hits followed later that year in "I Miss You So" and the pop/R&B Top 20 "Take Me Back."

Little Anthony & the Imperials continued to chart singles over the next several years, but only one -- 1969's "Out of Sight, Out of Mind" -- breached the Top 50 on either the pop or R&B sides. That same year, the group switched labels to United Artists, and Ernest Wright, Jr. departed to join singer Tony Williams' latter-day version of the Platters. He was replaced by a returning Kenny Seymour, who was in turn replaced by Bobby Wade in 1971, the year of the group's last chart single, "Help Me Find a Way (To Say I Love You)." Sammy Strain left in 1972 and wound up joining the O'Jays four years later; his replacement was Harold Jenkins. Little Anthony himself left the group a second time in 1975 to pursue solo recording as well as an acting career, which effectively spelled the end of the road; nonetheless, a Collins-led lineup did manage to score one last hit in the U.K., 1977's "Who's Gonna Love Me." Little Anthony became a born-again Christian in 1978 and subsequently recorded a gospel album, Daylight. Anthony, Collins, Wright, and Strain reunited in 1992 and toured the oldies circuit steadily thereafter.
Little Anthony and the Imperials was inducted into the Rock and Roll Hall of Fame in 2009
Members Jayhawks:
James Johnson - lead
Carl Fisher - second tenor
Dave Govan - baritone
Carver Bunkum - bass -replaced by Don Bradley (Marathons and Vibrations)
Richard Owens - tenor
Artist Biography by Bryan Thomas

During the late '50s and early '60s, it wasn't uncommon to find doo wop and R&B singers recording and performing under numerous monikers, often trading out group members or substituting them at the last moment; everyone was expendable and no one person's identity created the group itself. The L.A.-based Jay Hawks were one of these acts and are best remembered for recording the original version of "Stranded in the Jungle" (1956), a novelty recorded by another group sharing its membership between two names/record labels, the Cadets/the Jacks.

Carver Bunkum (bass), Carl Fisher (second tenor), Dave Govan (baritone), and Jimmy Johnson (lead) were high schoolers whose audition of an original, "Counting My Teardrops," impressed Flash Records' owner, who offered to put up the money to record it. It wasn't until their second Flash release, "Stranded in the Jungle,"
that the group became a success, drawing a lot of local L.A. airplay. "Stranded" was, incidentally, one of the first instances where a producer did what is called sampling; that is, the song included sound bites from other popular songs of the day, using the lyrics of these songs as news bulletins interrupting the verses.

Unfortunately, Modern Records' Joe Bihari rushed his Cadets into the studio upon hearing their version of "Stranded in the Jungle " and topped the group with his own release, getting it on radio stations in strong regional markets across the country and into stores in those areas, before the Jay Hawks even had a chance to make a move. By doing this, he was actually able to beat them to the punch and therefore was able to provide his group with their own hit, which charted at number
four R&B/number 15 pop in June 1956.

Quick follow-ups by the Jaw Hawks -- including "Love Train" and the honkin' "Johnny's House Party" -- failed to chart, however, and by 1960, Bunkum had left the group to be replaced by Don Bradley (bass) and Richard Owens (first tenor). Along with the new group members came a new name. Feeling that they wanted to do more ballad material and that the name "Jay Hawks" was typecasting them as a novelty act, they decided to call themselves the Vibrations. They scored their own hit with the dance tune called "The Watusi" (number 25, 1961) for Checker Records.

Meanwhile, multi-talented producer/label head H. B. Barnum had already produced "Western Movies," (number eight pop and number seven R&B) in 1958 for the Los Angeles-based Olympics, a flagrant Coasters'-style imitator/rip-off group. Barnum thought that the Vibrations were the ideal group to record another novelty tune he had co-written, "Peanut Butter," which he credited the tune to the Marathons. Unfortunately, Checker Records later discovered what was going on and brought a lawsuit against the group, Barnum and his record label. As the Vibrations' various members each had individual contracts with Checker, the label won the rights to market copies of "Peanut Butter" under their logo.

Not to be denied, Arvee Records promptly secured the rights to the name the Marathons, rounded up some more singers to record "Peanut"'s successor -- including "Tight Sweater," written by a young Sonny Bono, as the group's follow-up -- and continued to push the novelty to the masses. Arvee then released a full-length LP of the Marathons' "Peanut Butter" and some other LP filler, but this recording failed to further the Marathons' name.

By 1964, the real Jay Hawks/Marathons/Vibrations gradually turned to more romantic material, although their first hit, "My Girl Sloopy" (number 26, 1964) was closer to their previous cuts; they also recorded the "original" version of "Hang on Sloopy," which later would be a huge hit for the McCoys.

The Jay Hawks/Marathons/Vibrations had their last brush with glory in 1968 with the Okeh Records-released "Love in Them There Hills." Richard Owens was briefly in the Temptations lineup in 1971, but returned to the fold with the Vibrations who continued on until 1976, closing out their career as a nightclub act.
Jesters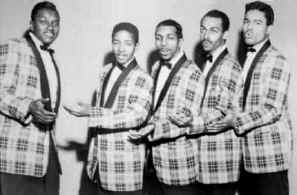 The Jesters' strong and vibrant street harmonies were an influence on groups for years to come, primarily in the 60s.

Members:
Lennie McKay - lead
Adam Jackson - first tenor
Jimmy Smith - second tenor
Melvin Lewis - baritone
Donald Lewis - bass
The archetypal New York street-corner group, with soaring falsetto and stirring harmonies. With Adam Jackson And Lenny McKay sharing lead duties, The Jesters recorded several classics of the doo-wop genre for Winley in 1957 and 1958, including "So Strange" and "The Plea." Jackson recast the group in 1960 for their last Winley releases, including an accurate remake of The Diablos tune "The Wind." ~ Bill Dahl, All-Music Guide

Jive Five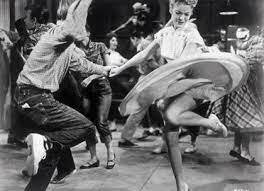 (top l-r) Norman Johnson, Richard Harris and Eugene Pitt
(bottom l-r) Billy Profit and Jerome Hanna
This doo wop group had a number one R&B (#3) pop hit 1961 with "My True Story," featuring the lead vocal of its writer, Eugene Pitt.

Members:
Eugene Pitt - lead
Jerome Hanna - first tenor - replaced by Webster Harris
Billy Prophet - second tenor - replaced by Casey Spencer
Richard Harris - baritone
Norman Johnson - bass
Best known for the number one R&B hit "My True Story," the Jive Five were one of the few vocal groups to survive the transition from the '50s to the '60s. In the process, they helped move the music itself forward, providing a key link between doo wop and '60s soul.

Formed in Brooklyn, New York, the group originally consisted of Eugene Pitt (lead), Jerome Hanna (tenor), Richard Harris (tenor), Billy Prophet (baritone), and Norman Johnson (bass). The Jive Five's first hit, "My True Story," was their biggest, peaking at number one on the R&B charts and number three on pop charts in the summer of 1961. None of the band's subsequent singles -- including the minor R&B hit, 1962's "These Golden Rings" -- were as popular, but the group managed to keep performing and recording. Under the direction of Eugene Pitt and Norman Johnson, the Jive Five refashioned themselves as a soul band in 1964, forming a new lineup with Casey Spencer (tenor), Webster Harris (tenor), and Beatrice Best (baritone). This new incarnation of the band signed to United Artists Records. The group only had one hit on UA, 1965's "I'm A Happy Man."

In 1966, the Jive Five left United Artists and signed with Musicor, where they had the 1968 R&B hit "Sugar (Don't Take Away My Candy)." They changed labels again in 1970, signing with Decca. That same year, they changed their name to the Jyve Five, in order to appear more contemporary. The Jyve Fyve had only one minor R&B hit, 1970's "I Want You To Be My Baby."

The group continued to perform and record for a variety of small labels during the '70s, but they never had another hit. Throughout the '70s and '80s, the only constant member was Eugene Pitt. In 1975, Pitt changed the name of the group to Ebony, Ivory, and the Jades, but this new incarnation failed to gain much attention. In 1982, Pitt changed the name of the group back to the Jive Five and the band recorded two albums for the indie label, Ambient Sound. For the rest of the '80s and the '90s, the Jive Five were regulars on the oldies circuit. ~ Stephen Thomas Erlewine, All-Music Guide