The Chords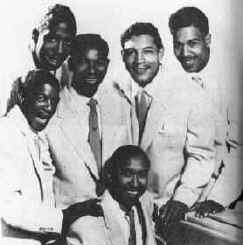 Members:
Carl Feaster - lead
Clasude Feaster - baritone
James Keyes - first tenor
Floyd McRae - second tenor replaced by Arthur Dix
William Edwards - bass replaced by Joe "Ditto" Dios
The Chords-- Carl and Claude Feaster (lead and baritone), Jimmy Keyes (first tenor), Floyd "Buddy" McRae (second tenor), and Ricky Edwards (bass) --- formed in 1951 in the Bronx, but weren't discovered until three years later, when they were spotted singing in a subway station, a performance that ultimately landed them a recording contract with Atlantic Records.
Jerry Wexler, Atlantic's top talent A&R man, had the Chords cover a Patti Page hit, "Cross Over the Bridge" (it was also covered by the Flamingos for Chance), but it was the B-side, "Sh-Boom," a swinging R&B vocal tune with a catchy intro made up of seemingly nonsensical syllables ("shh-boom, shh-boom, yadda da da yadda da da da da da") that caused considerably more commotion.
"Sh-Boom" is supposed to have been titled after the threat of an atom bomb explosion -- Shhhh-BOOM! -- which, in the midst of Cold War posturing in 1954, was a very real topic on the public's collective consciousness. However, this demented ditty also included the surreally optimistic message that everything was ultimately fine and as the rest of the lyrics suggested, "life could be a dream." By the end of June 1954, "Sh-boom" had climbed up the charts nationwide, charting on both the R&B (number five) and pop (number two) lists, a nearly unprecedented feat for its time. For all practical purposes -- along with the Crows' 1953 hit "Gee" (another upbeat B-side hit that DJs flipped over) -- "Sh-Boom" introduced the white audience to black R&B music for the first time.

Not everyone thought the song was a precursor of good things to come. Peter Potter, host of TV's popular "Juke Box Jury," was seemingly aghast at the state of this then-new trend in pop music and attacked "Sh-Boom" asking if anyone would remember the admittedly demented ditty in five, let alone 20 years time and whether any record label would even think to re-release it in the future. The answers to his rhetorical questions were, of course, yes and yes.

The songwriters were deluged by music publishing companies wanting to buy the rights to "Sh-Boom" in order to reap huge potential earnings (the group quickly came to an agreement with Hill & Range). Soon there were cover versions hitting radio stations across the country simultaneously with the Chords' original single. Some were memorable and some otherwise,including a countrified take by the Billy Williams Quartet for Coral, and -- more notably -- the Crew Cuts' version for Mercury.

The Chords soon appeared on TV shows (still an invention not yet in many U.S. homes), but were knocked for a loop when they learned there was a more-obscure group already using the name Chords. They were forced to change their name to the Chordcats. Subsequent Atlantic record ads noted that their group was the creators and originators of "Sh-Boom," even though the Canadian Crew Cuts' paler pop version by then had knocked the Chords' R&B-styled version off the charts.

Atlantic later moved the Chords over to their new Cat Records subsidiary, releasing numerous additional singles which mostly failed to chart. A last gasp attempt to resurrect the act came in mid-1955 when the group renamed themselves the Sh-Booms after their one big hit. The Chords/Chordcats/Sh-Booms went through several personnel changes during the late '50s, recording a handful of forgettable records for Vik Records in 1957, and eventually returned to Atlantic in 1960 for one last recording before slipping away into the ether of time. -- Bryan Thomas
The Cleftones


Left to Right: Herb Cox, Berman Peterson, Charles James, Warren Corbin, Buzzy McClain
Members:
Herb Cox - lead
Berman Paterson - second tenor
Warren Corbin - bass
Charles James - first tenor
William McClain - baritone - replaced by Gene Peterson 1959
Formed in Queens, NY, in 1955, the Cleftones consisted of five friends from Jamaica High School -- Herb Cox (lead), Warren Corbin (bass), Charlie James (first tenor), William McClain (baritone), and Berman Patterson (second tenor). Originally signed to Gee, the group released its first single, "You Baby You," late in 1955; an up-tempo doo wop song, the record became a regional hit. "Little Girl of Mine," the Cleftones' second single, broke nationally, charting at number eight R&B and number 57 pop in 1956; two other similar singles, "Can't We Be Sweethearts" and "String Around My Heart," were released the same year, yet they failed to attract national attention. "See You Next Year," a ballad the group recorded in 1957, did not earn the group an audience outside of New York. Two years later, McClain eft the group and was replaced by Gene Pearson from the Rivileers. Patricia Spann was also added to the Cleftones' lineup that year, which helped nudge the band away from traditional group-oriented doo wop harmonies and towards a vocal sound that was dominated by the lead vocals. In 1961, the Cleftones realized the potential of the sound with their smash hit version of the standard "Heart and Soul;" it became the group's biggest hit, reaching number 18 on both pop and R&B charts. Later that year, the group had another hit with "For Sentimental Reasons," but the band had reached a peak with "Heart and Soul" and were never able to reach those heights again. The Cleftones broke up in 1964, three years after their greatest success. ~ Stephen Thomas Erlewine, All-Music Guide

Members :Joyce Records
Johnny Maestro (real name Maestrangelo) - lead
Talmadge Gough - first tenor
Patricia Van Dross - second tenor
Harold Torres - - baritone
J.T. Carter - baritone/bass
Coed Members:
Johnny Maestro
Talmadge Gough
J.T. Carter
Harold Torres
In 1955 some junior high school students for.
One of the most successful integrated doo-wop groups, The Crests waxed the classic ballad "16 Candles" in 1959. Formed in 1956, they began recording the next year for Joyce, where they inched onto the pop lists with "Sweetest One." Moving to the brand-new Coed logo, Johnny Maestro's (b. May 7, 1940) warm tenor made "16 Candles" a national smash, and pop/R&B hybrids like "The Angels Listened In" and "Step by Step" also did well. Maestro went solo in 1960, scoring the next year with "Model Girl" on Coed, while The Crests attempted to survive on their own. Maestro eventually reclaimed stardom as leader of Brooklyn Bridge, an 11-piece aggregation that hit with "Worst That Could Happen" in 1968. ~ Bill Dahl, All-Music Guide
The Crows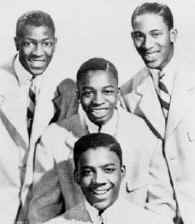 Center front: Gerald Hamilton
L to R: William Davis, Harold Major, Sonny Norton
Members:
Daniel "Sonny" Norton - lead
Harold Major - tenor
Willim Davis - baritone
Gerald Hamilton - bass
One of the first doo wop groups, one of the first so-called "bird" groups, and one of the first acts of any kind to score a bonafide rock & roll hit record, The Crows were among the more important one-shot artists in rock & roll history. Discovered at New York's Apollo Theater in 1952, The Crows were one of the many groups pioneering doo wop with their infectious, cheerful vocals and harmonies, use of nonsense syllables, and modified jump blues instrumental backing. Cut in 1953, "Gee," with its irresistible melody, naively enthusiastic street-corner singing, and Charlie Christian-like guitar solo, was far and away their best single. It was also their only successful one, although it needed almost a year to take off, reaching number 14 in the pop charts (and number two in the R&B charts) in early 1954. Recording about a half-dozen other 45s between 1952 and 1954, the group broke up with little fanfare only months after "Gee" fell off the hit parade. ~ Richie Unterberger
Danny and the Juniors are best remembered for their 1958 #1 hit "At the Hop."

Members:
Danny Rapp - lead
Dave White - first tenor - replaced by Bill Carlucci
Frank Maffei - second tenor
Joe Terranova - baritone
Danny and the Juniors were four Philadelphia teenagers that formed a group called the Juvenairs. The group consisted of Dave White Tricker, tenor; Joseph Terranova, baritone/bass; Frank Maffei, second tenor; and Danny Rapp, lead tenor. Rapp acted as the group's choreographer, teaching the others steps and routines to use on stage to make their act more exciting.
One night in late 1957, they were working a record hop as the intermission entertainment. They were spotted by Johnny Madera, a local man who dabbled in the music business. Madera was impressed enough to mention them to Artie Singer, a local songwriter and vocal tutor. Singer, with his own label Singular Records, invited them to audition. They ran through a few standard vocals they had been rehearsing before Singer asked them if they had any original material.. David White had composed a piece he called "Do the Bop." Singer liked it and had the group cut a demo for him to test on local deejays.
One of the first people to receive a copy was Dick Clark, who like Singer, was impressed. Clark made to suggestions. Shorten the name of the group from the Juvenairs to the Juniors and since the term "bop" was out of fashion the song's title needed to be changed.
The sound was renamed "At The Hop" and the group went to Reco-Art Studios in Philadelphia to b re-record the song. After taking thirteen takes to get it right, the song was sent to Clark. Clark loved it , but didn't have any immediate openings. However, Little Anthony and the Imperials cancelled an appearance on American Bandstand and Clark called Danny and the Juniors to be their replacements. The record took off and selling 7,000 copies in week in Philadelphia alone. Financially strapped Singular Records couldn't handle the massive orders and leased the record to ABC Paramount for $5,000.
The group toured frequently the next few years with Alan Freed's revue. They had a few minor hits. The most notable being the followup "Rock and Roll Is Here To Stay." In the early sixties the group switched to the Swan label and had their last charted song in 1963. The group's saxaphonist, Lenny Baker, co-founded Sha Na Na in the late sixties. Danny Rapp, the lead singer, committed suicide in 1983.
The Dells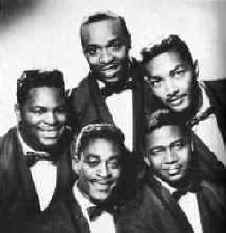 Clockwise from top: Chuck Barksdale, Mike McGill, Vance Allison, Johnny Carter, Marvin Junior
Members:
Johnny Funches - lead - replaced by Johny Carter 1958
Marvin Junior - first tenor
Verne Allison - second tenor
Lucius McGill - baritone - replaced by Mickey McGill
Chuck Barksdale - bass replaced by Calvin Carter
After nearly four decades of recording an incredible legacy of hits, The Dells have made only one personnel change in their entire professional career. Perhaps that's why the venerable R&B vocal group can boast such a remarkably consistent track record. The quintet from Chicago's south suburbs has weathered stylistic shifts from doo-wop and soul to disco and urban contemporary, and every permutation in between. Their harmony remains as striking as ever, with Marvin Junior's earthshaking lead enduring as the group's focal point. Signing with Vee-Jay in 1955, their creamy vocal blend on

"Oh,What a Night" gave The Dells their first major R&B hit the next year, but it would be nearly a decade before they returned to the winner's circle with another dreamy classic, "Stay in My Corner." By then Chicago's R&B sound had changed drastically -- doo-wop was dead and soul was king -- but The Dells adapted effortlessly, regularly scaling the charts for the Chess subsidiary Cadet with "There Is," "Always Together," "Give Your Baby a Standing Ovation," and a marathon remake of "Stay in My Corner" that afforded Junior's booming baritone room to roam. Seemingly an indestructible force (turning up on the R&B charts as recently as 1984), the succinct harmonies of The Dells span entire generations of R&B history. ~ Bill Dahl, All-Music Guide