Exciters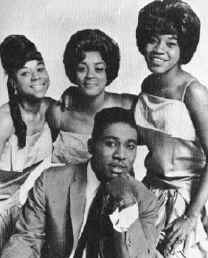 Exciters circa 1964
(L-R) Lillian Walker, Brenda Reid, Carol Johnson and Herbert Rooney
The first of the vocally aggressive girl groups, the Exciters, led the way for acts like the Ronettes and The Shangri-Las

Members:
Brenda Reid - lead vocals
Carolyn Johnson, Alto
Lillian Johnson, Soprano
Herbert Rooney, Tenor
The Exciters were originally a quartet of seventeen year olds who were high school classmates in Queens, New York. Then called the Masterettes, the group consisted of Brenda Reid on lead, Sylvia Williams, Lillian Walker, and Carol Johnson.
It was in the early 60s, while doing local shows with "brother" group the Masters, that they met bassman Herb Rooney. Rooney found the Masterettes' harmonies to be solid and felt Reid's powerful voice made the group exciting. They recorded one single, "I Talk To My Echo" for Brooklyn's Le Sage Records in 1958. Nothing came of it, so they continued in school with occassional performances. By 1961 Sylvia had ben replaced by Penny Carter
The group came to the attention of producers Jerry Leiber and Mike Stoller, who were so excited that they renamed them the Exciters and told to learn "Tell Him." Before the next session Penny dropped out and Herb Rooney, who was there to help out with the arrangements, bass was added..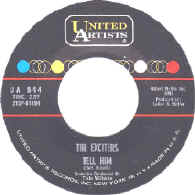 The group signed with United Artists Records in the fall of 1962 and by December 1st had entered the Billboard charts with "Tell Him," which made it all the way to number four Pop on January 26, 1963, and number five R&B.
Reid's no-nonsense, tough girl vocal, the group's vocal blend, and a sure fire Bert Burns composition made "Tell Him" a whole new dimension in girl group rock and roll.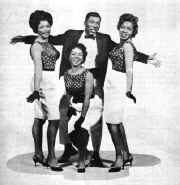 Their follow up "He's Got the Power" was even stronger. This song was written by Ellie Greenwich with Tony Powers before she began writing with Jeff Barry, was a driving teen rocker that opened with "yeah, yeah, yeah" two years before the Beatles made those words an international trademark. It only went to number fifty-seven in the spring of 1963. Ellie Greenwich once said that Reid had one of the best female voices she had ever heard.
The third single "Get Him" had a dynamite lyric and driving melody that was set in an overly sweet arrangement, nullifying Reid's pleading lead. It only reached number seventy-six that summer.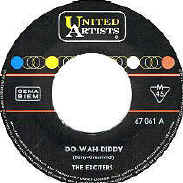 The fourth single was an overlooked gem written by Greenwich and Barry (#78). Over looked only until Manfred Mann heard it, recorded and took "Do Wah Diddy Diddy" to number one internationally eight months after the Exciters first charted with it.
The groups next 45, the up-tempo "Havin' My Fun" failed to chart and the Exciters moved over to Roulette Records. There they did a remake of Frankie Lymon and the Teenagers hit "I Want You to Be My Boy." It spent one week at ninety-eight.
During this time the Exciters were touring with artists like Wilson Pickett and as an opening act for the Beatles.
In early 1966 the group charted with the Jarmels hit "A Little Bit of Soap"(#58).
Herb and Brenda married in the late sixties. By the early seventies Walker and Johnson had left and were replaced by Skip McPhee and Ronnie Pace. The group continued to tour the US and abroad, eventually shrinking to a duo of Brenda and Herb.
By the mid-eighties the Rooneys had separated with Herb owning a cosmetics company on Long Island. Brenda kept the Exciters going with her children on backup vocals and instruments. One son, Mark, became a famous producer for acts like Lisa Lisa, Eric B, and Rakim, under the name L.A. Reid.
In the early 90s Brenda retired to devote her life to her church. Caole Johnson worked as an account clerk fo G&G Retail in New York
Herb Rooney passed away from cancer in the early 90s.
Carolyn Johnson died May 7, 2007 at 62 of cancer.
Lillian Walker died from angiosarcoma February 5, 2003, she was 78.