The Four Seasons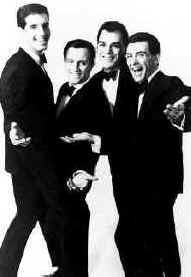 (l to r) Tommy Devito, Frankie Valli, Nick Marsi, Bob Gaudio
One of the most long-lived and successful white vocal groups of the '60s, The Four Seasons scored a series of smash hit singles between 1962 and 1967 featuring the shrill piercing falsetto (three octave) voice of Frankie Valli. During their nearly 40 year career Frankie Valli and the Four Seasons sold over a 100 million records making them the most long lived and successful white doo wop group.

Members:
Four Lovers
Frankie Valli - real name - Frank Castelluccio - drums
Tommy DeVito - lead guitar
Nick DeVito - guitar
Frank Majewski - bass guitar

Four Seasons
Fankie Valli
Nick Massi
Tommy DeVito
Bob Gaudio
Born Francis Castelluccio in 1937, Fankie Valli was one of three brothers who grew up in a tough, working-class neighborhood in Newark, New Jersey. His father worked as a barber and later for the Lionel train company. His Italian-born mother encouraged Valli's early interest in music. The two would make weekly treks to hear major big bands of the era perform at the Adams Theater, in Newark, or the Paramount Theater, in New York City. Valli was more influenced by jazz, however, and particularly enjoyed listening to the Four Freshmen, the Hi-Los, and the Modernaires. He also admired classic R&B bands including the Clovers and the Drifters. As a child, Valli had no formal vocal training but instead taught himself to sing by doing impressions of other artists. Since he had a naturally high voice, he focused on singers Rose Murphy and Dinah Washington.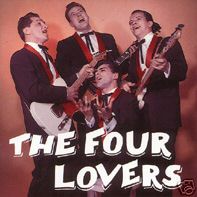 At the age of seven, Valli's future course was set when he saw a young Frank Sinatra perform at the Paramount. As a teenager in the 1950s, Valli sang with several Jersey groups at school events and in local clubs. Valli started out solo with his first solo recording, in 1953, was "My Mother's Eyes". He formed The Varietones with guitarist brothers Nick and Tommy DeVito and bassist Hank Majewski around 1954. Changing their name to The Four Lovers in 1956.they signed with RCA Victor Records that same year and had a minor hit with "You Are the Apple of My Eye. After that the group played in lounges for several years.
Valli's parents supported his interest in music, though at times they were concerned about his slowly blooming career.

What made Valli uncommon as a singer, especially while trying to carve a niche in those early days, was his stratospheric falsetto. Critics called Valli's vocals everything from shrill to shrieking, but the falsetto remained his signature sound. His remarkable range allowed him to create expert harmonies, and the singer was amply able to hit high notes without his voice breaking.

Following the group's initial wave of success in 1956, the quartet performed three times on the Ed Sullivan Show and found themselves rubbing elbows with another rising star, Elvis Presley.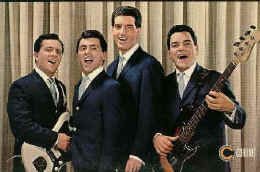 By 1960, Bob Guadio and Nick Massi had replaced Nick DeVito and Hank Majewski. In 1961 the group changed their named to The Four Seasons after a bowling alley in Union, New Jersey where they were turned down for a cocktail-lounge job. The group recorded the unsuccessful "Bermuda" for Gone Records. before signing with Vee-Jee Records, help of writer-producer Bob Crewe. With Guadio and Crewe acting as principal songwriters, the group a #1 hit with Gaudio's "Sherry" in the late summer of 1962.Crewe/Guadio's "Big Girls Don't Cry," and "Walk Like a Man" became top pop and R&B hits followed by pop hits "Candy Girl," "Stay," and "Alone."
At the beginning of their career, the Four Seasons viewed the Beach Boys as their only American rivals. In 1962, with the help of writer-producer Bob Crewe, the group signed a recording contract with Vee Jay Records--becoming the label's first white act--their star rose so high that they became virtually untouchable by the competition. A year later, the Beatles were signed to the same label, but the Four Seasons would manage to survive the British Invasion

In 1962, the group recorded its first megahit, "Sherry," written by Four Season keyboardist and tenor Bob Gaudio. The song was reportedly a peace offering from producer Bob Crew, who had infuriated Valli by allowing Elvis Presley to record what would become the smash single "Don't Be Cruel." "Sherry" received limited airplay until an appearance on Dick Clark's television show American Bandstand catapulted the song to the top of the pop charts, earning the group its first gold record. Indeed, "Sherry" was one of the fastest-rising songs ever released.

The song was quickly followed by a second hit, "Big Girls Don't Cry," also written by Gaudio. Both tunes were certified platinum after remaining Number One hits for five weeks each. The Four Seasons had found their sound and continued to score in 1963 with "Walk Like a Man," "Ain't That a Shame," "Candy Girl," and "Marlena."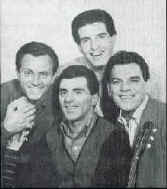 In 1964, following contractual disputes with Vee Jay, the Four Seasons signed with Philips Records and enjoyed a golden year, placing six songs in the Top Twenty: "Stay," "Dawn (Go Away)," "Ronnie," "Rag Doll"--a Number One hit--"Save It for Me," and "Big Man in Town."
In 1965 Massi left, but Valli and the Four Seasons continued on a roll, releasing numerous songs each year through 1968. Their 1966 arrangement of Cole Porter's "I've Got You Under My Skin" was also an early hit for Frank Sinatra, who became a friend of Valli's. In fact, the Four Seasons performed at the Paramount Theater for a crowd of screaming female fans 20 years after Valli had so admired Sinatra's performance there. One memorable Four Seasons tune, "Can't Take My Eyes Off of You," made it to the Number Two slot in 1967. And though the Four Seasons sold nearly 80 million records during their peak years, Valli continued to drive an old car and live in a housing project until the mid-1960s, when success finally seemed real.