Hank Ballard's place in Rock and Roll history was cemented with the sexually explicated lyrics and gospel rhythms of his songs. Ballard with his group the Midnighters recorded several hits in the early fifties."Work With Me Annie", "Annie Had a Baby", and "Annies's Aunt Fanny" all sold over a million copies even though they were banned.

Members:
Lawson Smith - baritone - replaced by Hank Ballard real name - John Kendricks when Smith went into the army. Smith rejoined 1957
Norman Thrasher - bass - replaced by Charles Sutton
Billy Davis - guitar - replaced by Arthur Porter
Henry Booth - tenor - replaced by Sonny Woods
Charles Sutton - tenor - left 1957
Sonny Woods - bass - replaced by Norman Thrasher - 1958
Alonzo Tucker - guitarist and part time singer
1960 group - consisted of Hank Ballard, Frank Stanford, Wesley Hargrove, Norman Thrasher and Henry Booth
The Midnighters began their career as the Royals. Organized in late 1950 or early '51 by Henry Booth and Charles Sutton, the original lineup is said to have also included Levi Stubbs (later of he Four Tops) and Jackie Wilson. By 1952, when bandleader Johnny Otis discovered the group at the Paradise Theater in Detroit and recommended it to Federal Records producer Ralph Bass, the personnel comprised of lead singers Booth and Sutton, harmony vocalists Lawson Smith and Sonny Woods, and guitarist Alonzo Tucker. Booth led the Royals' first waxing, the Otis doo wop composition "Every Beat of My Heart" (later a smash for Gladys Knight and the Pips).
The Royals' initial style was smooth, owing much to Sonny Til and the Orioles. It changed radically when Hank Ballard, who'd grown up singing in church in Bessemer, Alabama, replaced Smith in 1953. Inspired by the Dominoes' Clyde McPhatter, the 16 year-old former Ford assembly line worker became lead singer, bringing to the group a hard gospel edge and a suitcase full of rhythm-charged, frequently raunchy songs, beginning with 1953's "Get It".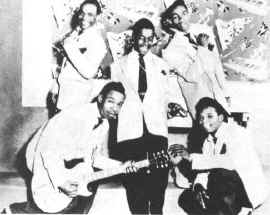 Top left to right: Charles Sutton, Sonny Woods and Lawson Smith
Bottom left to Right: Arthur Porter and Hank Ballard
Photo courtesy Marv Goldberg
As "Work With Me Annie" was gaining momentum in early 1954, the Royals changed their name to the Midnighters to avoid confusion with the Five Royals, another hard, gospel-styled R&B group. "Annie" and its answers kept the Midnighters going strong for a year and a half, after which they experienced a respite from the charts that lasted three and a half years. Personnel fluctuated during this period, with Smith returning to replace Sutton, Norman Thrasher replacing Woods, and guitarist Cal Green replacing Arthur Porter, who'd earlier taken Tucker's place. Federal Records seemed to be placing its faith in a new group, James Brown and the Famous Flames, which modeled its torrid style, to a great degree, on that of the Midnighters.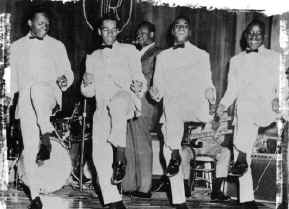 In 1958, Ballard wrote "The Twist", an up tempo 12 bar blues that used a melody line he'd lifted from the group's flop of the previous year, "Is Your Love For Real?" which he had in turn borrowed from McPhatter and the Drifter's 1955 hit "What 'Cha Gonna Do?" Unhappy at Federal, Ballard took the new tune to Vee-Jay, which cut it but didn't release it. Then King, Federal's parent label, picked up the group's option and recorded "The Twist", the first record to place Ballard's name on the label in front of the group's. It was issued, however, as the B side of the gospel-drenched Ballard ballad "Teardrops On Your Letter".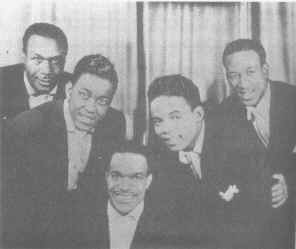 While "Teardrops" rose to number four on the R&B chart with minimal pop response, the flip also generated some action, peaking at number 16 R&B during its initial round on the charts. "American Bandstand" host Dick Clark was so enamored of the tune that he had Ernest Evans re-recorded it. Dubbed "Chubby Checker" by Clark's wife, the Philadelphia singer took "The Twist" to the top of the pop chart twice, in 1960 and again two years later. Checker's version was so close to the original that Ballard, upon first hearing it on the radio, thought it was his own.
Rather than being set back by the cover, Ballard and the Midnighters benefited. By the middle of 1960, they had three simultaneous hits in the pop top 40: "Finger Poppin' Time", "Let's Go, Let's Go, Let's Go", and their original version of "The Twist." And Ballard came up with other dance-oriented hits for the group, including "The Hoochie Coochie Coo", "The Continental Walk", "The Float", and "The Switch-A-Roo", but chart action dried up after 1961 and group members began to defect.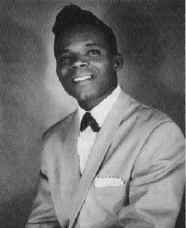 By the late '60's, Ballard was working as a single, often with James Brown's revue, and he had two minor Brown-produced R&B hits: 1968's "How You Gonna Get Respect (If You Haven't Cut Your Process Yet?)" and 1972's "From the Love Side." After a long hiatus from performing, the singer returned in the mid-80's with a new set of Midnighters, first female, then male.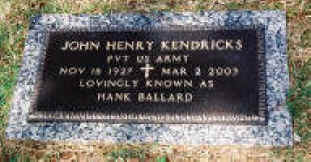 Hank Ballard died March 2, 2003 in Los Angeles, CA
Hank Ballard was inducted into the Rock and Roll Hall of Fame in 1990