Hot Rod Groups
Formed in 1965 by Gary McEwen (guitar and vocals), B.B. Cunningham (keyboard & vocals), Jerry Masters (not of Beaver Cleaver fame, bass, and vocals) and John Hunter on drums. Lead vocalist "Ronny" was John ("Bucky") Wilkins. Production and recording was done by Sun's Bill Justis.

"Little GTO" was the groups 1964 first big hit, followed by a traffic jam of hot rod songs like "Bucket -T", "Little Scrambler", "No Wheels", and "Antique 32 Studebaker Dictator Coupe". "Sandy", and "Dianne, Dianne" were their girl named tunes, after which in 1967 they changed their bands name to The Hombres, recording in Phillips Studio. Later hits were "Let it All Hang Out" in 1967, and "It's A Gas", in 1968, before the groups breakup the following year.
B.B. Cunningham's dad Buddy was an earlier Sun recording artist in the popular crooning style of the 1950's.
Rip Chords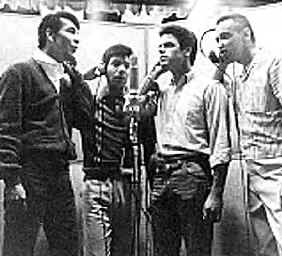 LEFT TO RIGHT: .PHIL STEWART, RICHIE ROTKIN, ARNIE MARCUS, ERNIE BRINGAS
Member:
Phil Stewart
Arnie Marcus
Rich Rotkin
Bernie Bringas
Although a separate group was briefly put together for touring purposes, the Rip Chords were really a studio project for Bruce Johnston and Terry Melcher, both of whom would go on to bigger and better things (Johnston as a member of the Beach Boys, Melcher as producer of the Byrds' early albums). In early 1964, they made the top 5 with "Hey Little Cobra," one of the best (and indeed one of the few) hot rod hits not sung by the Beach Boys or Jan & Dean. It proved to be a one-shot, though they made the Top 30 again with the "Hey Little Cobra" soundalike "Three Window Coupe." Most of their limited output under the Rip Chords name was formulaic, upbeat hot rod and surf tunes, with occasional nods to Dion and doo-wop. Although their records weren't terribly memorable beyond their big hit, the Rip Chords attract interest from surf collectors, as they recorded obscure tunes by such major figures of the L.A. surf-pop-rock scene as P.F. Sloan, Steve Barri, and Jan Berry, as well as writing many of their own songs. -- Richie Unterberger, All-Music Guide
The Hondells were the recipient of the best song that Brian Wilson donated to another artist, "Little Honda." One of the best hot-rod tunes, it made the Top Ten in 1964 (the Beach Boys would record their own version that year, but would not issue it as an A-side). Like numerous Southern California groups in the mid-'60s, the Hondells, despite numerous picture sleeves, were not a bonafide group. Their recordings were put together by floating lineups of Los Angeles session men, overseen by producer Gary Usher. "Little Honda" itself featured ace guitarists Glen Campbell and Richie Podolor, as well as drummer Hal Blaine. Hondells groups were put together for live performance in the wake of "Little Honda," but session musicians such as Podolor were always present on the recordings.

The Hondells never had another hit on the level of "Little Honda," but recorded a surprising quantity of material, putting out two albums and thirteen singles before the string ended in 1970. Most of their early songs were written by the songwriting team of Gary Usher and Roger Christian, both of whom had helped write early Beach Boys tunes with Brian Wilson. Wilson himself would have a songwriting credit on just one more Hondas recording ("My Buddy Seat," which he co-wrote with Usher) after "Little Honda."
For all their manufactured personnel, the Hondells weren't bad. Indeed, they probably made the best hot rod music aside from the Beach Boys and Jan & Dean, and were cuts above the generic stuff Usher ground out on several hot rod exploitation discs, although nothing else was as cool as "Little Honda." Usher eventually turned over the production reins to Mike Curb, and the Hondells made the middle of the Top 100 with a cover of the Lovin' Spoonful's "Younger Girl," although a competing version by the Critters outsold it by a large margin. -- Richie Unterberger, All-Music Guide