Instrumental Groups
Bill Black Combo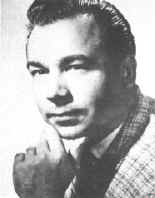 Pioneer of the Memphis soul sound, Bill Black's Combo scored six Top 20 hits from 1959-1962 and two more in the Top 30.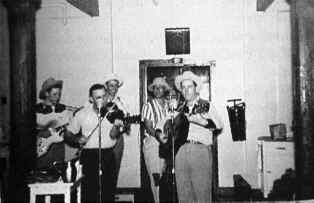 Starlite Wranglers
L to R: Scotty Moore, Tom Sealy, Doug Poindexter, Bill Black, Clyde Rush
Photo courtesy Scotty Moore
Bill Black (born William Patton Black) September 17, 1926 in Memphis, Tennessee. His father drove a streetcar and in his spare time played the fiddle. When Black was eight his father made him a guitar out of a cigar box. Later, while in high school he would take up the bass. After high school Black worked loading freight for the railroad. He was drafted near the end of World War II and met his future wife while stationed at Fort Lee in Virginia. In the early fifties Black was playing country and western music in Memphis with vocalist Doug Poindexter and his Starlite Wranglers, a group he helped to form.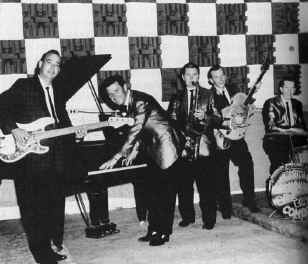 Bill Black Combo circa 1960
L to R: Bill Black, Carl McEnvoy, Ace Cannon, Chips Moman and Jerry Arnold
Photo courtesy Colin Escort
Black was Elvis Presley's original bass player at Sun Records, playing with him from 1954 to 1957. In 1959, he formed the instrumental Bill Black Combo whose original members were Carl McAvoy (piano), Martin Wills (saxophone), Reggie Young (guitar), and Jerry Arnold (drums). They hit the Top Ten with "White Silver Sands," "Josephine," and "Don't Be Cruel" (all 1960), and the Top 40 with "Smokie (Part 2)" (1959), "Blue Tango" (1960), "Hearts of Stone," "Ole Buttermilk Sky," "Movin"' (all 1961), and "Twist-Her" (1962). Black retired from the group in 1962, replaced by Bob Tucker, and it was renamed "Bill Black's Combo." The group scored six country hits between 1975 and 1978, the biggest of which was the Top 40 "Boilin' Cabbage." Tecombo
Bill Black died from a brain tumor October 21, 1965, at the age of 39.
Bill Black was inducted into the Rock and Roll Hall of Fame in 2009
Preston Epps was born in Oakland California in 1931. It was while he was stationed in Okinawa during the Korean War that he learned how to play the bongos. After leaving the service he worked as a waiter, club manager, and at a gas station. At night, he played in Hollywood coffeehouses. It was while he was playing at one of these coffeehouses that he was spotted by Art Laboe, a deejay on Los Angeles KPOP and owner of Original Sound Records. It was here that he would record his hit "Bongo Rock."
Try as he might, Preston never had another top hit. His first two albums "Bongo, Bongo, Bongo"(1960) and "Bongola" (1961) did well and his follow up to "Bongo Rock" "Bongo, Bongo, Bongo" was a minor hit (#78, 1960). However, the public lost interest and his career ended.
In the early 70s, Epps toured and recorded with Johnny Otis.
Preston Epps died May 9, 2019.
"Raunchy" was the birth of the first Rock 'n' Roll instrumental song.

Bill Justis upon hearing that a certain Rock n' Roll musician made a lot of money, put down his trumpet for a saxophone, bought $80 of Rock n' Roll records, and set his sights on stardom. His May "57 hit "Raunchy" gets it's title from a magazine article on current teenage slang. Justis and Manaker concocted the song in Justis' home while making fun of Rock n' Roll, convinced that they too could do it well if only they tried. Bill Justis was older than most teenage Rock fans, and had little interested in Rock as a musical style. However he soon realized that Rock's basic and simple sound was actually harder to achieve then first thought. "Raunchy" became the first Rock n' Roll instrumental song.
"Raunchy " was a little Southern tune that Justis' just couldn't get out of his head. Originally named "Backwoods" it was a tune that he recalled from his childhood in Birmingham, Alabama.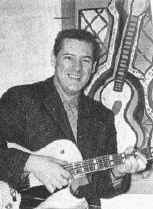 Sid Manker
There was nothing sophisticated about "Raunchy" - teenage slang for dirty or messy - which came out in November, 1957. It consisted of Sid Manker playing a short guitar riff over and over, alternating with Justis on tenor sax leading the Sun house band. The only thing remarkable about the recording was the riff and the unorthodox way Manker played it. Rather than play in the middle string range, as most rock and country guitarist would, Manker used the bass strings, further exaggerated by the studio echo.
"Raunchy" shot up the Billboard charts, just missing becoming #1 and staying in the Top 40 for fourteen weeks. The record became a classic, one of rock's first true instrumentals, but Justis would have only one other charting record, "College Man" (#42)
Unlike other Sun artists, Justis was well educated, from a well to do family, and had formal musical training. In 1957 Justis became music director for Sun, arranging hits for Cash, Lewis, and Rich. Justis eventually left Sun after a fight with Phillips, and for a brief time produced for his own label Play Me Records. He moved to Nashville in 1961 and became a successful arranger and producer for everyone from Ronnie Dove to the Dixiebells. Before his death from cancer in 1982, Justis wrote the musical scores to Burt Reynolds film "Smokey and the Bandit", and later produced major hits for Bobby Vinton.
Neither Justis or Manker, who remained a session man at Sun, capitalized on the uniquely original guitar sound they had created. That would fall to an enterprising deejay, Lee Hazlewood in Phoenix Arizona, and his 19 year old protege, Duane Eddy.
Bill Justis died of cancer July 16, 1982 in Nasheville at the age of 55.
Sander L. "Sandy" Nelson was born December 1, 1938 in Santa Monica, CA. As a teenager he took lessons on a variety of instruments. Influenced by legendary percussionist, Earl Palmer, Nelson concentrated on the drums. He played with jazz combos until he met Kip Tyler, a local legend who recorded the soundtrack for "Rock, Pretty Baby." Tyler's band included Bruce Johnson, who would play with the Beach Boys. Through Johnson, Nelson met Phil Specter and played on "To Know Him Is To Love Him." When drummer Cozy Cole hit with "Topsy" in 1958, Nelson was encouraged In the summer of 1959 Preston Epps had a best selling single with "Bongo Rock" on Original Sound Records, a label owned by L.A. deejay Art Laboe. Laboe ran the Starla label, for which Kip Tyler recorded "Lets Monkey Around." At that session, Nelson approached Laboe with a demo of a drum instrumental. "Teen Beat" was recorded at the next session with backing with Bruce Johnson on the piano and Richie Podolor on the guitar. Issued on Original Sound Records, "teen Beat" was an instant hit. With this million seller, Nelson founded himself playing on hits by Kathy Young, the Hollywood Argyles, Mel Carter, Johnny Crawford, Ron Holden and Little Caesar among others. His own career fizzled for two years after "Teen Beat." Nelson no longer under contract to Original Sounds, signed with Imperial. "Let There Be Drums" earned him a second gold record in late 1961. A 1963 motorcycle accident resulted in the loss of part of his right leg.. He came back a better drummer and remained with Imperial until 1969.
Sandy Nelson died February 14, 2022 from complication from a stroke in 2017, at the age of 83.
Drummers are a necessary ingredient for a good rock and roll record, yet few are recognized. Fewer still have records issued under their own names. In the 1950s there was Sandy Nelson and Preston Epps (if you include the bongos)
Jazz was more aware of a musicians talents, giving a special place to Gene Krupa, Louis Bellson and Buddy Rich. A man who bridged both types of music and got his name in lights was Cozy Cole.
Born, William Randolph Cole, October 19, 1909 East Orange, New Jersey Cole came from a musical family. He began his musical career with Jelly Roll Morton in 1930 and worked with a half dozen bands including Cab Calloway from 1938-42, where he was given numerous drum solos.
In the 1940s, he recorded with Coleman Hawkins, Charlie Parker, and Dizzy Gillespie.
With Krupa, he founded a school for drummers. The Cozy Cole All Stars issued "Hound Dog Special" in 1954, a spend off of Willie Mae Thornton's "Hound Dog." In 1958, Cole's recording of an old Count Basie tune, "Topsy," became a rare crossover hit from mainstream jazz. The two side single was a true rarity for an instrumental in that both sides made the charts independently, testament to Cole's inventiveness.
Cole followed with a similar tune "Turvey," which also made the charts However, his day in the "pop" limelight only lasted for six months and Cole returned to Jazz. Recognized as a talented genius on the drums.
Cole passed away January 9, 1981 of cancer in Columbus, Ohio at the age of 81.