Jack Scott

Jack Scott lived the American Dream. Scott was born in Canada, raised in Detroit, an Italian hillbilly who worshipped Hank Williams, and became a rock and roll star. Not well known among casual mainstream oldies listeners, Jack Scott had more chart records than Eddie Cochran and Gene Vincent combined. Jack Scott reached #3 twice while Vincent's highest chart position was #7 and Cochran's was only #8 and Vincent and Cochran had two of the most legendary 50s rock classics of all-time.

Giovanni Sacfone Jr., was born January 24, 1936 in Windsor Ontario, Canada. His father, an accomplished guitarist, gave Jack a guitar and taught him how to play it around the age of eight. At the age of ten, the family moved to Hazel Park, MI.
From his early teens Scott shouldered the burden as older brother to a family of seven boys and girls. Jack labored at assorted humble tasks to help out, gasoline attendant; truck driver; errand boy. Life was not easy, but all the while the young, muscular Scott strummed his guitar and doted on the sounds of country music streaming over the radio lines into the modest home in Hazel Park, Michigan.
At the age of 18, he formed the Southern Drifters and early pictures show them in fancy cowboy shirts and neck scarves.. After leading the band for three years, in 1957 when Scott was 21, Joe Carlton, head A&R man at ABC-Paramount Records, signed him to a solo contract. His first sides for ABC-Paramount in 1957 exhibited a profound country-rock synthesis. Three 1957 singles (including the hot "Two Timin' Woman") did well regionally (Detroit and Cleveland), but failed to break out nationally do to lack of promotion.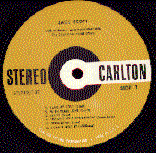 In early 1958, Carlton decided to start his own independent label so he bought out Scott's contract and signed him to his Carlton label. While there Carlton allowed him to use his regular band from Detroit. While there he recorded a song recorded a song about a friend who was always getting thrown in jail "Greaseball.' Renamed "Leroy" when it was released. Debuting on Billboard's pop chart June 9, 1958 it would rise eventually reach #25..
All Scott's friends and his father knew "Jack had it"; it was a question only of getting the big break. That break came a few months later when some deejay flipped "Leroy" over and "My True Love" became a national hit reaching the #3 spot and staying on the top forty for 15 weeks. Thus developed the melting-pot miracle: A Canadian born, Italian hillbilly who worshipped Hank Williams and who soon sparked his own teen age band --- Scott played the guitar lead and vocals.
His first album was entitled simply Jack Scott.. One of the first album recorded in stereo, it contained a mixture of rockabilly and ballads of which 10 were Scott's own compositions. "Save My Soul,With Your Love," "Leroy," " No One Will Ever Know," "Geraldine," " I Can't Help It," " Indiana Waltz," " Midgie," " My True Love," "The Way I Walk," "I'm Dreaming Of You," and "Goodbye Baby." All of the songs were written by Jack Scott except: "No One Will Ever Know" (Force-Rose), "I Can't Help It" (Williams), "Indiana Waltz" (Rose).
From February to May 1959, Scott served in the Army. After his getting out of the Army Carlton released "The Way I Walk"(#35),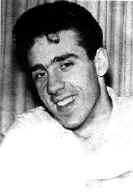 last rockabilly tune to make Billboard's pop charts, and "Midgie." Scott's pronounced emphasis on acoustic guitar distinguished atmospheric rockers like "Goodbye Baby," "Go Wild Little Sadie," "Midgie," and "Geraldine" that he recorded while at Carlton. "Goodbye Baby" (#8), was Scott's final hit on Carlton.

Late in 1959, Top Rank Records bought Scott's contract from Carleton. It was was here that Scott enjoy commercial success with big ballads. His first single for the label, "What In the World's Come Over You," became a number five hit early in 1960. It was followed a few months later by another Top Ten hit, the number three single "Burning Bridges." The pair of singles were his last major hits, and over the next two years, his singles progressively charted at lower positions than their predecessors. After late 1960, Jack Scott never had another major hit.
During this time Scott was putting together of his own Jack Scott Caravan of Stars tours.
Early in 1961 top Rank folded and Scott signed with Capitol Records, but none of his three Capitol singles made the Top 40.

Scott signed his last long term major recording contract with a RCA Victor, after his Capitol Records deal expired. He would record out of Nashville and in the beginning on RCA's Groove subsidiary. Scott four single releases in 1964 on Groove and three in 1965 on RCA Victor.
Though given every chance to succeed Scott was unable produce any hits as changes in mainstream music swept the industry.
By early 1966, after his final RCA release, Scott was content to stay at home with family and friends in Detroit.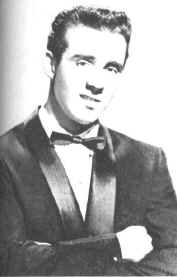 In the early '70s Scott performed live in Detroit. 1977 saw Scott headline the biggest '50s rockabilly revival tour in England. Tour also included Charlie Feathers, Warren Smith, and Buddy Knox and sold out everywhere. Their show at the Rainbow Theatre was recorded and released by EMI Records as a live album in 1978.
Mike Curb, a long time Jack Scott fan, signed Scott to the Curb label in 1990. The result was country single "Cooper Cagney and Gable", a "Greatest Hits" package featuring highlights from the Carlton and Top Rank label years with the bonus of a new recording of the Roy Orbison's song "Running Scared" and a guest appearance singing "Burning Bridges" on Ronnie McDowell's "Unchained Melody" album released on Curb in 1992. Other artists guesting with McDowell on the album include Jerry Lee Lewis, Conway Twitty, Bobby Vinton and Wayne Newton.

* In 1989, Jack Scott was honored when Dave Marsh included "Goodbye Baby" as one of the 1001 Greatest Singles Ever Made in his book The Heart of Rock & Soul.
* But Jack's most enduring song may well be "The Way I Walk." The song was recorded early in the so called "punk" or "new wave" "return to the basics" movement of the late 70's by Robert Gordon (1978) and The Cramps (1979). Gordon's version was most recently featured in the movie "Natural Born Killers" although, unfortunately, it is not included in the soundtrack album.
In 1993 a five CD set was released by the German Bear Family label collecting his work from several labels from 1957 to 1965.



Jack Scott and the Starlight Drifters (Hazel Park, MI -98)
photo courtesy Starlight Drifters

* Today, Jack Scott rarely performs in concert. He has always been uncomfortable with the rigors of touring and the vagaries of backup bands provided by promoters. Occasionally he appears in Europe with a handpicked group of musicians.

* Recommended listening: Jack Scott "Live 1961" on the Live Gold Label (1991). This was, in fact, recorded at The Crazy Horse Saloon in Detroit in 1990 and released under this title without Jack's knowledge. It is recommended because of a new Jack Scott composition on the CD called "The National Anthem of Rock 'N Roll" using Duane Eddy's "Rebel Rouser" melody.
Today Scott's great pop ballads are better known than him. Rockabilly fans prefer his rockin' sides, but most are not put off by the ballads because of Scott's distinctive sound.
Paragraphs signified by * were contributed by Warren Cosford.