Janis Martin

Martin circa 1957
Janis Martin was a unique figure in the history of rockabilly -- there were other women working in that male-dominated field , but Janis Martin was the one dubbed "The Female Elvis Presley" by RCA, reportedly with the approval of Col. Tom Parker. She had too many strikes against her for a lasting career, but she was good and she left behind the records to prove it.

Janis Martin was born in Sutherlin, Virginia March 27 1940. With a stage mother on one side and a father and uncle who were amateur musicians on the other, Martin was practically predestined for a performing career. She was playing and singing before age five. By six, she'd mastered chords on her junior-sized guitar and was singing in a style influenced by Eddy Arnold and Hank Williams. Martin became a fixture in local talent contests and won all of them. Martin was playing and singing on the WDVA Barndance out of Virginia by age 11. By her mid-teens, she'd appeared alongside the likes of Ernest Tubb, the Carter Family, Sonny James, and Jean Shepard.
From the Barndance, she traveled with Glen Thompson's band for two years and then went on the road with Jim Eanes, a former Starday recording artist. In 1953, she appeared at a Tobacco Festival with Ernest Tubb and Sunshine Sue. As a result of this appearance, Janis was invited to become a regular member of the Old Dominion Barndance in Richmond, Virginia third largest in the nation, ranking only behind the Grand Old Opry and the Wheeling, West Virginia Barndance.

Her amazing amount of experience for one so young helped push her into rock & roll. It turned out that Martin had tired of country music by her mid-teens, especially the slow ballads, having been doing them for a decade. The timing was perfect, for she discovered rhythm & blues in the mid-1950s, and was soon bringing that material into her own song lists.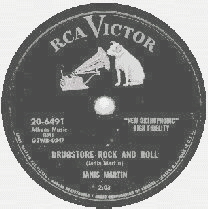 Two staff announcers at WRVA (the station that carried the Barndance over the CBS network) were successful songwriters penning the hit "Little Things Mean A Lot".When the fifties exploded with rock or rockabilly music, they wrote "Will You, Willyum". Asking Janis to sing it on the Barndance for audience reaction, and they cut a demo tape to send to their publisher in New York. When the demo tape arrived at Tannen Music in New York, the publisher not only accepted the song but rushed over to Steve Sholes of RCA Victor. Sholes contacted Janis contacted and invited her to Nashville to record the song on Victor Records. At the age of fifteen, she became a recording artist. This record was her biggest hit and on the flip side of the record was a song called "Drugstore Rock And Roll" that Janis wrote herself. This record sold about 750.000 copies and she became in constant demand for appearances all over the US.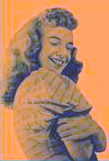 This was at the time that Elvis Presley was the biggest rock singer in the country and also recorded for RCA Victor. Presley and RCA were so impressed with Janis' delivery of a song, that Janis was given permission to use the title of "the Female Elvis Presley."

Janis went on to appear on the Tonight Show, American Bandstand, and Ozark Jubilee with Red Foley which featured Brenda Lee before Brenda began her recording career. Janis traveled all over the nation, making appearances on TV, radio and stage. She did her first road tour with Hank Snow and went on other tours with Faron Young, Porter Waggoner, Jim Edward Maxine and Bonnie Brown, Johnny Cash, Del Wood and Carl Perkins. She was chosen by RCA to become a regular member of the Jim Reeves show and traveled with him exclusively.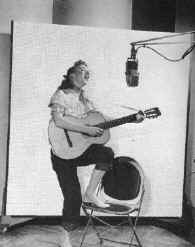 Janis was voted the 'Most Promising Female Artist of 1956" at the annual disc jockey convention and received the Billboard Magazine award on plaque. With much success behind her, she formed her own band called the "Marteens" and began her travels in the U.S. and Canada, playing clubs and fairs. She made a screen test for MGM,
In 1957, this package show went overseas to entertain the armed forces in Europe. On returning to the States, Janis appearred on the Today Show with Dave Garroway to tell of their experiences and to sing her latest record, "My Boy Elvis". After this show, she was invited to appear at the Grand Old Opry.
Martin might have finessed it all, but for a personal situation that came up in 1958. She'd been secretly married since 1956, and her husband was stationed overseas in the army; she went on a European tour and got to see him in 1958. The result was that the 17-year-old rockabilly star became pregnant, and was dropped by the label in short order.
When her son was two years old, Martin tried to keep a music career going and was courted by both King Records and Decca Records before signing with a Belgian owned label called Palette, for which she cut four sides in 1960. She was on her second marriage by then, and husband No. 2 (whom she later divorced) didn't take well to her career. She withdrew from music except for appearances near her home in Virginia, and then in the 1970s, on her own again, formed her own band, the Variations, and toured Europe, where she encountered strikingly enthusiastic audiences, ready to embrace her as though it were still 1958.
For all of her early success, Martin was never able to sustain a rock & roll career, mostly because of her gender and the changing times. Her stage moves and lusty delivery appeared unseemly (or so people said, especially on the country circuit) in a girl, once the initial furor and enthusiasm for rock & roll quieted down. Additionally, the country shows on which she was booked usually put her on bills and in front of audiences that weren't overly enamored of rock & roll to begin with, and Martin found herself caught between conflicting currents. Her record company and management wanted her to keep pushing rockabilly in her stage act, while promoters doing the bookings preferred that she do straight country.