Jeff Barry and Ellie Greenwich comprised one of the most successful Brill Building songwriting-production teams to supply hit compositions to Phil Spector and Jerry Leiber and Mike Stoller in the early '60s. Barry and Greenwich were the most attuned to young America's hearts and minds, with a natural sense of teenage idiom.

First meeting in 1960, Barry and Greenwich did some writing together, but kept to separate paths. Barry's first chart hit was Teenage Sonata and Tell Laura I Love by Ray Peterson his first Top Ten pop record. At this time Barry was also recording under his own name. Ellie stayed in college until her graduation in 1961, all the while writing songs and singing on demos. One day while auditioning at the Brill Building, Leiber and Stoller heard her singing from the next room, mistook her for Carole King, and subsequently offered her a job as a staff writer.

A Greenwich pairing with Tony Powers led to a few hits, such as "Why Do Lovers Break Each Other's Hearts?" (Bobby Soxx and the Blue Jeans), but after Ellie married Jeff in 1963, they became exclusive partners, supplying Phil Spector with his best songs ever with "Da Doo Ron Ron," "Then He Kissed Me," (Crystals) and "Baby I Love You" and "Be My Baby' (Ronettes).
In 1963 singing as the Raindrops they had a hit with "The Kind of Boy You Can't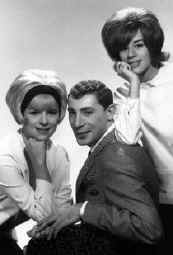 Forget." The Chiffons (When the Boy's Happy" and "I have A Boyfriend) and the Exciters ("Do Wad Diddy) had hits that same year with Barry-Greenwich compositions. Early in 1964 Leiber and Stoller put the pair in charge of their newly founded Red Bird Records. Fifteen of Red Bird's first twenty releases made the charts, all written and produced by Barry/Greenwich. They also produced six songs for Phil Spector.
Barry and Greenwich left Red Bird in early 1966, with their latest discovery, Neil Diamond, who

they managed and produced for the Bert Burns' Bang label. They also continued to write classics like "River Deep, Mountain High" (Ike and Tina Turner) and "I Can Hear Music' (Ronettes, Beach Boys). With their marriage having ended the year before they found it hard to continue to write love songs. Jeff moved to California. Ellie made her first solo album and then formed a new partnership with Mike Rashkow. Barry is now a successful writer in Hollywood; Greenwich wrote the Broadway play Leader of the Pack, a tribute to the Brill Building era, in 1985