The Jellybeans


The Jelly Beans circa 1964
(Top Clockwise) Charles Thomas, Alma Brewer,
Elyse Herbert and Maxine Herbert
The Jelly Beans are a well known group despite the fact that they only recorded three records

The Jelly Beans were Alma Brewer, Diane Taylor, sisters Elyse and Maxine Herbert, and Charlie Thomas from Jersey City. They were discovered while still in high school by Bill Downs who knew producer Steve Venet who brought the group to Red Bird Records. At Red Bird songwriters Jeff Barry and Ellie Greenwich were given the task of turning the group into hit makers. They succeed when the Jelly Beans' first release "I Wanna Love Him So Bad" made it to #9 on the charts in 1964 and sold nearly a million copies.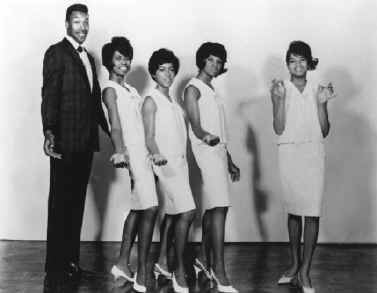 The Jelly Beans' second release "Baby Be Mine," another Barry and Greenwich composition didn't do badly either, reaching #51 in 1964. There was talk of doing an album and some tracks were recorded, but no album or subsequent singles were released on Red Bird Records.
The following year, a lone 45 was issued by Eskee Records.

The Jelly Beans were a mixed voice quintet (later a quartet)
comprised of one man (Charles Thomas) and four women (Alma
Brewer, Diane Taylor, Elyse Herbert, Maxine Herbert) who got
together while attending high school in Jersey City, NJ. That was
where their manager discovered them in 1963, and he brought
them to the attention of songwriters Jerry Lieber and Mike
Stoller, who were starting up a record label, Red Bird, in
association with End/Gone Records founder George Goldner.

The group was put into the hands of songwriters Jeff Barry and
Ellie Greenwich, then near the peak of their output together, who
gave them "I Wanna Love Him So Bad." The third single issued
by Red Bird, it reached number ten on the Billboard charts. The
Jelly Beans' second single, "Baby Be Mine, " didn't reach the Top 50, however, and although the
Jellybeans left behind enough songs for an album, none was forthcoming. By 1964, Red Bird had
bigger acts to worry about, including The Shangri-Las and The Dixie Cups, and the group was
gone from the label by the end of that year. A final single release on Eskee failed to chart, and the
Jelly Beans had broken up by 1965. -- Bruce Eder