One of the more influential guitarist of the Fifties, Link Wray introduced the distorted fuzz-tone sound on his million selling single. "Rumble." Link Wray is credited with having more influence than his track record might indicate. Pete Townshend of the Who has referred to him as "the king." Ray has been called the godfather of the guitar power chord and the father of heavy metal rock. In fact, he might be this and more.

Fred Lincoln Wray Jr., who was part Native American, was born May 22, 1935 in rural Dunn, NC. Both of Wray's parents were preachers in the Holiness Church. He learned bottleneck guitar as a youth, after moving with his parents to Arizona. Link joined the Army after high school and entertained on the Arm Forces Network in Germany. After returning from the Korean War, where he lost a lung to tuberculosis, Wray was told not to sing so he devoted himself to the guitar. He formed a combo with brothers Vernon and Doug. Even though they were playing country songs, they often performed them in such a rough manner that they were kicked off stage!
"We played rock 'n roll ten years before it was given a name" Wray supposedly
stated in later years.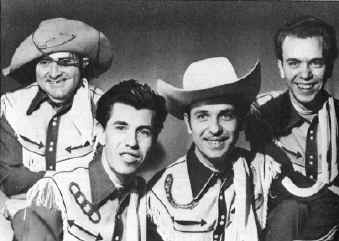 Link Wray and the Raymen
Photo courtesy Michael Ochs Archives
In 1956 as "Lucky" Wray and the Palomino Ranch Hands, they recorded the first of three country/rockabilly singles for Starday Records. Vernon led the band on four singles for Cameo Records in 1957-58. In 1958 an instrumental built around the Stroll was picked up by Cadence Records. "Rumble" with its crashing guitars chords set off a chain reaction as socially conscious groups petitioned to have the tune banned because of its perceive association with juvenile delinquency. "Rumble" sold over a million copies and reached #16 that year.
Wray who was not signed with Cadence was quickly picked up by Epic Records, which channeled his energy into a series of less raucous instrumentals including "Rawhide," "Comanche," and "Slinky." Doug Wray also recorded "Goosebumps" for Epic in 1959.
After a brief stop at Okeh, the Wray's recorded on several labels including Rumble, Atlas and Trans-Atlantic. In 1963 Link showed up on Swan Records with "Jack the Ripper." He stayed with Swan until 1967. Thereafter, he recorded for many labels.
Having problems both with marketing, and record deals, made Link Wray fed up of playing in the late -60's. He retired from the business and was just about to change careers entirely.
By this time Wray had retired to a family farm commune in Maryland, where he built a three track studio in a shed , playing live only occasionally at local bars.Fortunately Wray returned in 1971. But this time with a pretty different sound that shocked his old fans. Gone were the howling guitars; he now played "down to earth" country and blues with acoustic guitars and a pleasant voice. However it didn't last to long. Some years later he returned to his original style and music. In the beginning together with Robert Gordon (and made two records), and later on his own. His new records wasn't as good as the old ones from the -50's and -60's, but in concerts he was still an ace.
Many of the three track recordings were issued on the 1971 Link Wray, a critically acclaimed LP that sold little and was largely made possible by admiring rock stars like Peter Townsend, Jeff Beck, Bob Dylan and Ray Davies.
Wray moved to Denmark in 1983. The reason was his Danish wife Olive Julie. Link says "I can go and live everywhere, and still go on tour to rock 'n' roll, and record albums - doesn't matter where I live, and I moved to Denmark for Olive."
Wray was unwilling to compromise his music to appeal to the masses. It was his attitude as well as much as his guitar skills that appealed to the punk rock crowd when they discovered him in the 1970s.