Berry Gordy's Motown Records

Founder and owner of the Tamla-Motown family record labels, Berry Gordy, Jr., established Motown Records as one of the most important independent labels in the early '60s. Assembling an industrious staff of songwriters, producers, and musicians, Motown Records built one of the most impressive rosters of artist in the history of pop music and became the largest and most successful independent record company in the United States by 1964.

| | | | |
| --- | --- | --- | --- |
| Berry Sr. and Bertha Gordy | St. Antoine and Farnsworth | Booker T. Washington Grocery | Gordy Printing Company |
On Thanksgiving day, November 28, 1929 Berry Gordy was born at Detroit's Harper Hospital. Gordy was the seventh child born to Berry and Bertha Gordy. The Gordys were an ambitious middle class with roots in Georgia farming and retailing. The family moved to Detroit from Sandersville, Georgia in 1922 Sandersville, Georgia with their first three children. It was here that they established a successful construction, painting and printing business that allowed the family to purchase a commercial building on the corner of St. Antoine and Farnsworth Berry Gordy Sr also opened the Booker T. Washington grocery store From it he instilled the values of frugality, discipline family unity and hard work that were so dear to Booker T. Washington. After the children were grown Bertha would studied business at Wayne State University and University of Michigan. Finally graduating from Detroit Institute of Commerce Bertha would go on to co-found the Friendship Mutual Life Insurance Company.
Gordy dropped out of school in the eleventh grad to become a professional boxer. At one time he even fought on the same card as the Brown Bomber Joe Lewis at Detroit's Olympia Stadium. He ended a respectable career as a featherweight in 1950. After serving in the army in Korea from 1951 -1953. His love of jazz caused him to open with his brother George the 3-D Record Mart House of Jazz. Obsessed with his love of jazz, Gordy was too stubborn to stock the blues records that the neighborhood wanted. The result was the stored failed, and for awhile he sold Guardian Service Cookware.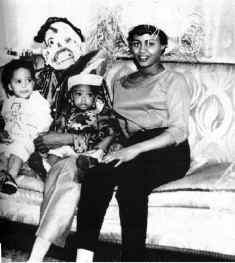 Berry married Thelma Crawford and quickly had three children. It was after closing the store that Gordy went to work on the assembly line as upholstery trimmer at the Ford Lincoln-Mercury plant in Wayne, MI. By 1957 he had quit that job to become a professional songwriter.
| | | |
| --- | --- | --- |
| Flame Show Bar | L to R: Esther, Anna, Bertha, Gwen and Loucye Gordy | Roquel "Billy" Davis aka Tyran Carlo |
The Flame how Bar opened in 1949 and was located on the corner of John R and Canfield. The Flame was a Black and Tan, a showplace for Black talent in Detroit during the 50s. Billie Holiday, T-Bone Walker, Wynonie Harris were just a few of the many great Black entertainers that appeared there. The Berry's were in charge of the cigarette and photo concesions there. Sisters Gwen and Anna took the photos with brothers George and Robert developed the film. It was at this time that Al Green the Flame's owner invited Gordy to write for Jackie Wilson who he managed. Gordy teaming with Roquel "Billy" Davis began writing at Green's office. Eventually sister Gwen would be brought in and they would write To Be Loved," Lonely Teardrops," "That's Why (I Love You So)" and "I"ll Be Satisfied. Established as hit writers Gordy started doing some producing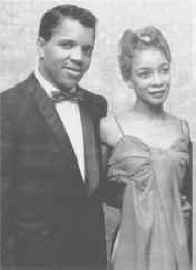 Berry and Raynoma Gordy

One day Raynoma Liles and her sister auditioned for Gordy. Not only did Gordy meet his next wife Raynoma, but he found a woman who could help him write. hit records. Known around the company as Miss Ray, she had perfect pitch and could write lead sheets. They soon formed the Rayber Voice Recording Company. For $100 they would do whatever was necessary to help a young singer make a record. From writing, arranging rehearsing or recording a demo. In this way they were able to find new talent. They also put together the Rayber Voices, a studio group that backed most of Motown's first acts early recordings.

In late 1957, Gordy had his first success with "Reet Petite" which was recorded by Detroit born Jackie Wilson who had at one time replaced Clyde McPhatter as lead singer of the Dominoes. The next year he wrote "Lonely Teardrops" for Wilson.57, Gordy had his first success with "Reet Petite," which was recorded by Detroit born o had replaced Clyde McPhatter as lead singer of the Dominoes. The next year he wrote "Lonely Teardrops" for Wilson.

Motown Alumni Association
Motown Albums Discography