An unsuccessful audition of the Matadors for Wilson's manager Nat Tarnopol would change Gordy's life. Berry really liked them and told them so after the audition. This would be the beginning of a close friendship between Gordy and the Matador's lead singer Smokey Robinson. The Matador;s soon changed their name to the Miracles. Gordy managed the Miracles and produced their 1958 single Got A Job on the End Record label. The small royalty check ($3.19) he received from End and other similar for all hits he had co-written convinced him to start his own label Tamla. Originally he had wanted to call it Tammy after the Debbie Reynolds ballad, but the name had already been taken.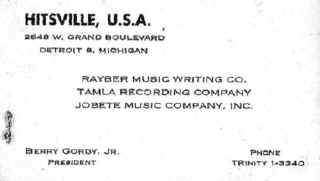 With the $800 loan from the family Ber-Berry Co-Op , Gordy started Talma Records. In 1959 he made a $300 down payment toward a total price of $23000 For a house at 2648 West Grand Boulevard.. Living upstairs with his second wife Raymona he converted the downstairs into and office suite and the basement a recording studio. He also started a second label Motown Records. Motown Records Inc. Porch Hitsville USA

Terry, Berry lV and Hazel Joy
In 1959 Gordy started his own publishing company Jobete Publishing named after his three children Hazel Joy, Berry and Terry. If you wrote for Motown you were published by Jobete which grew to be one of the most powerful in the industry
| | | | | |
| --- | --- | --- | --- | --- |
| Mabel John | | Barrett Strong | | Marv Johnson |
Gordy initially recorded R&B artists on Tamla Records. He signed Mabel John, the gospel trained sister of blues singer Little Willie John. Gordy scored a minor hit with Tamla's first release, R&B singer Marv Johnson's "Come To Me." As the record picked up steam Gordy found he could not keep up with the demands of national production and distribution and leased the master to United Artists. Later in the first year of operation he co-wrote and produced "Money," which was recorded by Barrett Strong. Not yet equipped to break a national hit "Money" was released by Anna Records which was owned by his sister Gwen and her husband Harvey Fuqua. "Money" eventually reached the number two spot on the R&B Chart. In November 1959, Gordy recorded "Bad Girl" by a young William "Smokey" Robinson and the Miracles that reached number ninety-three on the pop charts with the help of national distribution by Chess Records.

Smokey Robinson convinced Gordy that Motown should distribute its own records. In 1960, Gordy co-wrote and distributed "Shop Around" by Smokey Robinson and the Miracles, which was a number one hit and established Motown as an important independent company. By this time Gordy had set up the Motown Record Corporation, Hitsville USA and Berry Gordy Enterprises. Jobete Music was his publishing firm and management agency International Talent Management, Inc. He also set up various subsidiary labels.

Through the next four years, Gordy continued to produce hits by capitalizing on the girl group craze. In 1959, a sixteen year old girl, Mary Wells, approached Gordy with a song she had written for Jackie Wilson. Unable to write music, Wells sang the song to Gordy, who immediately signed her and released her version of "Bye, Bye, Baby," which made the Top Ten on the R&B charts in 1960. Two years later she teamed with Smokey Robinson, who now wrote and produced for Tamla label and hit with "The One Who Really Loves You," "You Beat Me To Punch," and "Two Lovers." The next year she recorded "Laughing Boy" and "Your Old Stand By." In 1964 Wells topped the charts with "My Guy."
Gordy also charted with the Marvelettes. Around 1961, one of their teachers arranged an audition with Gordy, after which he signed them and released "Please Mister Postman," which became Motown's first number one record. The next year the Marvelettes hit the charts with "Playboy," "Beachwood 4-5679," "Someday Someway," and "Strange I Know." In 1962 The group toured the South as part of the first Motortown Revue.
Encouraged by his success with the Marvelettes, Gordy recorded another Detroit girl group, Martha and the Vandellas. Martha Reeves, influenced by Clara Ward and Billie Holiday, joined with Annette Sterling, Rosalind Ashford and Gloria Williamson sing as the Del-Phis while in high school and record the unsuccessful "I'll Let You Know" for Chess. In 1961 Reeves was hired as a secretary at Motown and by 1962 had convinced Gordy to record her group. The group sang backup vocals on a number of Motown hits including "Hitch Hike" and "Stubborn Kind of Fellow" by Marvin Gaye. Martha and the Vandellas hit the charts with "Come Get These Memories," followed by the million selling "Heat Wave" and "Quicksand." The next year they recorded "Dancing In the Streets" which reached near the top of the charts. Martha and the Vandellas, along with Mary Wells and the Marvelettes, identified Motown as a major source of the girl group sound.
Gordy the son of a black entrepreneur who hoped for the upward mobility of blacks, specifically groomed and cultivated streetwise teens from the streets of Detroit to make them acceptable to Mainstream America. In 1964 he hired Maxine Powell, who had operated a finishing and modeling school, to prep his performers. Powell tried to transform Motown artists into polished professionals.

Cholly Atkins and the Four Tops
(R to L: Cholly Atkins, Lawrence Payton, Duke Fakir, Obie Benson and Levi Stubbs)
A few months after adding Maxine Powell, Gordy hired choreographer Cholly Atkins, a well known dancer in the 1930s and 1940s who had performed at the Cotton Club and Savoy Ballroom, to teach these groups how to move gracefully
Atkins worked with Maurice King, who served as executive musical director. King who had arranged shows at Detroit's Flame Show Bar for years and had worked with jazz artists such as Billie Holiday and Dinah Washington, taught the Motown groups about stage patter.

At EMI in London, March 1965
Berry Gordy,Temptation, Miracle, Stevie Wonder, Martha and and the Vandellas, Supremes
By the mid-1960s, Gordy had assembled a Motown team that could take poor black youths from Detroit and teach them to talk, walk, dress as successful debutantes and debonair gentleman
Gordy combined the polished images of the Motown acts with a gospel-based music that could appeal to mainstream America. Blues and R&B always had a funky look to it back in those days, and Motown wanted to have a look that fathers and mothers would want their children to follow. They wanted to kill the imagery of liquor and drugs and how some people thought it pertained to R&B. Therefore when they reject anything that had a strong blues sound to it when choosing material for their artist.
In place of the blues and R&B, Gordy favored a distinct music grounded by an insistent pounding rhythm section, punctuated by horns and tambourines and featuring shrill, echo-laden vocals that bounced back and forth in a call and response of gospel. Building upon his experience with the girl group sound, he produced a full sound reminiscent and expanding on Phil Specter's Wall of Sound.