The Murmaids

The Murmaids are left to right, Cynthia Perry, Terry Fischer Siegel (leader), and Carol Fischer Morell

The Murmaids (seated with unidentified woman at far right) with (standing, left to right)
Stan Ross, owner of Gold Star Studios; Ruth Conti, president of Chattahoochee Records; and
producer Kim Fowley
Carol and Terry Fischer were sisters, and Sally Gordon was a neighbor and mutual friend. For a brief moment, they were the Murmaids from Los Angeles. Carol and Terry's father was a music arranger and director; Mrs. Fischer was the groups guiding light. Before the girls girls left for college in the fall of 1963 Mrs. Fischer took the teenage singers to the offices of Chattahoochee Record owner Ruth Conte.
Kim Fowley (producer/songwriter for B. Bumble & the Stingers, Hollywood Argyles, early Paul Revere and the Raiders, and later Byrds) was then Chattahoochee's in house producer. Fowley had been given a song by future Bread frontman David Gates. "Popsicles and Icicles" was silly and sweet, an obvious vehicle, for a wholesome trio like the Murmaids.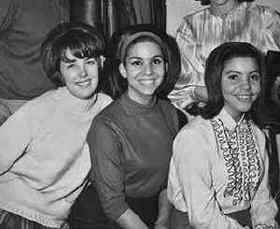 Once "Popsicles and Icicles" was recorded, the girls left to college. The record became a big hit (#10). Apparently Chatahoochee issued an unsuccessful single or two hoping to squeeze out another hit before the group broke up. The singles were unsuccessful. As Murmaids members swam off toward a sea of obscurity; Cathy Brasher and Yvonne Young were called in to be the Murmaids of 1966. Their folkish rocker "Go Away" wasn't a bad effort, but after that one release on Liberty Records in 1968, the Murmaids did just that.