Next, Ricky sang on the show. Ricky choose Fats Domino's "I'm Walkin." The publics response was positive and a demo tape was made. The Nelson's talent agency, MCA, sent the tape out to more than twenty labels. Each turned it down until Barney Kessel heard it. Kessel was an acclaimed jazz guitarist and chief A&R man for Verve Records. He had also been Ozzie's guitarists in the 1940s. Kessel realized that Ricky's image had already been pre-sold through the weekly TV shows. A deal was made for one three hour recording session for Verve. Three songs "I'm Walkin''," "A Teenager's Romance," and "You're My One and Only Love" were completed.

On April 10, 1957 "I'm Walkin'" debuted on the TV show. Within a week "I'm Walkin'" backed by "A Teenager's Romance," was released by Verve. Through the summer "I'm Walkin'" moved up the charts. In mid-summer "A Teenager's Romance" caught on. Verve was swamped with orders and quickly fell behind in in pressing new singles. They also fell behind in paying royalties, a major transgression in Ozzie's eyes.
In June and August 1957, Verve released an album named Teen Time. Ten Time featured three Nelson songs plus other artists. Verve's failure to pay Nelson his royalties, In September, Ozzie Nelson sued Verve for $43, 185 and accounting of profits on the sale 700,000 copies of "I'm Walkin', charging Verve's failed to anticipate the demand and didn't get enough records out. In November, Verve counter sued Ricky Nelson, charging he failed to sign a one year contract as promised and instead signed with Imperial Records. Four years later, Verve paid $38,000 in back monies.
Lew Chudd of Imperial Records, Fats Domino's label, was one of the first to notice Ricky. After all, Imperial held part of the publishing rights to "I'm Walkin'." Chudd approached Ozzie about Ricky's contract. After he learned of Ozzie's unhappiness with Verve and that Verve only had an agreement for one session, Chudd and Ozzie made a deal. Ricky moved to Imperial with a five year contract guaranteeing $50,000 against royalties. Verve retaliated by releasing "Your My One and Only" with an instrumental by Kessel on the flip side.
The Verve single had just titillated the teen audience. It was obvious that Ricky's first Imperial single would be an instant smash. There were advanced orders for a million copies before Ricky had even entered the studio to record "Be-Bop Baby" and "Have I Told You That I Love You." A week later the songs were played on the TV show. The single roared up the charts in the fall of 1957.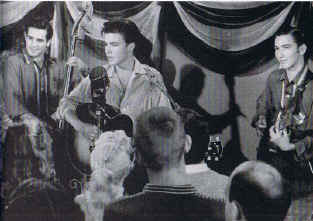 (l to r: James Kirland, Rick Nelson, James Burton)
Photo courtesy Greg McDonald
Ricky was increasing dissatisfied with the session musicians provided for his recording sessions. He decided to form his own band of younger players after a near disastrous tour of the Midwest during which the promoter hired local musicians to back him. After hearing a demo of "Red Hot" by Bob Luman, another Imperial recording artist, Ricky contracted Luman' bass player James Kirkland and guitarists James Burton. After a brief work out they were hired to perform as his TV band. A short time later Richie Frost was added on drums with Gene Garf on piano.Burton had been an original member of Dale Hawkin's combo on "Susie-Q," before joining Luman. Frost was a session drummer who had worked on the musical score for the Nelson's show.
James Burton was inducted into the Rock and Roll Hall of Fame in 2001
While this was happening, Ricky recorded his second Imperial single "Stood Up" and "Waitin' In School." With his style becoming more professional, "Stood Up" just missed being number one. The next single "Believe What You say" featured the new band. "Believe what You Say" had a full blown powerhouse sound. Burton's guitar work was full of fire and innovation, while the rest of the group held its own. Even Ricky's vocals improved.
Now Ricky's career outside the TV show accelerated. He received creditable reviews when he co-starred in John Wayne's Rio Bravo. His concerts were instant sellouts. His role in the TV show expanded, not just to allow him to sing, but to allow him to act. He was receiving ten thousand fan letters a week and was appearing in a monthly comic book. He raced cars and dated starlets.. He was friends with Elvis, Gene Vincent, Eddie Cochran and the Burnette brothers.
With "Poor Little Fool" he topped the charts for the first time. "Lonesome Town" proved he could handle slow material. "Never Be Anyone Else But You," "It's Late," "Just A Little Too Much," and Sweeter Than You," the four sides of his next single gave him the creative freedom he wanted.
As the sixties began, Nelson's career was going through a slump. Since his debut single "A Teenager's Romance" in 1957 up to "Just A Little" in the summer of 1959 virtually everything went Top 20. Then something happened. "I Wanna Be Loved" stop at #20 six weeks after its release. "Young Emotions" peaked at #12, "I'm Not Afraid" and "Your the Only One" didn't make the Top Twenty. Something was hurting his sales.

Rio Bravo (On set with John Wayne, Dean Martin and director Howard Hawks)
Warner Brothers


The Wackiest Ship In the Navy: With co-star Jack Lemmon
(Columbia Pictures)
Maybe it was overexposure. He was seen every week as he was a member of his family's ABC-TV show The Adventures of Ozzie and Harriet. Almost every episode included him singing at least one song. He was in the movies with Rio Bravo (1959) and The Wackiest Ship In the Navy (1960). Maybe some of his fans were going back to Elvis after his discharge from the Army.. Then there were the newer, young artists like Bobby Vee, Brian Hyland and Bobby Rydell. Then there was the Twist, music's latest fad.
It certainly wasn't the musicians. His combo was top notch led by the stunning guitar work of James Burton. Nelson's greatest problem was the material he was given to sing.
Enter now Jerry Fuller and Gene Pitney. Fuller submitted "Traveling Man" and Pitney "Hello Mary Lou." With great studio treatment came a double sided smash. On May 8, 1961, as the single was ascending the charts, Nelson turned twenty-one. To celebrate, he went from Ricky to Rick. Even now Ozzie refused to let him appear in nightclubs afraid that would run the families' squeaky clean image. Television shooting schedules prevented him from joining any of the cross country tours. What was left was a show or two at the Steel Pier in Atlantic City, or a couple fairs around the country.
The next four singles all sold well. "A Wonder Like You" went Top Twenty. "Young World, " A Teenage Idol" and "It's Up To You" all went Top Ten. Part of the reason might have been Rick's reduction of singing on the television show.
In 1962, with his contract expiring with Imperial, his management team let it be known he would be accepting offers starting at a $1,000 week guarantee for twenty-five years or $1.3 million lump sum. RCA Victor, Capitol, Columbia, Challenge, Everest and Dot were all in the bidding. In December, Rick decided to go with Decca for $1 million spread over twenty years.

Rick and Kristen (Harmon) Nelson
AP


Kris, Tacy Kristine, Rick
UPI
His Decca single "You Don't Love Me Anymore" was released in March, 1963 and didn't quite make the Top 40. On April 20, he married Kristen Harmon, daughter of Tom Harmon a former professional football player. The ceremony took place in St. Martin of Tours Church in Los Angeles and the couple honeymooned in Barbados. Six months later on October 25, Tracy Kristine Nelson was born at St. John's Hospital near Santa Monica.
Nelson's move to Decca did not save his recording career. There were few hits and those came just after the switch.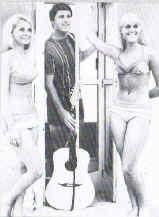 Malibu U
ABC
In 1964, he suffered the same fate as his American contemporaries. He was washed aside by the British invasion. He continued to record, but by early 1965, none sold well enough to chart. Also in 1965, he and Kristin appeared in a very lightweight movie Love and Kisses that was directed by Ozzie. 1966 was the last year for the television show and he was soon free of his TV commitments. He then went on a successful tour of the Far East that included Japan, Hong Kong and the Philippines. Back home, he hosted the comedy show Malibu U. He also appeared for two weeks in How To Succeed In Business Without Really Trying at the Circle Theater near San Francisco.
Determined to continue as a singing performer, he began to integrate various outside influences into his albums including songs by Paul Simon, Tim Hardin, Harry Nillson and Randy Newman. He was especially drawn to the folk rock scene developed by the Byrds and the Buffalo Springfield.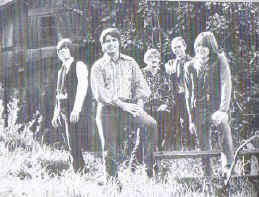 Stone Canyon Band (l to r: Allen Kemp, Rick, Pat Shanahan, Tom Brumley, Randy Meiner, 1970
Photo courtesy Allen Kemp
Nelson had a strong country feel to much of his material from the beginning and by the late '60s it was becoming dominant. He covered straight country material by the likes of Willie Nelson and Doug Kershaw, and formed one of the earliest country-rock groups, the Stone Canyon Band, with musicians who had played (or would play with) Poco, Buck Owens, Little Feat, and Roger McGuinn. A cover of Bob Dylan's "She Belongs to Me" made the Top 40 in 1970, but his country-rock outings attracted more critical acclaim than commercial success.

At a rock revival concert in 1971, at Madison Square Gardens, New York, Rick was booed when he tried to introduce some new material to his act. Hurt and frustrated, he wrote and produced the album Garden Party (1972), confounding his critics when it became a million-seller, his first since 1961. Sadly, it was his last major success.
In 1973, Nelson appeared on television in the Streets of San Francisco and Owen Marshall. He was even the subject of a one hour documentary put together by his older brother David. By this time the Stone Canyon Band had broken up. Nelson's last charted single "Palace Guard" in 1973, made it halfway up the Top 100 and down in a month.
By 1977, his singing career was in the doldrums, but Nelson stayed active by making guests appearances on TV variety shows hosted by Johnny Cash, the Everly Brothers, and Glenn Campbell or on sit-coms like The Love Boat. In 1975, he and Kristin split up with Kristin taking the four children, with the divorce becoming final in the early 80s.

A nostalgia rock tour of Britain, in 1985, was a great success and revived some interest in Rick's work.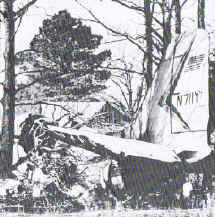 UPI
Hoping to achieve the same result in the United States, he undertook a tour of the South. On Monday 31 December, following a performance in Guntersville, Alabama (where Rick's last number was Buddy Holly's "Rave On") a fire erupted near a heater in the rear of the plane. The pilot attempted an emergency landing in DeKalb, Texas, but was forced to try landing in an open field. Barely missing a farm house, it clipped two electric poles before crashing. The pilot and co-pilot escaped but were seriously burned. Everyone else aboard was killed. Rick Nelson was buried on January 6, 1986 in Hollywood's Forest Lawn Cemetery.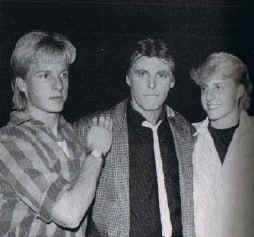 Matthew, Rick, Gunnar
Photo courtesy Greg McDonald
His twin sons, Matthew and Gunnar, have carried on the family name and musical tradition with their hard rock duo, Nelson. His daughter, Tracy, is a film/TV actress appeared in the television series The Father Dowling Mysteries.
Ricky Nelson was inducted into the Rock and Roll Hall of Fame in 1987