Orlons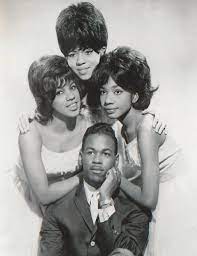 The Orlons circa 1961
(L-R) Stephen Caldwell, Marlena Davis, Shirley Brickley, Rosetta Hightower
Fun filled dances tunes were the Orlons specialty, making them one of the most popular groups to ever come out of Philadelphia.

Members:
Shirley Brickley - lead
Rosetta Hightower
Marlena Davis
Steve Caldwell - bass
Originally called Audrey and the Teenettes, the group was formed at a Philadelphia junior high school in the early Fifties and consisted of Audrey, Jean, and Shirley Brickley, Rosetta Hightower, and Marlena Davis. When Mrs. Brickley refused to let Audrey, who was thirteen, sing with the others in one of Philadelphia's small teen clubs she and sister Jean quit the group.
Shirley, Rosetta, and Marlena continued to singing at Overland High School where they were heard by fellow student Stephan Caldwell, who sang with a local group called the Romeos. Caldwell brought his baritone lead to the girls attention and joined the group.
The group was influenced by acts like The Chantels, Ray Charles, and The Moonglows.
| | |
| --- | --- |
| Dave Appell | Kal Mann |
Len Barry, lead singer for the Cashmeres/Dovells and a friend from Overbrook High School, where the Orlons were students suggested they audution for Cameo-Parkway Records. So in the fall of 1961 the Orlons auditioned for Kal Mann. They did just that, but failed to stand out from the many that auditioned daily. Perservering the group came back for two more auduitions and were signed to record for Cameo Records. A&R director Dave Appell started writing songs for the group and decided to feature Rosetta on lead.
The Orlons' first single "I'll Be True" elicited little interest as did their early 1962 follow-up "Happy Birthday 21."
In early 1962 The Orlons provided back-up vocals on Dee Dee Sharp's Mashed Potato Time" (#2 Pop, #1 R&B).
That spring they recorded "The Wah Watusi" which in July made it nationally to the #2 spot.

At the same time they again provided back-up vocals on Dee Dee Sharp's second hit "Gravy (For My Mashed Potatoes)" which went to #9.
The follow-up to "The Wah Watusi" "Don't Hang Up" reached #4 Pop and #3 R&B in the fall and winter of 1962.
The Orlons' first major performance was at New York's Apollo Theatre with The Crystals, Bob B. Soxx and the Blue Jeans, Chuck Jackson, Tommy Hunt, and Gene Chandler.

Orlons 1963
(L-to R) Marlena Davis, Stephen Caldwell, Rosetta Hightower. Shirley Brickley.
In 1963 they had hits with "South Street" (#3 Pop, #4 R&B) and "Crossfire" (#19 Pop, #25 R&B).
The Orlons became mainstays of Dick Clark's Caravan of Stars.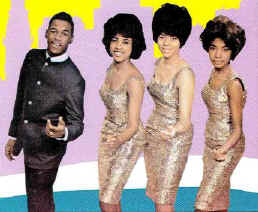 In 1964 with the start of the British Invasion the best three of the four singles could do was make it into the 60s on the charts ("Shimmy Shimmy," #66 "Rules of Love" #66, and "Knock Knock," #64). These were the last of the Orlons' chart hits.
Marlena was the first to leave in October, 1963 to be replaced by Sandy Person, the wife of a member of the backup band. By this time Bernie Lowe had sold Cameo/Parkway to record distributor Alfred Rosenthal with little insight into the recording processs. Rosenthal hired Neil Scott, a telented producer, but it was already to late to fight the Brirish invasion. Steve left the group in late 1964, and was not replaced, followed by Sandy replaced by Yvonne Young, who was soon replaced by original member Audrey Brickley
In 1965 they moved to Calla Records and in 1967 to ABC Records with no success. However, their past successes allowed them to work into the 70s until Rosetta decided to move to England. In 1968, she worked with Joe Cocker singing backup on his first heit "With a Little Help From My Friends." Rosetta worked with artists as diverse as Yvonne Ellman and Muddy Waters. She married an English musician and became a popular singer in England, where she still lives. Shirley and Audrey continued as Orlons using local singers to fill in at live performances. In 1977, Shirley was killed by an intruder in her home in Philadelphia. Steve became president of the local bus drivers' union and was elected to the school board where he was a member for twenty-five years. In the '80s, "Don't Hang Up was used by Macy's and AT&T in television and radio commercials, which led to more work for the group. In 1988, Steve and Marlena reformed the group, but she passed away in 1993. Currently, the Orlons consist of Steve, Jean Brickly Maddox, Audrey Brickley and Lillian Washington Taylor, who had been with the group in the '70s. Shirley died that year.