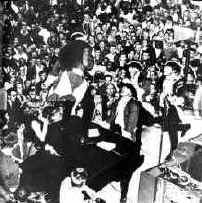 That night during the second half of their show at Lake Oswego Armory, the Raiders went on wearing their costumes.The whole attitude changed. It was suddenly the Marx Brothers on stage. Nobody had seen anything like it. Seeing how much fun it was for both the Raiders and the audience Revere began thinking knew he had discovered something. Soon Revere was having Revolutionary War costumes, complete with tri-corned hats, custom made.
With steady work and the Columbia signing, the Raiders solidified as a quintet featuring Revere, Lindsay, and Smith, guitarist Drake Levin and bassist Mike "Doc" Holiday, both formerly of the Sir Winston Trio (also known as the Surfers), who joined the band at the end of summer of 1963.
The Raiders' follow up to "Louie, Louie" was "Louie - Go Home, " only enjoyed regional success as did their third Columbia single "Over You."
Columbia now assigned staff producer Terry Melcher to handle the Raiders' recordings. Melcher was a recording star in his own right with his partner Bruce Johnston, turning out surf hits under the names of the Ripchords and Bruce and Terry.

Roger Hart and the Raiders on tour bus
The Raiders continued to play in their strongholds in the Northwest and Hawaii during 1964 to 1965, weathering the British invasion.
Just as Revere credits Hart as the inspiration to record "Louie, Louie," it was Hart that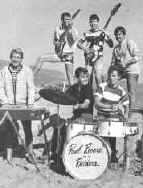 contacted Dick Clark when Clark was looking for a backup group to use on his upcoming pilot for a show to be called Where the Action Is.
For the Raiders, the summer of 1965 was what any popular artist dreams of. Where the Action Is premiered on ABC-TV on June 27. In July, the Raiders played at a CBS records convention in Miami that lead to company approval for a nationwide summer tour. The combination of TV exposure and live experiences pushed their debut album in the charts.
When the Raiders were hired for Action, they were just one of a cast of members that included Linda Scott, Steve Alaimo, Tommy Roe among others. However, the group was so visual and with their craziness they over shadowed all the others.



Steve Alaimo, Mike Smith, Mark Lindsay, Phil Volk,
Linda Scott, Paul Revere, and Drake Levin
At the end of 13 weeks, with their first Top 50 hit, "Steppin' Out" moving up the charts, the Raiders were able to renegotiate their contract becoming the shows stars.
In October , the Raiders followed up "Steppin Out" with what was to become one of their all time classics "Just Like Me." Written by Rick Dey, a big Raider fan from the Northwest, "Just Like Me" was released in November 1965. With a sizzling multi-tracked guitar solo by Levin, it became the groups' first Top 20 hit.
The Raiders' next song "Kicks," an anti-drug song written by Barry Mann and Cynthia Weil, went into the top five. Then came another Mann-Weil composition "Hungry" and another smash hit. But, at this time the group was starting to developing its own songwriting and Melcher began using session musicians on the Raiders' recordings

photo courtesy Paul Revere and the Raiders featuring Mark Lindsay and Jim Valley
Jim Valley, Mark Lindsay, Paul Revere, Phil Volk, Mike Smith
The first product of these two developments was "The Great Airplane Strike," a Lindsay-Melcher composition that became a Top 20 hit in 1967. By this time the Raiders' personnel had changed as Levin had been drafted and went into the National Guard. Though, Levin still found time to work in the studio, Jim Valley, a veteran of such Northwest bands as Viceroys and Don and the Goodtimes, came in to replace him, primarily on Action and tour.
Hits continued to come with "Good Thing," reaching to Top 5 in early 1967, followed by "Ups and Downs," a more modest success two months later. By this time Actions' two year TV run was coming to an end and Volk, Smith and Levin, (who had returned replacing Valley) decided to leave the group and go off on their own.
Revere searched for replacements, first adding Atlanta based guitarist Freddy Weller, who joined the group for its first live appearance on a late April Ed Sullivan Show to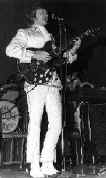 promote the next single "Him or Me - What's It Gonna Be," another Top 5 hit. After the show, Revere brought back Charlie Coe and hired drummer Joe Correro Jr, to complete the group.
In the studio, the change only extended Lindsay and Melcher's use of session musicians and overdubbing. This experimentation reached its apex with the next single, "I Had a Dream," a Top 20 hit released in July.
At this time the Beatles records such as "Penny Lane"/"Strawberry Fields Forever" single and Sgt. Pepper album radically the demands of their pop music peers. These musical developments were paralleled by the rising social consciousness of the time, which led to the lyrical sentiments as the one expressed in the Raider's next single "Peace of Mind" and the title of their next album Revolution!. They also recorded a seasonal album, A Christmas Present..and Past. This proved to be Melcher's swan song, as Lindsay took over the writing and producing. Lindsay produced his first Raider single in December 1967, "Too Much Talk" that returned to more uptempo style of earlier hits and nearly reached the Top 10 in early 1968.