Quin-tones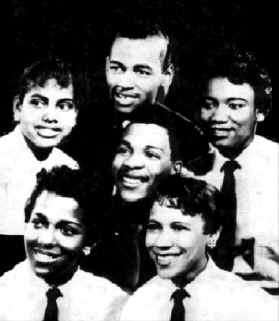 Quin-tones circa 1958
(clockwise from top left) Jeanne Crist, Ronnie Scott, Roberta Haymon,
Kenny Sexton, Phyliss Haymon and Carolyn Holmes (Photo courtesy Phil Schwartz)
A cross between the Bobbettes and the Chantels, the Quin-Tones created one of rock's most endearing "drags" (rock-a-ballads), "Down the Aisle of Love."

Members:
(1958-1961)
Roberta Haymon - Lead
Phyliss Carr - 1st soprano
Carolyn (Cissy) Holmes - alto
Kenneth Sexton - bass
Georgina (Jeanne) Crist - 2nd soprano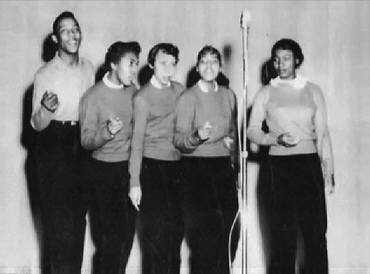 (L-R) Ronnie Scott, Phyliss Carr, Carolyn Holmes, Jeanne Crist, Roberta Hayman
Formed in York, Pennsylvania in 1957, the Quin-Tones consisted of lead Roberta Haymon, Carolyn "Cissy" Holmes, Jeannie Crist, Phyliss Carr, and Kenny Sexton. All were 16 and 17 year old students at William Penn Senior High School when they started developing their angelic sounding style. Originally calling themselves the Quinteros they played the usual teen dances and it was at one of these dances that they met a Harrisburg disc jockey, Paul Landersman, of WHGB, who promoted dances. After seeing them perform, Landersman was sufficiently impressed to become their manager.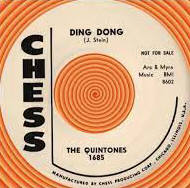 In February 1958, the group now called the Quin-Tones recorded several sides at Philadelphia;s Reco-Art Studios. Their first single "Ding Dong" was issued by Chess Records . The song was a dead issue by the spring.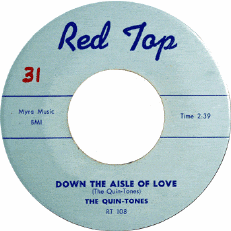 The Quin-Tones next session contained "Down the Aisle of Love" a song that the group had written while performing on the road. Landersman liked it so much that he arranged a new release deal with Irv Nathan and Marvin Schwartz's Red Top label of Philadelphia.
As was typical of the times, the Quin-Tones never received any royalties even though "Down the Aisle of Love" sold close to a million copies.
Opening with an organ interruption of "Here Comes the Bride," the classic beat ballad took off on radio. Soon it was licensed to the larger Hunt Records since Red Top couldn't keep up with demand. "Down the Aisle of Love" charted Pop on August 18, 1958, and reached number 18 only 10 months after they met Landersman.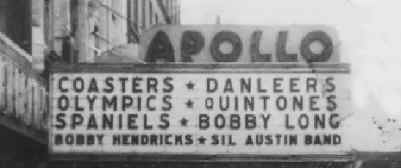 The high point of the Quin-Tones performing career came on August 28, 1958, with an appearance alongside the Chantels, Spaniels, Coasters, and the Olympics at New York's Apollo Theatre.
"There'll Be No Sorrow," another group written ballad, failed as did their remake of Edna McGriff's 1952 "Heavenly Father."
With the record industry's attitude that you are only as good as your last hit, the Quin-Tones found themselves with no one to record them.
In 1960 Roberta Haymon got married and the group disbanded. Kenny Sexton joined the service and then moved to San Diego.
The group reunited in 1986 and began performing again, with Roberta, Carolyn, Jeannie, and Phyllis's brother Vince and Rob Webb. Today Carolyn Holmes is a receptionist, Phyllis Carr is a caseworker for the Department of Public Welfare, Jeannine Crist is active in the church, and Roberta Haymon works in a Harrisburg, Pennsylvania, hospital.
Roberta Haymon died in 1996.
Carolyn Homes died in 1995.
Jeannie Crist died in 2008.
Phyliss Carr died from breast cancer April 20, 2006.