Ronettes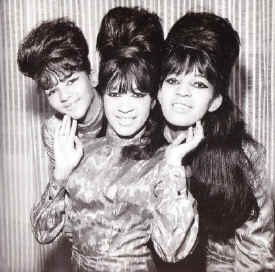 From the top: Estelle Bennett, Nedra Talley, Ronnie Bennett Spector
Perhaps the best remembered of the "girl group" of the early '60s, The Ronettes achieved their biggest success under producer Phil Spector. In towering black beehive hairdos and dark eye makeup, the Ronettes were a classic mid-sixties girl group with a sultry twist; vulnerable but tough, sexy but sweet.

Members:
(1961-1966)
Veronica (Ronnie) Bennett
Estelle Bennertt
Nedra Talley
Veronica (Ronnie) Bennett, her sister Estelle, and their cousin Nedra Talley grew up in New York City's Washington Heights listening to rock and pop, especially Frankie Lymon and the Teenagers and Little Anthony and the Imperials.
Starting in 1959, their grandmother would sequester the three in a room for an indefinite period and encourage the three to harmonize.
The girls aged 13 to16, called themselves the Darling sisters and took their act to the Apollo theatre amateur contest. When they won Grandma started having them take singing lessons. Phillip Halikus heard them, saw their potential and became their manager. He started them out with appearances at hops and charity shows.

Dancing at the Peppermint Lounge
On night in 1961, the girls dressed in tight skirts and with their hair piled high, stood in line at Joey Dee's Peppermint Lounge on New York's 45th Street. the manager mistaking them for a singing trio that hadn't arrived and took them inside. Ushered them on stage and they belted out a version of Ray Charles' "What I Say," even using the choreography they had been working on. The girls took the club by storm and were signed to appear regularly for $10 a night.

Photo courtesy Joey Dee's "Peppermint Twist" Lounge
The Darling Sisters were also booked to perform at the Miami Peppermint Lounge. There they were spotted by New York disc jockey Murray Kaufman, who converted them into Murray the K's dancing girls for his touring company and his Brooklyn Fox shows. They also did duty with Clay Cole's "Twist-A-Rama" tour.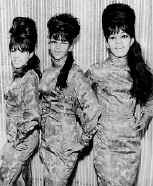 Meanwhile Phillip Halikus set up their first recording session through Stu Phillips at Colpix Records. Colpix renamed the trio Ronnie and the Relatives and issued their first single in the summer of 1961, "I Want a Boy."
The next single "I'm On the Wagon," listed the girls as the Ronettes. They also recorded an LP's worth of material for Colpix/May, but it wasn't released until their glory days.
In early 1963 they did an Exciter-styled rocker called "Good Girls" which showed continued recording maturity and a developing sound.
Between their other activities, the girls found themselves backing artists like Bobby Rydell, Del Shannon and Joey Dee on record.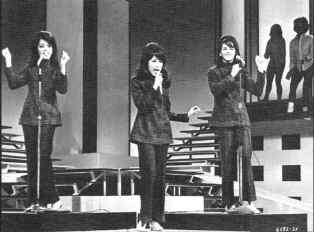 At this time there are two conflicting stories. The first is that Estelle while dialing a phone number for confirmation of a recording session, dialed the wrong number and wound up talking to Phil Spector. One thing led to another and he supposedly asked the group to do a demo for him. After hearing them he wanted to immediately produce a Ronettes record. The other less romantic version is that 16 magazine staffer Georgia Winters introduced Spector to the girls while he was in New York talent hunting. Whichever was true, Spector was taken with Ronnie's hard but sweet sound and saw the "bad girls" in beehives as an act he could build an image around.. Up until that time girl groups rarely had an identity or even their picures on the sleeves of their 45s. That changed with the Ronettes.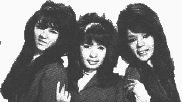 The first single on Spector's Philles label in July 1963 was a classic, the Barry/Greenwich/ Spector "Be My Baby." Ronnie's distinctive, seductive vocal delivery, along with her now legendary "woh-oh-oh-oh," drove teenage boys wild while Spector's production drove the single to chart success. By October, 1963 it was at number two and became an international hit as it reached number four on the English Charts.
In November, earth shaking hand claps, thousand pound drums, and Leon Russell's insistent piano playing, introduced the most powerful wall of sound record yet "Baby I Love You." the Ronettes held there own in a sea of orchestration, but not without some support. Spector added the backing voices of Darlene Love and the Blossoms, Ronnie herself, and Cher, over dubbing them until he had twenty to twenty five voices, balancing out the dense instrumental tracks. "Baby I Love You" charted on December 21, 1963. Though it only reached number twenty four, it went up to number eleven in Britain.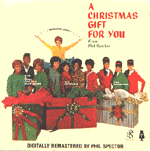 In November the Ronettes joined Dick Clark's Caravan of stars and then returned to New York to record the memorable Christmas album Spector's A Christmas Gift for You. The album's rise to greatness was halted by the assassination of President Kennedy.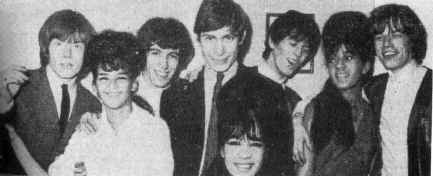 With two hits in the U.K., the group flew to England in February 1964 and toured with the Rolling Stones. While they were there they met the Beatles.
That same month they released "The Best Part of Breaking Up." It reached number thirty nine in the States and number forty three in England before Spector returned to the high powered teen rock with "I Do Love You," that had one of the most power driven intros ever recorded. Despite only reaching number thirty four in the US and thirty five in Britain, "Do I Love You" was one of their best records.

Ronettes with Murray the K
When the Ronettes returned to the U.S., the Beatles were right behind them, Murray the K, the self proclaimed fifth Beatle, met them because of the Ronettes. During 1964, Spector test marketed Ronnie as a solo act, issuing two singles under the name Veronica on his label. the first was a remake of the Students' classic ballad "I'm So Young" and a Barry/Greenwich/Spector composition "Why Don't They Let Us Fall in Love," each backed by the Ronettes and each pulled almost immediately after release.
In November 1964, the Ronettes released "Walking In the Rain," their most dramatic ballad. The Mann/Weil/Spector written record reached number twenty three and won a Grammy for Best Sound Effects, the only Grammy Spector ever received.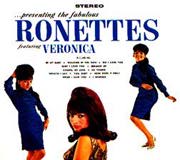 1965's "Born to Be Together" (#52) and "Is This What I Get for Loving You (#25) were worthy of greater response than they received.. Meanwhile, the Ronettes backed up the Righteous Brothers' classic ballad "You Lost That Loving Feeling." Their LP Presenting the Fabulous Ronettes featuring Veronica only reached number ninety six though it was the best Philles album.

Ronettes and Phil Spector
Spector's practice was to put an instrumental on the B side so as to keep the disc jockeys from "flipping" the record and taking attention from the A side. However, this wasn't the case with the single "Is This What I Get" which was paired with "Oh I Love You." This was the last side that Spector produced with the Ronettes before he married Ronnie in 1968.
In September 1966 Jeff Barry was given the reins for the only non-Spector produced single on Philles (and their last Philles forty-five) "I Can Hear Music."
By the end of 1966 the Ronettes had disbanded. Nedra married WINS program director Scott Ross and Estelle married producer/songwriter Teddy Vann. Ronnie forced into retirement by Spector managed only to release an occasional single.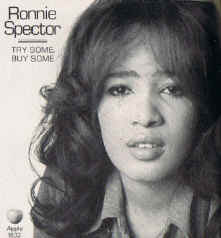 In 1971, under Spector's direction Ronnie recorded "Try Some, Buy Some" for the Beatles Apple label. This was her last charting record. It reached number seventy seven in the spring of 1971.
In 1973, with her marriage almost over, Ronnie returned to performing. She appeared as Ronnie and the Ronettes at Richard Nader's "Rock and Roll Revival show at Madison Square Garden. The new female trio included Denise Edwards and Chip Fields.
In the fall Stan Vincent produced two singles of the new Ronettes on the Buddah label; "I Wish I Never Saw the Sunshine." This song was a re-recording of a song the original Ronettes had recorded foe Spector in 1965. Spector didn't release it until his 1976 Rare Masters LP came out in the U.K.
In 1976 Ronnie sang backup for Bruce Springsteen at his New York Palladium performance. This led to E Street Band member Miami Steve Van Zant producing and arranging a 1977 single with Ronnie Spector and the E Street Band titled "Say Goodbye To Hollywood." The song written by Billy Joel, rocked with Ronnie's most inspired vocals since the early Spector days..It never charted.
In 1978 Ronnie tried again with a song called "It's a Heartache" the record was beaten to the charts by Bonnie Tyler's version (#3).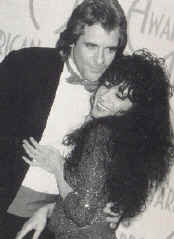 Eddie Money and Ronnie Spector
In 1980 rock and roll mover and shaker Genya Ravan produced Ronnie on a fuzz toned wall of sound rocker called "Darlin'" for her own Polish label. In 1986 she recorded with Eddie Money "Take Me Home Tonight," which put her back in the spotlight as it reached number four.
In 1987 Columbia issues a Ronnie Spector LP with the song "Dangerous" backed up by the Bangles.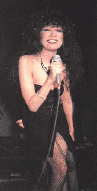 Through the eighties she performed as one of the legendary ladies of rock and roll. December 11, 1990 CBS-TV aired a special called "Grammy Legends" that included Ronnie singing "Say Goodbye to Hollywood."
While the Ronettes were unique musically, they were also the first really seductive girl group. Others before them seemed to be singing to their friends about the boys they desired ( "Maybe" the Chantels; "I Met Him on a Sunday" the Shirelles; He's So Fine" the Chiffons). The Ronettes sang directly to the boys "Be My Baby," "Baby I Love You") and performed to audience relations have never been the same since.
The Ronettes were inducted into the Rock and Roll Hall of Fame in 2007