Roy Orbison

One of the original Sun Records rockabilly artists recording alongside Elvis Presley, Carl Perkins, and Jerry Lee Lewis, Roy Orbison went on to become one of the most distinctive singers in popular music. Wearing trademark sunglasses, black leather jacket, and slicked back black pompadour, and with a twangy guitar and quavering belcanto tenor, Orbison scored a number of hits.
"I think the greatest voice in the world is Roy Orbison"
Elvis Presley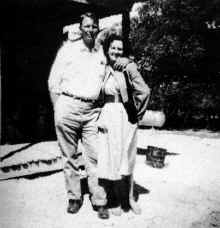 Orbie and Nadine Orbison
Roy Kelton Orbison was born in Vernon, Texas, on April 23, 1936. His parents Orbie Lee and Nadine gave him a guitar for his sixth birthday. He learned to play guitar at age six from his father and an uncle. Orbie was an auto mechanic in Vernon, but moved the family to Fort Worth so he could find work in the defense plants. Orbie ended up on the assembly line for the B-24 bomber, the Liberator.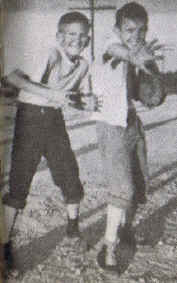 1948 With friend Orbie Lee Harris
Biographer Ellis Amburn portrayed him as a social outcast from an early age. Orbison dyed his hair black and wore sun glasses to alter his homely looks. Orbison affected an egotistical attitude to mask his feelings of inadequacy.
An outbreak of polio in Fort Worth during the war caused his parents to send him back to Vernon. After V-J Day they moved back to Vernon as well, soon moving to the West Texas town of Wink, an oil boom town close to the Mexican border. Orbie worked for Olson Drilling, across the state line in Jal, New Mexico.

The Wink Westerners
Billy Pat Ellis, James Morrow, Roy Orbison, Charles Evans and Richard West.
Like many other early rockers, Orbison came from country music to rock. His father played Jimmy Rogers songs on the guitar and his uncle played the blues. His talent was never in doubt: He had his own radio shows from the age of eight and when he was ten he had played his first paying job - a medicine show, where he sang the Cajun novelty "Jole Blon." His first appearance before an audience didn't come until he was eleven, and then it was as a student at Wink Public School. When Orbison turned thirteen he formed his first band, the Wink Westerners in 1952. After the Wink Westerners won a talent contest organized by Pioneer Furniture company in Midland, Pioneer sponsored a weekly television show for them on KMID-TV.
The Westerners consisted of Charles Evans on stand up Bass, Billy Par Ellis on drums, Richard West on piano and James Morrow on electric mandolin. In 1951, at the age of fifteen, Orbison and the band began appearing on radio broadcasts from nearby Kermit. Mr. Limpscombe, superintendent at Wink High School was running for a position with the district Lions Club and offered the Westerners $200 to be the opening act when he was asked to speak. This led to Orbison's trip to Chicago at the age of sixteen to appear at the National Lions Club Convention.
The character of the Westerners can be judged by their name and the Roy Rogers bandanas they were around their necks. They played Lefty Frizell, Slim Whitman, Webb Pierce. They also played a lot of Glenn Miller-style songs like "Stardust" and "Moonlight Serenade," which they adapted for their string instruments.
In 1954 high school yearbook Orbison spelled out his ambitions:
To lead a western band
Is his after school wish
And of course to marry
A beautiful dish.
By the time he graduated from high school, he was appearing daily on KOSA.
After graduation, Orbison wanted to study geology in college, but his family didn't have the tuition money. So he worked in the oil fields near Wink for the El Paso Gas Company while playing music at night. Later he went to college at North Texas State in Denton near Fort Worth, transferring to Odessa Junior College for his second year. Orbison studied geology, preparing to follow his father in the oil fields if all else failed
While at North Texas State, Orbison visited the Big D Jamboree in Dallas and it was there on Apr 16, 1955 that he saw Elvis Presley for the first time. It was also at this time where his college buddy at North Texas State, the newly famous Pat Boone, urged him to experiment with more pop-oriented songwriting.

The Teen Kings
From left to right - Billy Par Ellis, Roy Orbison, James Morrow,
Johnny Wilson and Jack Kennelly
In Odessa Orbison roomed with James Morrow, Jack Kennelly, and Billy Pat Ellis, who re-cast themselves as the Teen Kings. The Teen Kings were joined by Johnny "Peanuts" Wilson on the rhythm guitar, and with this lineup they got another television show on KOSA, sponsored by the local Pontiac dealer. In 1955 Johnny Cash appeared on the show and implanted the idea of recording for Sun.
Orbison acquired the song "Ooby Dooby," from Wade Moore and Dick Penner, who had written it in fifteen minutes on the flat roof of a fraternity house at North Texas State. In the last half of 1955, Orbison decided to go to Clovis, New Mexico to record it as a single on Norman Petty's Je-Wel label. However, Sid King recalls being given a copy credited to the Wink Westerners by Orbison in January, 1955. Orbison's group had been playing Ooby Dooby in a modified Texas swing style for nearly a year and it appears the first version was probably recorded near Wink while he was at home during the Christmas holidays.
With help from Orbison's broadcast exposure, sales were going well around North Texas State. So Petty approached Columbia in search of a recording contract. Mitch Miller, who thought rock and roll was just a passing fad, wasn't interested.
Columbia didn't care for Orbison, but gave it to one of their contract artist, Sid King who recorded "Ooby Dooby" on March 5, 1956. A day earlier, Orbison had re-recorded the song at Norman Petty's studio in Clovis, New Mexico. The session yielded essential rockabilly, such as "Domino." In the Petty sessions the Teen Kings sang backup vocals similar to those popularized by R&B groups.
Orbison's version of "Ooby Dooby" from the Petty sessions was quickly released on Jean Oliver and Weldon Roger's Je-Wel Records. The Teen Kings had met Jean, who played accordion and sang, and her boyfriend Weldon Rogers, at some of the Friday night jamborees that they played in West Texas.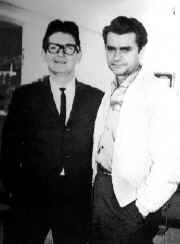 With Sam Phillps
Orbison had approached Sam Phillips at Sun Records at Johnny Cash's suggestion, but Phillips had turned him down. However, Orbison had a stronger ally in Cecil "Pop" Holifield who had record shops in Midland and Odessa and had booked Elvis Presley into the area. Holifield played the Je-Wel record over the phone to Phillips, who heard something unique in Orbison's voice and asked him to send a copy.
Sensing that "Ooby Dooby" might break like "Blue Suede Shoes,' Phillips moved quickly and brought the Teen Kings to Sun in late March or early April 1956 to re-record the song.
| | | | |
| --- | --- | --- | --- |
| Orbie Lee, Nadine and Claudette | Claudette 1956 | Roy and Claudette, 1956 | Roy and Claudette circa 1957 |
After the session the Teen Kings returned to West Texas and heard nothing until Phillips called in early May and told them the record was breaking in Memphis and other markets. With his career now launched, Orbison proposed marriage to Claudette Frady, a fourteen year old brunette from Odessa. They were married before the end of 1956.

Going on tour
"Ooby Dooby" led to appearances on the Big D Jamboree and the Ed Sullivan's television (June 1956). Starting in July and continuing until 1958 the Teen Kings were placed with and than began touring as part of a package headlined by Johnny Cash and Carl Perkins."Ooby Dooby" eventually reached number 59 on Billboard's Hot 100 and sold roughly 20,000 copies. It would be the biggest hit Orbison had for four years.
Orbison quickly developed a fascination for studio work. He worked sessions at Sun for other artists and performed on the commercials and radio spots. He also started to write prolifically.
Like Carl Perkin's, Orbison was slow to find a follow up to his first hit. He recorded "Rockhouse" that was released in 1956, but it was already behind the times.
Orbison's third single was "Sweet and Easy to Love" backed with "Devil Doll" in December. It was during rehearsals for "Devil Doll" and "Sweet and Easy" that Orbison split from the Teen Kings. Orbison completed the session with Sun house musicians.