Stevie Wonder

Stevie Wonder mastered Motown's distinctive fusion of pop and soul and went on to compose far more idiosyncratic music, an ambitious hybrid of sophisticated Tin Pan Alley chord changes an R&B energy, infected with jazz, reggae, and African Rhythms.

Born Steveland Morris May 13, 1950 in Saginaw, Michigan. Stevie Wonder was placed in an incubator and given too much oxygen, causing permanent sight loss. Playing the harmonica at five, he started piano lessons at six and took up the drums at eight. Lula Mae Hardaway Wonder's mother was afraid to let the young boy out of house. Thus a brilliant musical career was launched. To pass the time of day, Wonder would beat on pot, pans,and any other surface that helped him keep rhythm with the tunes he heard on the radio. As he became proficient on various real instruments, he started playing at the local church and soon grew to be something of a neighborhood sensation. A child prodigy at an early age, Steveland sang like a seasoned veteran. After the family moved to Detroit word spread of the gifted Wonder. It would be only a matter of time until someone from Motown caught wind of this talented youngster.
Writing his first song at the age of ten, his musical talents were first recognized by Ronnie White of the Miracles, hear him at that age old playing harmonica for his children in 1961. White took him to Brian Holland who arranged an audition with Motown Records' Berry Gordy Jr., who quickly signed him to the Tamla label and named him "Little" Stevie Wonder. His first album, Little Stevie Wonder the 12 Year Old Genius made the child a huge star, and gave Stevie a number one hit with single "Fingertips," #1 pop and R&B hit. The following year he enrolled in the Michigan School for the Blind where he studied classical piano.
During the childhood stage of his career, Stevie amazed audiences with his exciting performances and continued hitting the charts with such singles as "Hey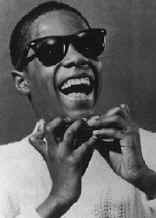 Harmonica Man," "Work Out Stevie, Work Out," and "Contract On Love" to name a few. In 1964 Wonder dropped the "Little" appellation. His late teen years saw continued success with "Uptight (Everything's Alright)," " For Once in My Life," "My Cherie Amour," and "Signed, Sealed, Delivered I'm Yours." Throughout this period Stevie worked on improving his skills as a singer, keyboardist, songwriter, and producer. In fact, he co-wrote most of his singles from 1967 onward, as well as the Smokey Robinson hit "The Tears of a Clown".
On both his records and live shows he was featured playing harmonica, drums, piano, and organ as well a singing - sometimes all in one number. During his first three years he was presented as a screamer in the Ray Charles mold. In 1964 he appeared on screen in Muscle Beach Party and Bikini Beach. His Up-Tight album included "I Was Born to Love her", "For Once in My Life", and Shoo-Be-Doo-Be Doo-Da-Day". Wonder's style broadened to include Bob Dylan's "Blowing in the Wind" "A Place in the Sun," and an instrumental version of Burt Bacharach's "Alfie". In 1969 he had hits with ballads "My Cherie Amour" and "Yester-Me, Yester-You, and Yesterday".
Once Stevie turned the age of 21 in 1971, he didn't immediately resign with Motown. Now able to draw funds from his trust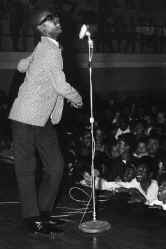 fund, he invested in his own publishing (Black Bull Music) and recording studio, Taurus Productions, ( where he could finance his own recordings. Stevie also took some music theory classes at USC to improve his song writing capabilities. Stevie recorded two albums on his own ( Where I'm Coming From and Music of My Mind) with the programming aid of Robert Margouleff and Malcolm Cecil. Margouleff and Cecil helped Stevie pioneer the use of synthesizers in popular music (most notably in Music of My Mind.) With these two albums, Stevie negotiated a contract with Motown that allowed him more freedom in artistic matters and a higher royalty percentage. Such a contract was nearly unheard of then, since Motown had a reputation of being merely a hit-making machine with little variety. Once the new contract was signed, Stevie released the two albums. Although the albums were not huge successes, Stevie showed signs of the genius that was about to come.
By the time of "Signed, Sealed, Delivered," he was serving as his own producer and arranger, playing most of the instruments and writing material with his wife Syreeta Wright. During this time he had hits with "Signed, Sealed, Delivered I'm Yours", Heaven Help Us All', and "If You Really Love Me". His singles upheld Motown's tradition of hook happy radio fare, but distinguished themselves with socially conscious subjects such as ghetto hardship and political disenfranchisement. His albums, beginning with Music on My Mind, on which he played most of the instruments, were devoted to his more exotic musical ideas.
Wonder's 1972 tour with the Rolling Stones introduced him to a huge white audience, which helped make #1 hits of two singles "Superstition" and "You Are My Sunshine"

released within the next year. This period was difficult for Wonder with his marriage to Wright ending after only a year. Injuries sustained in a serious car crash in 1973 left him in a coma for four days and a lost sense of smell. In the next four years, Wonder had three #1

singles("You Haven't Done Nothin'", "I Wish", and "Sir Duke"), sold millions of each, and received 15 Grammies. His songs were covered widely and he was acknowledged as an influence on musicians from Jeff Beck to George Benson to Bob Marley. Working with B.B. King, the Jacksons, Minnie Riperton,
and Syreeta Wright, he established himself as a major songwriter and producer. His Songs In the Key of Life album was a tour de force and remained at the top of the charts for 14 weeks
.In late 1972 Stevie began his string of critically acclaimed and Grammy winning albums with Talking Book. This album brought Stevie out from the mini-slump he had been suffering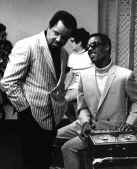 through chart-wise with two number one hits, the funky "Superstition" and the now standard "You are the Sunshine of My Life." The album was a big hit with the public. The power and emotion of the album in many ways shone true because many of the songs ("Blame It on the Sun," " Looking For a New Love," " I Believe") were written in reference to the relationship with his wife and former musical partner Syretta Wright. The programming of Margouleff and Cecil helped to represent these feelings in an all new manner.
Less than a year later Stevie released the now classic Innervisions featuring the hits "Living For the City" and "Higher Ground." The former Living is perhaps the most dramatic and inspiring song Stevie has ever written. This song, along with many Marvin Gaye classics from What's Going On helped soul music adequately face and question the prevailing racial problems and inadequacies. Higher Ground (maybe the best Red Hot Chili Pepper funk-out) along with Jesus Children of America allowed Stevie to express his spirituality and love for God unlike ever before. The album was full of other powerful tunes like "Too High" and "He's Mistra Know-It-All" which are about drug abuse and gangsters/players, respectively. Innervisions is regarded by many as the high mark of Stevie's craft; it was the album he was meant to make for the world.
His next album, Fulfillingness' First Finale (1974) expressed this new sense of life musically. The album did have its share of variety, such as the anti-Nixon funk anthem You Haven't Done Nothin' and the happy Boogie on Reggae Woman. However, the album was on the whole more introspective and life-affirming than his previous albums.

Throughout this period, Stevie Wonder nearly swept all possible Grammys he was eligible for. Winning for Best R & B Artist, Best Album, Best Song, Best Male Vocal, etc., Stevie amassed numerous awards and was recently awarded the Grammy's Lifetime Achievement Award. While in-between albums in 1976, Paul Simon in his acceptance speech for winning the Album of the Year Grammy jokingly thanked Stevie Wonder for not releasing an album that year. Stevie in fact did not release an album during that period because he was working on what would be his masterpiece double album entitled Songs in the Key of Life, released in 1976. This album runs the gamut of different musical styles, from the baroque classical in "Village Ghetto Land" to the gospel soul of "As," the fusion jazz of "Contusion" to the Middle-East influenced "Pastime Paradise," and the boogie-woogie jazz of "Sir Duke" to the all-out funk of "I Wish." Lyrical content also varied, covering such wide topics as racism & Black History ("Pastime Paradise,' " Black Man"), the passing of time ("I Wish, Summer Soft), child adoration (Isn't She Lovely), and of course love (As, Knocks Me Off My Feet.) If any Wonder album is a classic, it is Songs.