Stevie Wonder

Journey Through the Secret Life of Plants, three years in the making, was predominantly instrumental, failed to catch on. Mostly instrumental, the album didn't fair as well as previous Wonder albums, although it did sport the hit "Send One Your Love." The movie accompanying the soundtrack was never completed. Despite the lukewarm response of the album, it did serve as a precursor to new age music of the 1980's. Motown felt after this project that caution should be used when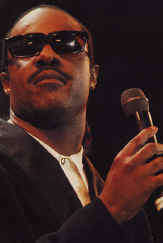 releasing new material. This attitude led to albums being released less frequently than before; his first album of new soul material was Hotter Than July Hotter Than July returned to the street dancing spirit of Wonder's earlier years. 1982 saw hit singles with "That Girl", "Do I Do", a duet with Paul McCartney "Ebony and Ivory," and a greatest hits album Stevie Wonder's Original Musiquarium.
During the 1980's Stevie Wonder entered a phase of his career which was perhaps his most successful commercially. However, critics panned most of his work in this period, stating that it failed to live up to his previous outings. During this time, Stevie seemed more interested in making music for people rather than for himself or other reasons. Hits like "Ebony and Ivory," " I Just Called to Say I Love You," " Part Time Lover," " Overjoyed," and "That's What Friends are For" reflected this feeling. Stevie didn't stop helping others through his music and activities, however. He fought against drunk driving, apartheid in South Africa, and hunger in Ethiopia through song. His mini-duet with Bruce Springsteen in the benefit song "We are the World" remains as one of the weirdest yet most powerful and memorable musical exchanges ever.

Wonder cut down on recording, but continued to tour. In 1982 , with Bob Dylan and Jackson Browne, he played the "Peace Sunday" anti-nuclear rally at the Rose Bowl. In 1984 Detroit gave him the key to the city and he played the harmonica on Elton John's "I Guess That's Why They Call It the Blues" In 1985 he participated in the recording of USA for Africa's "We Are the World and won that year's Oscar for Best Song for "I Just Called to Say I Love You" off the Woman in Red soundtrack.

Gold record for In Square Circle
1985's "Part Time Lover" became the first single to simultaneously to top the pop, R&B, adult contemporary and dance.disco charts; its parent album In Square Circle, reached #5 and won the Grammy for Best Male Vocal Performance. Wonder had another 31 singing with Elton John and Gladys Knight on Dionne Warwick's "That's What Friends Are For".
In 1987, the album Characters saw a return for Wonder to the funkiness he's always been known for with songs like "Skeletons" and "Get It"
.
Under arrest after participating in a protest outside the South African embassy against apartheid on Valentines Day 1985


Stevie at his induction into the Hall of Fame. For this occasion with
his son Kieta and his daughter Aisha.
The late Eighties were spent working on Conversation Piece, which was released to rave reviews. 1988 duets with Michael Jackson ("Get It") and Julio Iglesias ("My Love") kept Wonder's name before the public. He was inducted into the Rock and Roll Hall of Fame in 1989. His extensive humanitarian work has included AIDS awareness, anti-apartheid efforts, crusades against drunk driving and drug abuse, and fund raising for the blind and retarded children and the homeless.
Throughout the 90's, Stevie has continued making important music. He composed and performed the soundtrack for the Spike Lee's Jungle Fever (1991). His 1994 album Conversation Peace, eight years in the making, but was well worth the wait. It was Stevie back in vintage form; beautiful, catchy melodies intermixed with meaningful lyrics and

funky rhythms. For Your Love won two Grammys at the 1996 Grammy Awards for Best R & B Song and Best R & B Male vocal. That year the Grammy people awarded Stevie the Lifetime Achievement Award due to his outstanding musical career not to mention his numerous Grammy wins. D'Angelo and Tony Rich performed an outstanding Wonder medley to commemorate the event. And despite a somewhat unfortunate absence from the top of the U.S. charts throughout the nineties, Stevie has still remained visible in the public eye, with performances at Bob Dylan's 30th Anniversary Tribute in 1992 ("Blowin' in the Wind"), at the Rock and Roll Hall of Fame Inductions, and at the closing ceremonies of the 1996 Atlanta Summer Olympics where he performed "Happy Birthday" with Gloria Stefan, Trice Yearned, Al Green and others with slightly-changed lyrics to celebrate the modern Olympiad's centennial birthday.
Wonder's long career has been remarkable not just for his musical genius, but for his persistence in overcoming obstacles-most notably his blindness-that have stood in his way. Witness his participation at a charity auction: he drove James Bond's BMW Roadster onstage to help auction it off.
Wonder was awarded the Grammy's Lifetime Achievement Award in 1996 and was inducted into the Rock and Roll Hall of Fame in 1989.