Astronauts

L to R: Stormy Patterson, Jim Gallagher, Rich Fifield, Dennis Lindsay, Bob Demmon
The Astronauts developed out of a group, The Stormtroopers, which was originally formed at Boulder High School, Boulder, Colorado in 1956 by Jon "Storm" Patterson (vocals, guitar), Robert Graham "Bob" Demmon February 1939 – 18 December 2010)[2] (guitar), and Brad Leach (drums). In 1961, they became The Astronauts after adding Richard Otis "Rich" Fifield (vocals, guitar) and Dick Sellars (guitar), the change of band name recognizing the fascist connotations of the previous name and to pay tribute to local hero, astronaut Scott Carpenter. Patterson switched to bass, Leech was replaced on drums by Jim Gallagher, and soon afterwards Sellars left to join the US Navy, being replaced by Dennis Lindsey. With a line-up of Demmon, Patterson, Fifield, Lindsey and Gallagher, the band gained a strong local reputation, toured as far as Chicago and Dallas, Texas, and released their first single, "Come Along Baby", in 1962, on the small Palladium label. They were signed to RCA Records after a record company executive was impressed by their performance at a local night club, the Tulagi.
Their first single on RCA was "Baja", an instrumental written by Lee Hazlewood originally for his friend, guitarist Al Casey. Released by The Astronauts in early 1963, the track was described as "a typical surf instrumental with a reverberation-heavy twangy guitar and driving drumbeat", and reached # 94 on the Billboard Hot 100 for just one week, the pinnacle of their US chart career. However, they released a succession of further singles on RCA, in an attempt by the
record company to emulate the success of the Beach Boys and other surf music-related groups in the charts at the time. According to reviewer Richie Unterberger, "the group shone brightest on their instrumentals, which used mounds of Fender reverb and two rhythm guitars; when they sang, the results were much less successful." Patterson and Fifield shared lead vocals, and the band recorded songs by Roger Christian, Gary Usher, Dick Dale and Henry Mancini, among others. Fifield, the lead guitarist, used a Fender Jazzmaster on the recordings, with an early prototype reverb unit personally loaned to the group by Leo Fender. Their 1965 song "Tomorrow's Gonna Be Another Day was covered by The Monkees in 1966.
As well as a succession of singles and EPs, the band released four LPs over nine months, starting in May 1963: Surfin' with The Astronauts – which reached # 61 on the Billboard 200 album chart – Everything Is A-OK! (recorded live at the Club Baja in Denver, Colorado), Competition Coupe, and The Astronauts Orbit Campus (recorded live in Boulder).

They appeared several times on the Hullabaloo TV show, and have the distinction of appearing in more beach party movies than any other surf band: Surf Party, Wild on the Beach, Wild Wild Winter and Out of Sight. Regarding the band's performance in 1964's Surf Party, the book Pop Surf Culture states "The Astronauts bang out a thick, reverb-laden instrumental called 'Firewater,' and their theme song 'Surf Party' happens to be one of the best surf instrumentals ever recorded."

In 1964, their record company discovered that they had a growing fan base in Japan, where they outsold The Beach Boys and toured with The Ventures. Five albums and three singles made the top 10 there, with "Movin'" – re-titled as "Over The Sun" – reaching number one in the country.

In all, they recorded nine albums. Gallagher and Lindsey were drafted for Vietnam before the last album, Travelin' Men in 1967, and were replaced by Mark Bretz and Rod Jenkins respectively. Demmon also left, being replaced by Robert Carl McLerran, before Fifield and Patterson finally decided to end the band name after a tour of Asia in 1968.
Bel-Airs

L to R: Chaz Stuart Richard Delvy, Eddie Bertrand, Jim Roberts, Paul Johnson
The Bel-Airs were an early and influential surf rock band from South Bay, Los Angeles, active in the early 1960s

They were best known for their 1961 hit "Mr. Moto", an instrumental surf rock song that featured a flamenco-inspired intro and contained a melodic piano interlude. The song's theme was used in the solo for the song "Seed" by Sublime.

Upon splitting up, guitarist Eddie Bertrand formed Eddie & the Showmen in 1964, while guitarist Paul Johnson joined Cat Mother & the All Night Newsboys in 1970. Original Bel-Airs drummer Dick Dodd joined Bertrand in Eddie & the Showmen, and later joined the Standells, playing drums and singing lead on their major 1966 hit, "Dirty Water". Richard Delvy replaced Dick Dodd on drums and went on to found the surf group the Challengers.

Johnson has continued in music, both in recording and as a performer. Among other music associations, he has been a member of the "Jim Fuller version" of the Surfaris since 1990. Bertrand also continued in music, touring as Eddie and the Soundwaves, among other performance configurations. Dodd has participated in various reunions and later recordings of the Standells.

Eddie Bertrand died of cancer in November 2012.
The Challengers were seen in a few of 1980s surf band reunion concerts. Richard Delvy always kept in contact with his band mates. His surf band history was extensive and he maintained his friendships with his former Bel-Airs guitarist Paul Johnson (PJ and the Galaxies) and Eddie Bertrand (Eddie & the Showmen).In 1992 a local surf company owned by Brad Jennings (The Early Sixties Company) signed a contract with Delvy to reproduce the Challengers band LP covers and Rick Griffin artwork for tee shirts and surf related products. That successful relationship lasted for almost 20 years.

In 1995, after 25 years of no new recordings, The Challengers reunited with some new members to release the album "New Wave" produced by band leader and founder Richard Delvy. Paul Johnson graciously joined the group to play guitar and composed. Art Fisher played guitar on Mr.Moto, Ed Fournier contributed a new song he wrote and Richard Delvy plays drums on the new tracks. It was released on compact disc on the independent label Atmosphere, Miraleste Music. Richard Delvy died on February 6, 2010 ending his lifelong influence on music in the Los Angeles area.
Although they were a pretty fair surf group, the Crossfire's' real claim to fame is that the group somehow evolved into the pop/folk-group stars the Turtles in the mid-'60s. Before that transformation, they managed to release two local singles, and a fair amount of unreleased studio and live material surfaced many years later. An average or slightly average surf combo with a high wackiness quotient, their very best tunes ("Fiberglass Jungle" and "Out Of Control") have a genuine driving menace, although the bulk of their repertoire was fairly standard-issue surf-cum-frat rock. Their second single, "One Potato Two Potato," showed them edging toward garage rock, and offered the only rough clue to the direction they would take as the Turtles.
The group's rise literally started with a dream by its drummer Ron Wilson. One day he woke up with lyrics in his head about a surfer and his travails, based on a real life brother of one of the band members.
The Chantays were five high school students ranging age from 13 to 17 from Santa Ana, CA. Playing school dances and local clubs they were seen by agent Dale Smallins. had one of the biggest and best instrumental surf hits, "Pipeline." Competent players who went heavy on the rumbling bass, ghostly reverb, and electric keyboards, they were very much a one - shot act; their repertoire was crowded with rock & roll covers and "Pipeline" sound alikes, and none of their follow - up singles charted.
Eddie & the Showmen were an American surf rock band of the 1960s. Formed in Southern California by Eddie Bertrand, formerly of The Bel-Airs, they released several singles on Liberty Records. Their highest-charting single in Los Angeles was "Mr. Rebel", which reached number four on the Wallichs Music City Hit List on February 10, 1964.

The band originally formed because Bertrand wanted to move on from the Bel-Airs. While the Bel-Airs focused more on guitar interplay, and a moderate sound, Eddie & the Showmen played more in the style of Dick Dale with a prominent lead guitar and heavy sound. The band's original drummer was former Mouseketeer Dick Dodd, who later joined The Standells. One of the guitar players Larry Carlton later became a famous jazz guitarist, and another was Rob Edwards of Colours who was the guitarist on the title track for the surf movie, Pacific Vibrations.

One of Eddie & the Showmen's biggest hits, "Squad Car", was a cover version of the Bel-Airs track. Eddie and the Showmen are included in the Hard Rock Cafe: Surf 1998 compilation of surf bands and surf music on track 11. Mr. Rebel They are also included in The Birth of Surf compilation track 20 Squad Car and are on 10 tracks of Toes on the Nose: 32 Surf Age Instrumentals compilation.
The Frogmen made just a few records in their short instrumental career. The biggest hit by far was called Underwater. It was a smoking instrumental picking up on the surf scene in Southern California, and peaked at number 44 in 1961. The first issue was on Candix Records. Reportedly, the group was a six piece band from Culver City, California, and Rockin Records lists the members as: Jim Young, Dennis Farley , Mike Anderson, Raymond Sullivan, Larry Wnuk and Larry Bartone
The Lively Ones were an American instrumental surf rock band active in Southern California in the 1960s. They played live mostly in California and Arizona. They recorded for Del-Fi records with production from Bob Keane. They recorded mostly cover songs, but there were a few originals.

Their 1963 song "Surf Rider" (written by Nokie Edwards from The Ventures) was featured in the final sequence as well as the end
credits of Quentin Tarantino's 1994 film Pulp Fiction.

They are best known with these members:
Lead guitar: Jim Masoner
Rhythm guitar: Ed Chiaverini
Bass guitar: Ron Griffith
Saxophone: Joel Willenbring
Drums: Tim Fitzpatrick

Currently, John Benton plays rhythm/alternate lead guitar and Tracy Sands plays bass guitar. Recent live shows have featured Earthman on rhythm/alternate lead guitar.
Dave Myers and the Surftones

L to R: Bob Hurtley, Bob Korosco, Dave Myers, Joe Curtis, Johnny Miller
One of the better Southern Californian instrumental surf groups from the heyday of the genre circa 1962-63, Dave Myers and the Surftones issued a decent LP for Del-Fi in 1963 in the style of Dick Dale, though not as raunchy. The similarity to Dick Dale is understandable, since the group took over from Dale as the house band at the Rendezvous Ballroom in Balboa, California. Also Myers and his men, like Dale, used the same kind of equipment, in particular Fender guitars and amps, which helped create a powerful reverb sound. Myers, and all but one of the Surftones, were music majors in college, which put them ahead of many rival surf bands in skills. Myers himself played tenor sax, trumpet, bongos, and steel guitar in addition to electric guitar, which he played on a specially made Mosrite that was
designed to look like flames.

Myers and the Surftones' Del-Fi album, Hangin' Twenty, was a cool and varied, though not stunning, set that included R&B-driven tunes with sax, moody minor-key cuts, and languid ballads with the kind of middle eastern-informed melodies also employed by Dick Dale. In 1964 they renamed themselves Dave Myers and the Disciples for a vocal single, and then went back to instrumental music, but changed their name again, for the album Greatest Racing Themes (which was billed to the Dave Myers Effect). Myers didn't record again, although he continued to work as a professional musician until the end of the 1960s. One of Myers and the Surftones' stronger tracks, "Moment of Truth, " appears on Rhino's Cowabunga! The Surf Box Set.

The Surftones were from Laguna Beach. The majority of the group had majored in music at college. Myers himself was a multi-instrumentalist. As well as playing guitar, he played steel guitar, tenor sax, trumpet and bongos. Their lineup in 1962 consisted of Dave Myers on lead guitar, Jon Curtis on rhythm guitar, Johnny
Miller on bass guitar, Bob Hurtly on saxophone, and Bob Morosco on drums.

In 1962, Dave Myers and his group as well as another group called the Rhythm Rockers were regulars at the Rendezvous Ballroom in Balboa, California. They became the house band at venue, having taken over from Dick Dale and his band. Myers's father owned a store that was visited by Bob Hafner who was the partner of Tony Hilder. One day Hafner and Myers Sr. were having a conversation that got on to the subject of music. A short time later Hilder turned up. He came to one of their practice sessions and heard their version of "Church Key", a song he held the rights to. They would end up having two singles released on Hilder's Impact label. They were "Moment Of Truth" bw "Frogwalk" . They also covered The Revels hit "Church Key" bw "Passion" as Dave Myers and his Surf-Tones.

In late 1963, drummer Bob Callwell left the group. He was replaced by Ross van Kleist. Also in late 1963, the group played at the Second Annual Surf Fair, held at the Santa Monica Auditorium. This live event was recorded live and released on the Impact label as Shake! Shout! & Soul.

In 1964 Dave Myers and his group recorded a vocal single. After that he was playing instrumental music. In the mid-1960s, he recorded as the Dave Myers Effect, releasing an album called Greatest Racing Themes.[11] It was later released on the Carole label in 1968. This album was produced by Larry Brown a/k/a Lawrence Brown who provided the music for the 1968 biker film, The Angry Breed.
One of the last surf bands to emerge, the Pyramids were one of the best marketed. When their initial single "The Pyramid Stomp" fizzled nationally, the group's bassist Steve Leonard decided to analyzed the Chantay's "Pipeline" and came up with a clever variation of that opening reverb riff. In early 1964, The Pyramids made the Top 20 with "Penetration, helped by the promotion of John Hodge, the group's manager. The Long Beach, California group achieved some notoriety after Hodge convinced them to shave their heads just as the British Invasion and became "America's answer to the Beatles." During their concerts they'd wear Beatle wigs which they would throw to the audience halfway through the show revealing their bald heads. Hired girls would then storm the stage. Other gimmicks were arriving at a job on elephants or in a helicopter. The gimmicks worked and they were soon appearing on Bandstand and Hullabaloo and in the beach movie Bikini Beach. Hodge wasn't as good at investing the money as he was at helping them earn it. After several bad investments they disbanded after recording one album and a few non - hit singles.
The group started in the mid-to-late 1950s as a high school band in San Luis Obispo, California called Gil Serna & The Rockets, before changing their name to The Revels in 1959. Although their instrumental style predated the 1961-65 era of surf music, their success came during that period.

They are usually considered a "pre-surf" band and were the original Central California coastal instrumental band. Other bands from the area later included the more popular groups named The Sentinels and The Impacts.

The Revels singles were collected on their sole album, Revels on a Rampage (1964). They also composed music for the soundtrack of the 1961 film The Exiles.

Their 1961 song "Comanche" has been featured on two soundtracks. It first appeared as the "Detoured Theme" in The Exiles.[2] It was later included along with several other Surf music hits on the soundtrack of the film, Pulp Fiction (1994).

Another member, Norman Knowles, had offered to manage the Sentinels who had a hit with "Latin'ia". In addition to managing The Sentinels he wrote "Church Key" and "Intoxicate".
The Rumblers are known mostly for their one instrumental hit, "Boss," which made it to number 52 in early 1963. The Southern Californian group, however, recorded quite a bit in the subsequent two years, never repeating the success of "Boss." Though sometimes thought of as a surf band, they recorded in a variety of raucous instrumental rock & roll styles, as well as doing some vocal numbers. The Rumblers were formed at the end of the '50s by teenagers in the Los Angeles suburb of Norwalk, and by 1962, were doing some recording, hooking up with the small independent Downey label (based in the L.A. suburb of the same name). Downey had just one big hit, the Chantays' 1963 surf classic "Pipeline," and couldn't replicate the same level of success with the Rumblers, though "Boss" got to the Top Ten at some local stations, going all the way to number two on KFWB in Los Angeles. "Boss" and their local popularity, however, were enough to get them an
LP on Downey and numerous follow-up 45s, including some recordings done under different names, such as the Nylons and Bel Canto's, whose "Feel Aw Right" has an arrangement by a young Barry White. Distinguished from some other acts associated with the surf scene by their prominent use of saxophones (at one point the lineup included two sax players) and a heavier R&B orientation, the Rumblers broke up in late 1965 after guitarist Johnny Kirkland was drafted. They evolved
into the Interns, who had a 1967 single in the vocal garage-pop-rock style whose popularity had made surf music largely a thing of the past.
The group's rise literally started with a dream by its drummer Ron Wilson. One day he woke up with lyrics in his head about a surfer and his travails, based on a real life brother of one of the band members.
Glendora, CA surf group remembered for "Wipe Out," the number two 1963 hit that ranks as one of the great rock instrumentals, featuring a classic up - and - down guitar riff and a classic solo drum roll break, both of which were emulated by millions (the number is no exaggeration) of beginning rock & rollers. They recorded an astonishing number of albums (about half a dozen) and singles in the mid - '60s; the "Wipe Out" follow - up "Point Panic" was the only one to struggle up to the middle of the charts. The Surfaris were not extraordinary, but they were more talented than the typical one - shot surf group; drummer Ron Wilson was praised by session stickman extraordinary Hal Blaine, and his uninhibited splashing style sounds like a direct ancestor to Keith Moon. He also took the lead vocals on the group's occasional passable Beach Boy imitations.
Tornadoes

L to R: Jesse Sanders, Norman Sanders, Gerald Sanders, Joel White, Leonard Delaney
The Tornadoes were an American surf band from Redlands, California. They were the second band to receive national airplay with a surf instrumental (after The Marketts), with their song "Bustin' Surfboards", released on Aertaun Records in 1962. "Bustin' Surfboards" has since become a classic and mainstay of the surf genre. One of its distinctions, and appeals, was that the song opened with the sound of an ocean swell (that continued throughout the song), thereby creating
a sense of being at a beach. The album with the same name was belatedly released on September 20, 1963. The band, however, did not manage to follow up on their success. Their song "Shootin' Beavers" was banned from airplay because of its suggestive title. The band temporarily changed their name to The Hollywood Tornadoes, because the British band, the Tornado(e)s, were charting with the song "Telstar."

"Bustin' Surfboards" was included on the Pulp Fiction soundtrack in 1994, thereby renewing interest in the band. The Tornadoes continued to perform through 2007. Members as of 2007 (including four members of the original band) were brothers Gerald (bass) and Norman "Roly" Sanders (lead guitar), their cousin Jesse Sanders (rhythm guitar), Leonard Delaney (drums) and Joel Willenbring (saxophone).

In 2005, they released a CD called Now and Then on the Crossfire Publications label containing 29 tracks, including live recordings from their performance at the Zappanale concert in Germany in 2003, cuts from a 1998 CD,and two new recordings. The 2006 Crossfire Publications CD Charge Of The Tornadoes featured more of their '60s masters and Zappanale performances.

The band announced on their website that they would retire and cease performing as of November 2008, but the band has since decided to continue. During a conversation with Crossfire Publications head, Greg Russo, on July 13, 2014, Tornadoes leader Gerald Sanders confirmed that the band is still active.

Former band member, Leonard Delaney, died on October 5, 2014, aged 71, in San Bernardino, California, from complications of Alzheimer's
disease.
The Ventures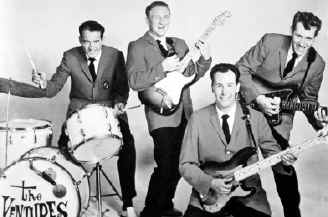 (l to r) Howie Johnson, Don Wilson, Nokie Edwards and Bob Bogle
The Ventures are one of the first, best, most lasting and influential of instrumental guitar based combos.

Members:
Nokie Edwards - lead guitar
Don Wilson - guitar
Bob Bogle - guitar
Howie Johnson - drums - replaced by Joe Barili
The Ventures, originally the Versatones, were formed by Bob Bogle in 1959, in Seattle, Washington.
Bob was born in Oklahoma but grew up in Portland Oregon. Bogle had started playing guitar by his teens. In his mid-teens Bogle moved to Seattle to work where he supported himself by bringing wet cement to bricklayers. There he met Don Wilson, who had learned trombone and piano as a child, and bass and guitar while in the army. By mid-1959 they had begun playing in local clubs. They soon added Nokie Edwards, who they had met while doing a local TV show in Tacoma. Eventually they completed the group with Howie Johnson on the drums.
Their first demo "Walk Don't Run" was sent to various record companies. Receiving no response, Wilson's mother released it on her own Blue Horizon label. "Walk Don't Run"was picked up for distribution by Dolton Records (distributed by Liberty), the group re-named, and became an instant regional hit in 1960. In August 1960 "Walk Don't Run" became a #2 hit. The Ventures followed it with a rock version of "Ghost Riders in the Sky, then "Perfidia, "Lullaby of the Leaves," "Diamond Head," and 2,000 Pound Bee," all which were hits through the early and mid-Sixties.
In the wake of the success of Walk Don't Run, Wilson and Bogel left their jobs in the building industry to pursue music full time. The group issued a cover of Perfidia, a Latin song that had been made popular by Alberto Dominguez in 1939. Perfidia reached #15.

Photo courtesy The Fabulous Ventures
(l to r) Don Wilson, Mel Taylor, Nokie Edwards, and Bob Bogle
In 1961 Johnson was replaced by Mel Taylor after he was hurt in an automobile accident and left the group. Hits kept coming with versions of "The Lonely Bull" and "I Walk the Line" in 1963 and a top ten surf remake of "Walk Don't Run" in 1964. In 1965 they released what was one of the first instructional records, Play Guitar with the Ventures.
In 1967 Edwards was replaced by Jerry McGee, who left in 1970 to record with Delaney and Bonnie Bramlett, after which Edwards returned. By that time keyboardist Johnny Durrill had expanded the Ventures to a quintet and the group had delved into fuzz-tone and wah-wah guitar modification as well blues, calypso, and Latin material.

Photo courtesy The Fabulous Ventures
(l to r) Bob Bogle, Jerry McGee, Don Wilson, and Mel Taylor
Throughout the 60's and 70's there were several personnel changes. Nokie Edwards left and was replaced by Jerry McGee. Edwards later returned to the Ventures, and left again. Keyboard player John Durrill joined the group in the late 60's. Mel Taylor left at one point and formed his own group, Mel Taylor and the Dynamics, but later returned to the group. Some of the artists who worked as guests or session players with the Ventures in the 60's included Leon Russell, Harvey Mandel, and David Gates.

Ventures 1996
In 1969 the Ventures had a hit with a version of the theme from the TV show Hawaii Five-O. In 1981, with Bogle, Wilson, Edwards, and Taylor, they released a regional West Coast single "Surfin' and Spyin,'" and embarked on a successful tour of the U.S. and Japan. Bogle, Wilson, and McGee are still active in the group. Mel Taylor passed away in August, 1996.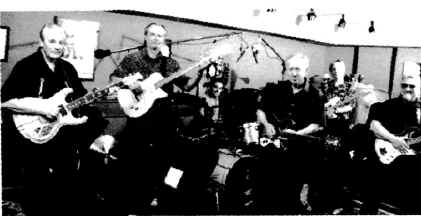 The Ventures Official Web Page
There is nothing like listening to some classis surfer tunes out on a boat on a sunny afternoon. Wakesurfing, riding a boat's wake without being pulled by the boat, e became popular in the 50s and 60s. Surfing with a wakesurf board can be fun, but never be done behind outboard sport boats or any boat with a inboard/outboard motor.