The Ventures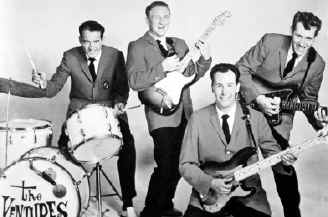 (l to r) Howie Johnson, Don Wilson, Nokie Edwards and Bob Bogle

The Ventures are one of the first, best, most lasting and influential of instrumental guitar based combos.

Members:
Nokie Edwards - lead guitar
Don Wilson - guitar
Bob Bogle - guitar
Howie Johnson - drums - replaced by Joe Barili
The Ventures, originally the Versatones, were formed by Bob Bogle in 1959, in Seattle, Washington.
Bob was born in Oklahoma but grew up in Portland Oregon. Bogle had started playing guitar by his teens. In his mid-teens Bogle moved to Seattle to work where he supported himself by bringing wet cement to bricklayers. There he met Don Wilson, who had learned trombone and piano as a child, and bass and guitar while in the army. By mid-1959 they had begun playing in local clubs. They soon added Nokie Edwards, who they had met while doing a local TV show in Tacoma. Eventually they completed the group with Howie Johnson on the drums.
Their first demo "Walk Don't Run" was sent to various record companies. Receiving no response, Wilson's mother released it on her own Blue Horizon label. "Walk Don't Run"was picked up for distribution by Dolton Records (distributed by Liberty), the group re-named, and became an instant regional hit in 1960. In August 1960 "Walk Don't Run" became a #2 hit. The Ventures followed it with a rock version of "Ghost Riders in the Sky, then "Perfidia, "Lullaby of the Leaves," "Diamond Head," and 2,000 Pound Bee," all which were hits through the early and mid-Sixties.
In the wake of the success of Walk Don't Run, Wilson and Bogel left their jobs in the building industry to pursue music full time. The group issued a cover of Perfidia, a Latin song that had been made popular by Alberto Dominguez in 1939. Perfidia reached #15.

Photo courtesy The Fabulous Ventures
(l to r) Don Wilson, Mel Taylor, Nokie Edwards, and Bob Bogle
In 1961 Johnson was replaced by Mel Taylor after he was hurt in an automobile accident and left the group. Hits kept coming with versions of "The Lonely Bull" and "I Walk the Line" in 1963 and a top ten surf remake of "Walk Don't Run" in 1964. In 1965 they released what was one of the first instructional records, Play Guitar with the Ventures.
In 1967 Edwards was replaced by Jerry McGee, who left in 1970 to record with Delaney and Bonnie Bramlett, after which Edwards returned. By that time keyboardist Johnny Durrill had expanded the Ventures to a quintet and the group had delved into fuzz-tone and wah-wah guitar modification as well blues, calypso, and Latin material.

Photo courtesy The Fabulous Ventures
(l to r) Bob Bogle, Jerry McGee, Don Wilson, and Mel Taylor
Throughout the 60's and 70's there were several personnel changes. Nokie Edwards left and was replaced by Jerry McGee. Edwards later returned to the Ventures, and left again. Keyboard player John Durrill joined the group in the late 60's. Mel Taylor left at one point and formed his own group, Mel Taylor and the Dynamics, but later returned to the group. Some of the artists who worked as guests or session players with the Ventures in the 60's included Leon Russell, Harvey Mandel, and David Gates.

Ventures 1996
In 1969 the Ventures had a hit with a version of the theme from the TV show Hawaii Five-O. In 1981, with Bogle, Wilson, Edwards, and Taylor, they released a regional West Coast single "Surfin' and Spyin,'" and embarked on a successful tour of the U.S. and Japan. Bogle, Wilson, and McGee are still active in the group. Mel Taylor passed away in August, 1996.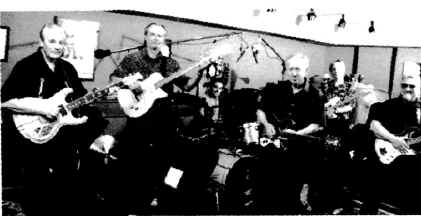 The Ventures were inducted into the Rock and Roll Hall of Fame in 2008