Gene Vincent and his Blue Caps

Clockwise from the top
Jack Neal, Dickie Harrell, Gene Vincent, Willie Williams, Cliff Gallup
One of the most engaging, if tragic, figures in rock and roll history, Gene Vincent personified the wild, lusty, lower class side of the music as a touring artist. Scoring one of the earliest smash rockabilly hits with the classic "Be Bop-a-Lula" in 1956, Vincent recorded some of the most exciting libidinous rockabilly of the era propelled by the outstanding lead guitar work of Cliff Gallup.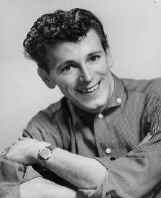 Vincent Eugene Craddock was born in 1935 in Norfolk, Virginia. His family moved to Muden Point, Virginia when he was seven. Vincent began playing the guitar at an early age. Hearing the Grand Ole Opry on the radio and gospel music of the local black churches; he played with neighborhood black musicians on the porch of his parents' country store. After six years the Vicents moved back to Norfolk, and in 1952 at the age of 17 and in the ninth grade, his father signed papers allowing him to join the U.S.Navy.
In May, 1955, after signing up for another six years, Vincent was in a motorcycle accident that shattered his left shinbone. The injury would never heal properly and he spent the rest of the year in a brace. While in Veteran's Hospital in Portsmouth, Virginia Vincent wiled away the hours playing the guitar. It was here that he paid a patient, Don Graves, twenty five dollars for a song he had written "Be-Bop-A-Lula" that was about a local stripper.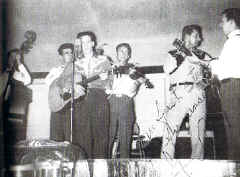 Gene Craddock - 1955
Photo courtesy Pat Mason
Back in Norfolk, Gene Vincent as he now called himself tried to catch on as a country singer. Spending his spare time at WCMS, the local country radio station, he auditioned for "Country Showtime" the station's live show hosted by "Sheriff" Tex Davis. Billed as Gene Craddock and the Virginians, Vincent became a local recording star singing in live shows and radio. Davis became his manager and bought co-author's rights to Be-Bop-A-Lula" for twenty five dollars. Seeing the popularity of Elvis at the time Davis and his partners formed the Blue Caps around Vincent and sent a demo to Ken Davis Capitol's A&R man. In April, 1956 a recording contract was signed with Capitol Records.

The first session was held in Nashville with Jack Neal on bass, Willie Williams and Cliff Gallup on guitar, and Dickie Harrell on drums. Four songs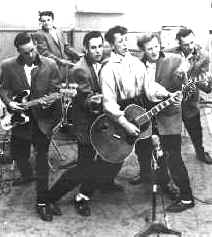 "Be-Bop-A-Lula," "Race With The Devil," "Woman Love" and "I Sure Miss You" came out of the session. The first single was credited to Gene Vincent and His Blue Caps. Blue Caps was in reference to President Eisenhower's baby blue golf cap. The A side was "Woman Love" and "Be-Bop-A-Lula" on the B side. Critics complained about the suggestive lyrics and impassioned delivery, so disc jockeys began playing the B side. "Be-Bop-A-Lula" became an instant hit.
The second release "Race With The Devil" was immediately rejected by the radio stations and replaced by "Blue Jean Bop".
Touring caused Vincent's injured leg to act up just as he was to film a cameo for the movie "The Girl Can't Help It". Vincent was able to sing in the movie "Woman Love" after the wardrobe department hid the cast under his jeans and painted the toe of the cast to resemble a shoe.
In December, 1956 Vincent was booked for a month at the Sands Hotel in Las Vegas. A week of pain in his leg forced him to cancel the remainder of the shows. He reentered the Veterans Hospital in Portsmouth for treatment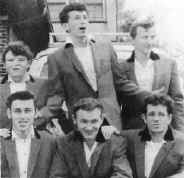 1957 Blue Caps
Clockwise from top: Gene Vincent, Johnny Meeks, Bill Mack, Paul Peek, Tommy Facenda and Dickie Harrell
In 1957 he was fitted with a metal brace that he would wear for the rest of his life. He began touring again. There were numerous changes in the band with an electric bass and two singers called the Clapper Boys doing a dance routine.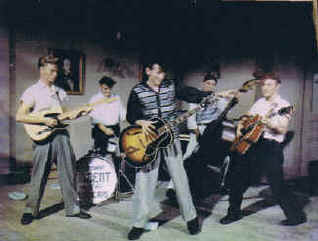 Picture from the movie The Girl Can't Help It
In 1957 he released "Dance To The Bop," appeared on "American Bandstand" and "Big D Jamboree" in Dallas which led to a tour of Australia with Little Richard and Eddie Cochran, with whom he became good friends. Cochran would sing back-up on Vincent's "Record Date" album.
In November, 1957 Vincent appeared on "The Ed Sullivan Show". Stories of strange behavior on and off stage began circulating in the spring of 1958. It seemed he was drinking heavily to keep his energy up and taking two bottles of aspirin for his assorted aches and pains.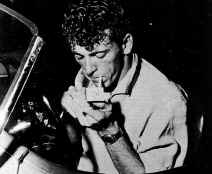 In 1958 Vincent lost his home in Dallas to back taxes. Later he moved to Los Angeles where he only found low paying jobs. Three weeks of not being paid caused the Blue Caps quit.
In 1959 he began playing the Pacific Northwest with pickup bands. This led to a tour of Japan. The tour was successful but, he became paranoid and went back to Los Angeles.
In December he went to England where he was met as a hero. An appearance on Jack Good's "Boy Meets Girl" a British television rock and roll show led to a permanent spot on the show. Good is credited with creating the all black leather image that became Vincent's trademark.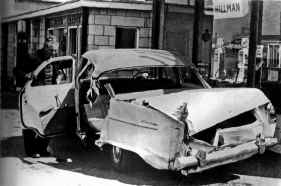 Vincent convinced his friend Eddie Cochran to come over and on his arrival they began a 12 week tour. While riding in a taxi in Chippenham, Wiltshire on April 17, 1960 with Cochran and Cochran's girlfriend, Sharon Sheeley, there was an accident that tragically ended Cochran's life, and severely injured Vincent's leg -- that would leave him with a limp for the rest of his life.
In 1961 he toured South Africa. Later, he performed in Liverpool with the Beatles as an opening act. The next four years were spent in England performing when asked and making records that didn't sell. His Capitol Records contract expired in 1963.
In 1966 he signed with Challenge records. In 1969 he played the Toronto Peace festival but, was lost among John Lennon, Doors, Chuck Berry and Jerry Lee Lewis. He returned to England until returning to America in failing health in 1971. An attempt to land a new recording deal failed. After a string of unsuccessful appearances at the San Francisco Park Festival he returned to his home to Los Angeles. . Soon there after, he was admitted to the Inter-Valley Hospital in New Hall, California with a bleeding stomach ulcer. On October 12, 1971 he died at the age of thirty six.
In 1992 a British promoter contacted Johnny Meeks in California about a Blue Caps reunion tour. Meeks contacted Clapper Boy Tommy Facenda and for a month in the summer of 1993 the 1958 line-up of Blue Caps played sold out shows in France, England, and Germany.
In 1993 Jeff Beck, with the Big Town Playboys, released Crazy Legs, an album of of just songs done as a tribute to him and his guitarists.
Gene Vincent was elected to the Rock and Roll Hall of Fame in 1998.
Blue Caps were elected to the Rock and Roll Hall of Fame in 2112

How Be-Bop-A-Lula Was Written
Gene Vincent