Wanda Jackson

Wanda Jackson was only halfway through high school when in 1954, country singer Hank Thompson heard her on an Oklahoma City radio show and asked her to record with his band the Brazo Valley Boys. By the end of the decade, Jackson had become one of America's first female country and rockabilly singers.

Wanda Jean Jackson was born in 1937 in Maud, Oklahoma, a small town about fifty miles southeast of Oklahoma City. Her father Tom played piano in bar bands and worked whatever odd jobs he could find during the Depression. In 1941 he loaded up the family and headed for California and a better way of life. The family settled in Bakersfield.
Wanda first learned to sing in a church gospel choir. Her father bought her her first guitar, gave her lessons, and encouraged her to play piano as well. In addition, he took her to see such acts as Tex Williams, Spade Cooley, and Bob Wills, which left a lasting impression on her young mind. Tom moved the family back to Oklahoma City when Wanda was 12 years old.

While attending high school in 1952, Wanda won a talent show at a local radio station. Her prize was a daily fifteen-minute radio program on KLPR. The program, soon upped to 30 minutes, lasted throughout Jackson's high school years.

Wanda Jackson and Hank Thompson
Hank Thompson, the country music star who lived in Oklahoma City, happened to hear her on the radio one day and invited her to audition for his band, the Brazos Valley Boys. She was soon singing with Thompson and his band on weekends. Jackson recorded several songs with the Brazos Valley Boys, including 1954's "You Can't Have My Love," a duet with Thompson's bandleader, Billy Gray. The song, on the Decca label, became a national hit (#8 Country), and Jackson's career was off and running. Wanting to sign with Capitol, Thompson's label, Wanda was turned down as being to young. So she signed with Decca instead though still being in high school. She recorded another fourteen songs for Decca during the next two years, most of them country love songs.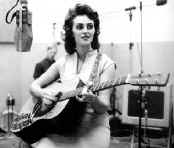 Jackson insisted on finishing high school before hitting the road. When she did, her father came with her. Her mother made and helped design Wanda's stage outfits. "I was the first one to put some glamour in the country music - fringe dresses, high heels, long earrings," Jackson says of these outfits.
When Jackson first toured in 1955 and 1956 , a few months after graduating from high school, with the "Ozark Jubilee," a country tour through the south. The tour featured many well-known musicians, including a young Elvis Presley, who had not yet become a national sensation. The two hit it off almost immediately. Jackson says it was Presley, along with her father, who encouraged her to sing rockabilly.

In 1956, Jackson finally signed with Capitol. Her first recording session for Capitol took place in Los Angeles in June 1956. She recorded "I Gotta Know" (#20 Country), which starts out with a slow fiddle waltz but abruptly cuts loose into some very hot rock & roll, with Wanda hiccoughing and shrieking like a rockabilly pro. Each time the song shifts back to the country waltz, Wanda whines, "If our love's the real thing, where's my wedding ring?"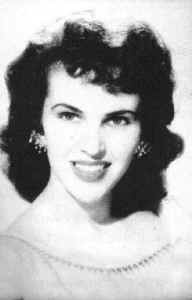 Wanda Jackson early 60s
Her recording career bounced back and forth between country and rockabilly; she did this by often putting one song in each style on either side of a single. Jackson cut the rockabilly hit "Fujiyama Mama" in 1958, which became a major success in Japan. Her version of "Let's Have a Party," which Elvis had cut earlier, was a U.S. Top 40 pop hit for her in 1960, after which she began calling her band the Party Timers. A year later, she was back in the country Top Ten with "Right or Wrong" and "In the Middle of a Heartache." In 1966, she hit the U.S. Top 20 with "The Box It Came In" and "Tears Will Be the Chaser for the Wine." Jackson's popularity continued through the end of the decade.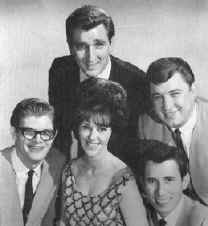 Wanda Jackson and Her Party Timers
Jackson toured regularly, was twice nominated for a Grammy, and was a big attraction in Las Vegas from the mid-'50s into the '70s. She married IBM programmer Wendell Goodman in 1961, and instead of quitting the business -- as many women singers had done at the time -- Goodman gave up his job in order to manage his wife's career. He also packaged Jackson's syndicated TV show, Music Village. In 1971, Jackson and her husband discovered Christianity, which she says saved their marriage. She released one gospel album on Capitol in 1972, Praise the Lord, before shifting to the Myrrh label for three more gospel albums. In 1977, she switched again, this time to Word Records, and released another two.

Wanda Jackson and Rosie Flares
In the early 1980s, Jackson was invited to Europe to play rockabilly and country festivals and to record. She's since been back numerous times. More recently, American country artists Pam Tillis, Jann Browne, and Rosie Flores have acknowledged Jackson as a major influence. In 1995, Flores released a rockabilly album, Rockabilly Filly, and invited Jackson, her longtime idol, to sing two duets on it with her. Jackson embarked on a major U.S. tour with Flores later that year. It was her first secular tour in this country since the '70s, not to mention her first time back in a nightclub atmosphere.
Wanda Jackson was inducteed into the Rock and Roll Hall of Fame in 2009 as an early influence.