The Winter Dance Party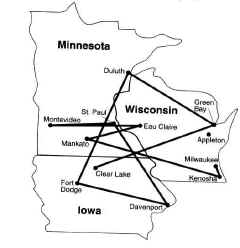 In January of 1959 Buddy Holly, Dion and the Belmonts, Ritchie Valens, and the Big Bopper set out on a twenty-four day tour of the mid-western United States. Making the closely booked appearances by bus this tour was torture for the its performers. Several degrees below zero, and a bus with a broken heating system, caused many to receive frostbite. This infamous tour is known as "The Winter Dance Party." and is reconstructed at the Surf Ballroom in Clear Lake, Iowa, every year to remember Ritchie Valens, J.P. Richardson, and Buddy Holly.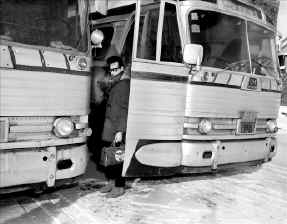 The tour was a disaster from the start, playing small dates in frozen towns in the upper Midwest, with all the musicians crammed into a drafty bus. By February 1, Carl Bunch Holly's drummer had left with frost bitten feet and a mood of rebellion was overtaking the tour. The tour was scheduled to play two shows that day and and then to go to Clear Lake, Iowa for the next evening's performance. By the time they got there, everyone was in a bad mood. Holly told his band members, guitarist Tommy Allsup and bassist Waylon Jennings, that after the show he was going to lease a plane from Dwyer's Flying Service in Mason City, Iowa to fly them to Fargo, North Dakota, ahead of everyone.
| | |
| --- | --- |
| Dwyer Aviation ad | Roger Peterson |
Dwyer's Flying Service, still in operation today, consisted basically of owner Jerry Dwyer and he wasn't there when they arrived. However, a young pilot named Roger Peterson, who worked for Dwyer, agreed to fly them. The weather was bad with flying advisories out, ones that any instrument trained pilot could handle, but the Dwyer planes weren't licensed for instrument flying, plus Peterson had recently failed his instrument test. After Holly called his wife in New York they prepared to go the the airfield.

(To the left of the plane in the light jacket is Holly's body.
Valen's body in the dark jacket is to the right in front of Holly's)

There had been some changes made as to who was to fly. The Big Bopper, who was tired of wedging his oversized frame into tiny bus seats, asked Jennings to let him have his seat to which Jennings agreed. Valens asked Allsup for his seat. Allsup wasn't as agreeable as Jennings and they decide to flip a coin with the loser riding the bus. Allison lost. Holly, Richardson, and Valens got into the plane and Peterson started the engine of the four place Beechcraft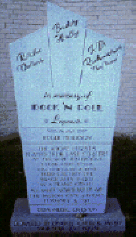 Bonanza and took off. By this time Dwyer was back and noticed that the take off was shaky. A few minutes later he got on the radio to see if everything was alright. When there was no answer he called the Fargo airfield to see if the plane had landed. It hadn't. Worried he got into another plane and went to search for them. He found the plane eight miles from Clear Lake, crashed in a cornfield, with bodies strewn all around. All had died on impact.

Photos of the Surf Ballroom and memorial for Buddy Holly, Ritchie Valens and the Big Bopper at the Surf Ballroom , Clear Lake, Iowa are courtesy of Steve Brown and The Iowa Rock and Roll Music Association and their Hall of Fame