Chuck Berry

Certainly the single most important black artist in rock and roll, Chuck Berry is arguably the most important figure, regardless of race, in rock history. The archetypal rock and roller, Chuck Berry melded blues, country, and a witty, defiant teen outlook into songs that influenced vitally every rock musician in his wake.


Chuck Berry's musical influences
Berry achieved a number of firsts:
The first guitarist/singer to reach charts.

The first rock and roller to write words that were relevant and entertaining to his young white audience with out alienating his core black audience.

First songwriter/performer in 1955.
He achieved all of this with a driving rock and roll rhythm that was, if not brand new certainly unique enough to be instantly recognizable. For those reasons he more than any other artist, is responsible for the direction of popular music.

When performing his material Berry made sure to enunciate clearly, singing outside the standard blues realm, and he improvised lyrics that caused to audience to pay closer attention.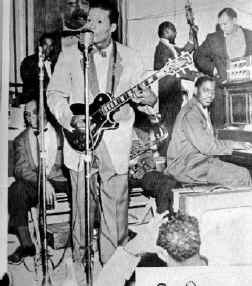 "If you tried to give rock and roll another name, you might call it Chuck Berry"
John Lennon

| | | | |
| --- | --- | --- | --- |
| Henry Berry | Martha Berry | Berry at age six | Berry at age eleven |
Chuck Berry was born October 18, 1926 in St. Louis, Missouri. His mother, Martha, was a schoolteacher; his father, Henry, was a contractor and deacon of the nearby Antioch Baptist Church. The third of six children, he grew up in The Ville, an area just north of downtown St. Louis which was one of the few areas in the city where Blacks could own property. Consequently, during the 1920's and 30's, The Ville became synonymous with Black prosperity.

photo courtesy City of St. Louis
Antioch Baptist Church


The Ville
photo courtesy City of St. Louis
Chuck sang in his St. Louis church's Baptist choir at age six. He learned to play the guitar while attending Sumner High School, the first Black high school west of the Mississippi. Local jazz guitarist Ira Harris was an early teacher, Berry learned the rudiments of the instrument on a four-string tenor guitar. By 1950, however, he had changed over to a six-string electric

Sumner High School
photo courtesy of City of St. Louis

At Sumner, Berry got his first taste of stardom, singing Jay McShann's "Confessin' the Blues" in the All Men's Review in 1941; it was a song he was later to record on the 1960 album Rockin' at the Hops. But music was not his only focus at that time. When not working with his father, Berry began to cultivate a lifelong interest in photography through his uncle Harry Davis.
Before graduating from high school Berry had a number of run ins with the law. In 1944, on a joy ride to Kansas City, Berry and two friends were arrested and found guilty of armed robbery; each was sentenced to 10 years in the Intermediate Reformatory for Young Men at Algoa, near Jefferson, Missouri. While there Berry joined a gospel group and boxed briefly before being released on his 21st birthday in 1947.
| | | |
| --- | --- | --- |
| Themetta and Chuck Berry 1956 | | Henry Berry's van |
A year later, Berry married Themetta Suggs and began a series of jobs: between 1948 and 1955, Berry worked as a janitor at the Fisher Body auto assembly plant, trained to be a hairdresser at the Poro School, freelanced as a photographer, assisted his father as a carpenter, and began his career as a musician. During this time he was playing the guitar and developing a reputation around St. Louis.

The Sir John Trio circa 1953
(l to r) Ebby Hardy, Chuck Berry and Johnnie Johnson


Cosmopolitan Club, 1990
In 1952 Chuck Berry began to play professionally at different clubs in St. Louis. On New Year's Eve Berry joined the Sir John Trio. The leader of the group was Johnnie Johnson and the third person was the drummer Ebby Hardy. The Sir John Trio became the house band at the Cosmopolitan Club in East St. Louis and would be the start of Berry's long association with Johnson whose piano boogie riffs would have a great influence on his guitar playing.
Johnnie Johnson was inducted into the Rock and Roll Hall of Fame in 2001
The most popular music in the area among whites was hillbilly. The band played mostly blues and ballads, but Berry"s joking "hillbilly" songs were the real pleasers and it wasn't long before a white crowd got word of a black hillbilly and began coming to his shows
"Curiosity provoked me to lay a lot of our country stuff on our predominantly black audience and some of our black audience began whispering "who is that black hillbilly at the Cosmo?" After they laughed at me a few times they began requesting the hillbilly stuff and enjoyed dancing to it."
Chuck Berry, from "Chuck Berry: The Autobiography"

While attending a nightclub in Chicago in 1955, Berry met his idol Muddy Waters and asked Waters where he might be able to cut a record. Waters directed him to Leonard Chess of Chess Records

In May, 1955, with an introduction from Waters, Berry went to Chicago to audition for Leonard Chess in hopes of landing a recording contract. Berry thought his blues material would be of most interest to Chess, but to his surprise it was the hillbilly "Ida Red" that got Chess' attention. Chess, a great blues label, in recent years had seen its market shrink and was looking to move beyond the rhythm and blues market and Chess thought Berry might be that artist that could do it. So on May 21, 1955 Berry recorded, "Ida Red" renamed "Maybellene," the name taken from a line of cosmetics, with Johnny Johnson, Jerome Green (from Bo Diddley's band) on the maracas, Jasper Thomas on the drums and blue legend Willie Dixon on the bass. Johnson's piano playing, the heavy drums and maracas and Berry's lead style gave Maybellene the hard rhythm and blues feel that balanced the country elements. Maybellene reached the pop charts and #1 on the rhythm and blues charts.
To help get airplay Chess gave a copy of the record to the influential disc jockey Alan Freed.. In return Freed and his associate Russ Fratto were given two-thirds of the writing credits, something that Berry was unaware of until the song was released and published. Freed aired the single for two hours on WINS in New York. The song went on to sell over a million copies, reaching #1 on Billboard's R & B chart and #5 on the Hot 100.