Blue Belles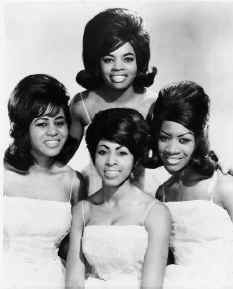 1963 (clockwise frim top) Sarah Dash, Patti LaBelle, Nona Hendryz, Cindy Birdsong.
In their 16 years together, LaBelle developed from a fairly conventional Sixties girl group, completed with sequined gowns, buffants and polished choreography into a band with a unique space queen look, an idealistic political consciousness and an individual gospel tinged funky rock and roll sound. Yet they might not have had a career if it had not been for another group.


Members:
(1962-1967)
Patricia Holte (LaBelle)
Sarah Dash
Nona Hendryx
Cindy Birdsong

(1967-!970)
Patti Labelle
Sarah Dash
Nona Hendryx


(1971-1976) as LaBelle
Patti LaBelle
Sarah Dash
Nona Hendryx

Patti Labelle was born Patricia Holt in 1944. Patti's earliest years were spent much like those of her musical contemporaries - singing in church. It was the choir at the local Beulah Baptist Church that gave Patti as youngster her first opportunity to vent to her natural vocal gifts. Like other girls growing up in the '50s, the idea of forming a vocal group was a natural. With Cynthia "Cindy" Birdsong, Patti formed The Ordettes and by 1961, the two school friends had hooked up with Wynona "Nona" Hendryx and Sarah Dash - singers from The Del Capris, a rival female group to form The Bluebells.
Around the same time another female quartet, The Starlets, were on tour due to the success of their single "Better Tell Him No." While in Philadelphia for some one nighters they were convinced by Harold Robinson, a used car dealer, to come to his studio and record a few sides. Out of that session came "I Sold My Heart to the Junkman."

(Top right - Patti LaBelle)

Whether the Blue Belles heard the recording before its release isn't known, but when Newton Records released the Starlets' recording in late 1961/ early 1962 the name on the label was The Blue-Belles. By June, the record was #15 Pop and #13 R & B, giving the Blue Belles their first hit without ever being in the studio. Their first actual recording didn't fare as well. Their second "real" release, a ballad "Go On" gave an indication of things to come, and their harmonies on "Cool Water indicated that they could sing better given better material. The Blue Belles third single of 1963 met those qualifications as Patti through the melody of "Down the Aisle" accompanied by the Blue Belles' angelic sounding higher than high warbling.. "Down the Aisle" went to #37 Pop and #14 R & B, setting the stage for the group to sing big ballads and old standards. In January, 1964 they released Rodgers and Hammersteins' classic "You'll Never walk Alone," which went to #34 on both the Pop and R & B charts. What "Down the Aisle did to establish the group, "You'll Never Walk Alone" did to establish Patti as one of the most powerful and distinctive vocalists ever.

The Blue-Belles as they looked on American Bandstand
Building a reputation as a dynamic vocal outfit who brought energy and excitement to their live performances, Patti and The Blue Belles spent their first few years building a solid R&B base by performing on the "chitlin circuit," a series of theaters in cities like New York, Chicago, Washington D.C., Atlanta, Detroit, Baltimore, and Philadelphia that featured package shows with hit R&B stars of the day.
Pattis began incorporating her high-note finale into new recordings such as "Dany Boy" (#4 Pop and R&B 1964) which turned out to be the Blue Belles last of three singles for Parkway Records.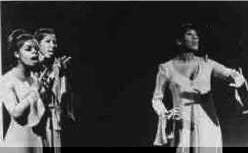 In the middle of 1965 the group signed with Atlantic Records. The group's first Atlantic album included a number of standards and popular songs of the day:

The group's three-year stay with Atlantic proved less than successful: only two singles - "I'm Still Waiting" and "Take Me For A Little While" - saw any chart action and in spite of two fine albums and a collection of strong singles, Patti and The Blue Belles (reduced to a trio with the departure of Cindy who replaced the late Florence Ballard as a member of The Supremes in 1968) were in need of a new attitude.

LaBelle
Wynona "Nona" Hendrix, Sarah Dash, and Patti LaBelle
In 1970 Vicki Wickham, a British television producer who had produced the group on Ready, Steady, Go! the U.K.'s hippest '60s music program took over their management. The first change was to rename the group LaBelle. Wickham had a vision that saw a shift in visual image and musical approach of LaBelle. Next the group signed with Warner Brothers and toured with White rockers like the Who instead of the usual soul circuit. Labelle recorded two progressive albums that featured an eclectic fusion rock and R&B. While neither album was commercially successful, tracks like "Morning Much Better" and Cat Stevens' "Moonshadow" became favorites among the cult audience that began following the trio in the '70s.
As the glitter era of rock's early 70s took hold, LaBelle began appearing in their now famous silvery space suits and luminous makeup.

A one-off album for RCA, 1973's Pressure Cookin' still failed to take LaBelle to the masses although word of mouth was spreading and it became apparent that a hit single could be the key to taking the group to a new level of popularity. After signing with Epic Records in 1974, the tide turned. LaBelle went down to New Orleans to work with (producer) Allen Toussaint on our first album for the company. The trio's first album for Epic was entitled Night Birds. One cut from the album "Lady Marmalade," a catchy ditty about a Crescent City hooker became an million-selling #1 pop and R&B smash in early 1975. The song's success led to the group's first gold album, Nightbirds which contained classic tracks like the follow-up single, "What Can I Do For You," and "Are You Lonely". Three of their next four singles charted, but none with anything resembling the excitement generated by "Lady Marmalade". After two more excellent albums (Phoenix and Chameleon) musical differences between Patti and Nona began to pull the group apart.
By 1977, their last single "Isn't It a Shame," came out unnoticed and the group split. Sarah moved on moved to Kirshner Records for two low chart releases in 1979, "Sinner Man" and "(Come and Take This) Candy From Your Baby." Nona became a rock and roller, playing with New York bands Propaganda and Material. In 1983 she signed with RCA and had five charted singles though none went higher than #22. Her biggest hit for EMI America in the spring of 1987 was "Why Should I Cry."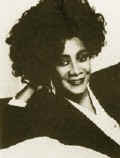 Patti continued on Epic having eight chart singles between 1977 and 1980, though none went higher than number twenty-six. Her solo career took of when she signed with Philadelphia International Records in 1981 and had a number one R&B hit with "If I Only Knew." A succession of duets ("Love Has Finally Come" with Bobby Womack and "On My Own" with Michael McDonald) and songs from movies ("New Attitude" and "Stir It Up" from Beverly Hills Cop, "Something Special" from Outrageous Fortune, and Just the Facts from Dragnet) kept her in the spotlight ever since.

As for the Blue Belles/LaBelle, any act that remained together for sixteen years with no addition and only one member leaving certainly deserves recognition.