Myth, Legend and Interesting Facts

W.C. Handy the Father of the Blues wasn't an ordinary Delta bluesman. Handy studied music as a youth, playing the cornet and traveling the South with dance bands playing minstrel and tent shows. Later in life he became a songwriter, bandleader and publisher.

The Southern Cross "The Dog"
The intersection of the Southern Railroad and the Yazoo & Mississippi Valley Railroad (The Dog)
at Moorhead, Mississippi that inspired the singer at Tutwiler.
Legend is that while waiting for an overdue train in Tutwiler, Mississippi, in 1903 that he heard an itinerant bluesman playing slide guitar and singing about "going' where the Southern cross the Dog," referring to the junction of the Southern and Yazoo and Mississippi Valley railroads farther south near Moorhead. Handy called it "the weirdest music I had ever heard."

The Crossroads
In the delta of the Mississippi River, where Robert Johnson was born, they said that if an aspiring bluesman waited by the side of a deserted country crossroads in the dark of a moonless night, then Satan himself might come and tune his guitar, sealing a pact for the bluesman's soul and guaranteeing a lifetime of easy money, women, and fame. They said that Robert Johnson must have waited by the crossroads and gotten his guitar fine-tuned.

Robert Johnson
Not much is known about Johnson other then after the death of his wife in 1930 he decided to become a bluesman. Wandering around the Delta in 1933, he met Son House and Willie Brown. What they heard him play on the guitar startled them. In an amazingly short time, Johnson had turned into a blues guitar master, hence the myth that he made a deal with the Devil.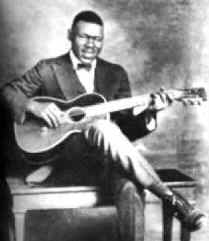 Blind Lemon Jefferson
Blind Lemon Jefferson was indeed blind, unlike other Delta musicians who merely claimed the limitation. He died penniless in Chicago in December 1929, possibly suffering a heart attack when he became disoriented during a snowstorm.

Huddie William Ledbetter aka Lead Belly
Leadbelly was a large man, and given to fits of rage. In 1917, he was convicted in Texas for killing a man and in 1930 was convicted of attempted murder in Louisiana. Both sentences were commuted, however, based solely on his musicianship. His "discovery" came, in fact, at Louisiana's Angola Prison Farm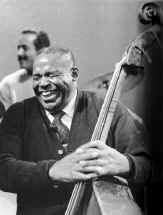 Willie Dixon was certainly the single most important presence on the postwar Chicago scene. What distinguished Willie Dixon from most other Delta bluesmen of his day was his ability to read, write, compose, and arrange music -- talents that were to destine him for legendary status among the bluesmakers. However, it was boxing, not music, that brought Dixon to Chicago in 1936. He was an upstart professional fighter who for a time sparred with the great Joe Louis.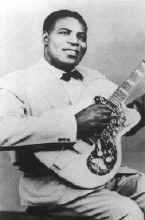 Named after a 19th-century American president, young Chester Arthur Burnett earned the nickname that was to become synonymous with the power of his voice "Howlin' Wolf."