Bob Horn

Shortly there after a committee of regulars was set up of 25 girls and 15 boys. These were teenagers that could be counted on to show rain, sleet, snow or shine. By doing this the show was guaranteed dancers for every show.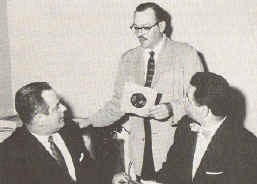 l to r: Horn: promoter Henry Finfer and Tony Mamarella.
Mamarella would go on to become Dick Clarks producer
In the beginning of 1953 the show's airtime was increased to an hour and forty-five minutes. There was also talk in the Philadelphia area of network interest in the show.
That spring the show began starting at 2:45 P.M. to coincide with the dismissal of the area's nearby high schools.
| | |
| --- | --- |
| Bob Horn and Joni James | Bob Horn and Frankie Laine |
During the early years the music that was danced to was primarily sung by white pop singers and the early guests were Joni James, Georgia Gibbs, Frankie Laine, et.al.

Doing the Bunny Hop
While these pop stars may have use Bandstand to promote their records the teenagers were more interested in dancing. From its beginning the show spawned many dance crazes the first which was inspired by Ray Anthony's "Bunny Hop".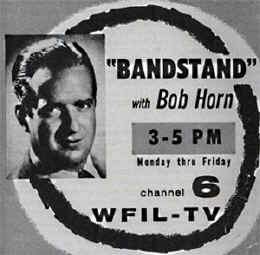 To commemorate the shows second anniversary Bob Horn's Bandstand received a people's choice for 1954 TV Guide award.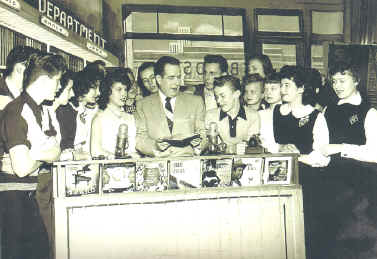 Horn and Regulars at the Rate-A-Record Desk 1953
Photo courtesy Peter Horn
With a highly successful show, with a waiting line of sponsors, Lee Stewart's Mad Man Muntz account was no longer that important. In 1955 Lee Stewart was let go and Horn became the show's sole host.
Bob Horn and Lois Gardner had known each other for two years. Gardner a tiny brunette, who looked older than her years, claimed to have been a member of Paul Whiteman's Teen Club before becoming a regular visitor to WFIL-TV's studio in 1952. She would allege that only one week after meeting Horn in the summer of 1953 they drove to his apartment where they engaged in a "discussion". In November she said that she and Horn, a married man with three young daughters and an adolescent son, began having sexual relations -when she was still thirteen - after which these encounters occurred once or twice a week until the end of 1955.
Horn told a different story claiming he had noticed Gardner at WFIL's studio, but didn't speak with her until sometime in 1954 when she appeared at his office, introduced herself and asked to appear on Bandstand. Horn told her that her request wasn't possible. Horn then went on describe her as what would today be call a groupie and denied ever having sex with her.
In 1956 Philadelphia District Attorney commenced an undercover investigation into a suspected vice ring that it was believed preyed on teenage girls. The ring used promises of modeling careers to lure them into pornographic photo sessions and orgies at Hound Dog Hill, a country estate north of Philadelphia. Lois Gardner was suspected of being involved with the ring.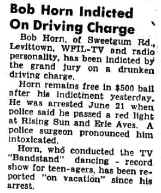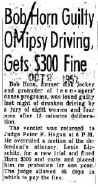 During the early hours of June 21, 1956 Horn was pulled over by police after running a red light. He's was taken to the local police station where he found to be drunk and was given a ticket for running a red light and arrested for drunken driving.
With the Philadelphia Police Department carrying on a month long campaign against drunk drivers, which Annenberg's Philadelphia Inquirer had championed, WFIL suspended Horn from Bandstand and named Tony Mammerella, the show's producer, temporary host.
During this time Horn went on an extended vacation after which he was subsequently offered and turned down the position of Music Director.
On November 8, 1956 Horn was indicted on four four statutory rape charges and four charging corruption of the morals of a minor. The first trial ended in a hung jury.The family found the whole issue to be quite strange since there was an attempt at extortion. For a considerable amount of money the plaintiff would drop the charges. The prosecution knew of the attempt. The money was actually prepared and a delivery attempted yet the trial continued. The second trial ended with a not guilty verdict.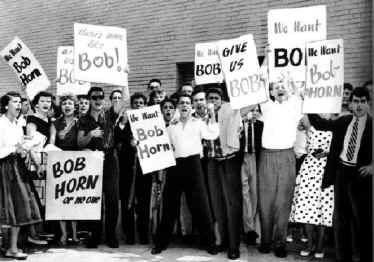 Protesting Horn's firing.
Jerry Blavat is fellow in front row holding sign
"I arrived home on Friday night to find the house packed with lawyers and some rather rough looking people. On the kitchen table was a pile of money, the most I'd ever seen in my life. My Dad had been contacted by the girls representatives who said that a $5000.00 payoff would get her out of town. As I remember, Jerry Blavit was asked to deliver the money, or she requested that he do so. It was felt by all that this was complete vindication for my Dad. The attempt was made and witnessed by the prosecution and why all charges were not dropped and why she wasn't charged I have no idea" ...... Peter Horn October14, 2003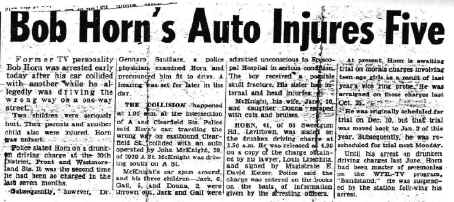 Also, on the day of his indictment, Horn was involved in an accident. It seems that Horn was driving the wrong way down a one way street when he hit another car in which a little girl in the other car was seriously injured. Horn was arrested and cited as being drunk. He was taken to the police station where a police surgeon on duty tested him, Horn by his own admission had had two beers) and found him to be intoxicated, but not enough to prevent him from driving safely. Found to be guilty Horn's insurance company paid $100,000 in claims to the family and owner's of two parked cars that were damaged as a result of the family's car being pushed into them.
These three incidents effectively ended Horn's career in Philadelphia
A tired and broken Horn left his beloved Philadelphia in July 1957 moving to to Houston, Texas where he took a job with radio station KILT hosting a news-talk-music radio show. At this time he changed his name to Bob Adams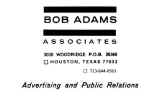 Horn's Eastern personality and style wasn't right to be a hit among Texas radio listeners He was soon taken off the air and became an advertising representative for the station. Later, he would open up his own advertising agency Bob Adams Associates in Houston, Texas which would be the creator of the first "Midnight Madness Sale." He also owned a lounge known as the Town & Country in Bellaire, Texas.
During this time Horn returned to Philadelphia for his court trials and to serve three months of a jail sentence upon losing his appeal of one of the DWIs.


On July 31, 1966 While mowing his lawn, Bob Horn had a heart attack brought on by heat stroke. He is buried at the Forest Park cemetery in Houston, Texas with the simple epitaph, "Bandstand". He was only 50 when he passed away.
Side Note
This year Peter traveled to New Jersey for a scheduled vacation and went to a dance hosted by Philadelphia's most popular DJ, Jerry Blavit. Jerry introduced Peter as Bob's son and there was an instantaneous applause from the crowd. Let no one doubt what that was about or who it was for. After, an older gentleman approached Peter and simply said, "We just loved your Dad". That said it all
Special thanks to Peter Horn for corrections and additions.