Bobby Darin

One of the most popular rock and roll teen idols of the late '50s, Bobby Darin was one of the premier song stylists of the 1950s. Moving into the pop mainstream and nightclub circuit his astounding career continued almost unabated through the 1960s.


Robert Walden Cassotto was born May 14, 1936, in the Bronx. His father died a few months before he was born. His English mother had been a professional entertainer for many years. After her husband's death, she was forced to raise Bobby, and his sister, Nina, on welfare payments. Darin was a sickly child and at 8 had rheumatic fever not expected to live much past the age of sixteen. This disease left him with a weakened heart, a condition that he would suffer from the rest of his life.
By the time he attended Bronx High School of Science, Darin was an accomplished musician and could play many instruments, but his impatience kept him from mastering any of them. He played drums in a local band at 15.
After high school, Darin entered Hunter College on a scholarship, but he only completed one year. Torn between wanting to be an actor and musician he tried to audition for stage shows and bothering music publishers with his songs. He had little success. Aware of the ground rules to become a successful performer he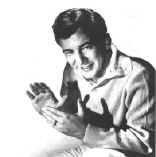 changed his ethnic last name to Darin, selecting the name out of the phone book, picking the first one that sounded usable.
While his combo was playing small clubs Darin would sing jingles and make demos for other songwriters. In 1956, his personal manager got him a one year contract with Decca Records. Two years earlier Decca had signed one of rock and roll's biggest acts, Bill Haley and His Comets, but didn't know how to capitalize of this new form of music.
Darin was an example of this misdirection. Instead of harnessing his exuberance, they placed him in a restrained musical setting and had him sing "pop" fluff.
Darrin signed a one year contract with Atlantic Records and recorded with their subsidiary Atco. Darin was made an arranger and songwriter , and secondarily a recording artists. Darin's "Love Me Right" was recorded by LaVern Baker. His first three singles went nowhere.
With his Atco contract Darin approached Brunswick Records with "Early In the Morning." Brunswick was impressed, but as Darin was still under contract, the song was released by the Ding Dongs. New York deejays liked the the record and Atco soon discovered the deception. Brunswick was forced to turn over the masters to Atco which released the record as by the Rinky Dinks. Brunswick had Buddy Holly cover it. After television appearances on "The Dick Clark Show" and "The Perry Como Show" Darin's version edged out Holly's in sales..
That June Atco released "Splish Splash" the final single under Darin's contract.The song had been recorded the previous April and allegedly had been composed in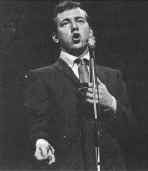 ten minutes. It sold a million copies.
"Queen of the Hop" and "Plain Jane," two similar singles followed.

"Queen of the Hop" was another million seller.
"Dream Lover" was released in March, 1959. The song was built on a Latin dance rhythm, a shuffle beat called cha-lypso. The song was a subtle move from simplistic rock and roll structure to songs designed to appeal to an older audience. "Dream Lover" was his third million seller.

Darin's next song "Mack the Knife" relied heavily on the stylized vocal inflections developed by Frank Sinatra. the song sold two million copies and topped the charts for months. "Mack the Knife' won a Grammy Award as Record of the Year and Darin was voted Best New Artist.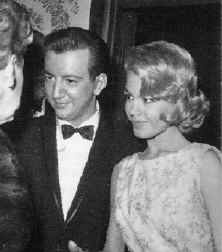 Darin with his wife Sandra Dee
Brash, outspoken, and ambitious ( he said he wanted to be "Bigger than Sinatra"), Darin was a man in a hurry. He suggested the reason was he was certain he would die at an early age from a congenital heart defect. Darin made several movies, beginning in 1960 with Come September. He would later marry his leading lady Sandra Dee. He received an Oscar nomination for his work in the 1963 film Capt. Newman M.D. He appeared in another eight films including State Fair (1962).
Darin had hits with "You Must Have Been a Beautiful Baby" (#5 1961), "Irresistible You" (#15, 1961), "What'd I Say" (#24, 1962), "Things" (#3, 1962), "You're the Reason I'm Living" (#3, 1963), and "18 Yellow Roses" (#10, 1963). A string of no hit singles led to his 1965 move to folk-rock. material. In 1966 Darin had his first top ten single since 1961 and last major hit with "If I Were a Carpenter (38).
In 1967 Darin divorced Sandra Dee.
Darin continued to appear in Las Vegas and on TV through the mid-60s and worked extensively for Robert Kennedy during his 1968 presidential campaign. Claiming to have had a mystical-religious experience at Kennedy's funeral service, Darin quit working, sold his possessions and moved to a mobile home at Big Sur, California. More than a year later he reemerged in blue jeans and mustache to start his own label Direction Records.
In 1968, Darin discovered his "mother" Polly was actually his Grandmother and his "sister" Nina was really his mother.This painful revelation altered him for the rest of his life.
Working in a soft rock vein, he recorded an unsuccessful politically oriented album called Born Walden Robert Cassotto. In the early '70s Darin signed with Motown Records and again began playing Las Vegas. His Motown releases were unsuccessful and critics considered this to be the low point of his career. He married Andrea Joy Yeager in June 1972.
Darin died during heart surgery to repair a faulty heart valve on December 20, 1973. His body was donated to the UCLA Medical Center for research purposes.
Bobby Darin was inducted into the Rock and Roll Hall of Fame in 1990.

Bobby Darin - Musical Chameleon