Bobby Rydell

Unlike many of the other Teen Idols, Bobby Rydell was a genuine musician.



With parents Adrio (Al) and Jeanie at age one
Robert Louis Ridarelli was born April 26, 1942. He grew up in the same Italian neighborhood of South Philadelphia as Frankie Avalon and Fabian. At the age of four or five, Bobby used to sit in front of the TV set trying to impersonate performers like Louis Prima, Milton Berle, and Johnny Ray. His father recognized Bobby's talent and encouraged him to pursue a show business career. Rydell began playing drums because he admired Gene Krupa. By age seven, he had begun to work night clubs in Philadelphia. While other children were listening to the latest hits Rydell's father was taking him to listen to the last big bands working the various Philly clubs.

TV Teen Club in early 50s
Center Paul Whitman and second from left Bernie Lowe
At five he started to learn the drums Three years later he was an accomplished cabaret performer, playing drums and doing imitations. At nine, he was a regular on Paul Whiteman's TV Teen Club television show that was broadcast from Philadelphia and performed on it for three years. It was during this time it was said that Whiteman shortned Bobby's last name to Rydell, because he had trouble pronouncing Ridarelli. Rhe truth was Bobby's dad came up with the name/
By the time he was a teen, he was playing drums in a dance band Rocco and the Saints, that featured Frankie Avalon on the trumpet. At fourteen, Rocco and the Saints began playing annual summer bookings in the seaside resorts around Atlantic City. Rydell also played the guitar and bass and was a natural comedian.

Frankie Day, bass player with Billy Dukes and the Dukes, who managed Rocco and the Saints, became interested in Rydell as a solo act. With Bobby's father's approval, Day began taking Rydell to different record companies. Day was unsuccessful for several years though Rocco and the Saints had backed Frankie Avalon's first sessions on Chancellor Records.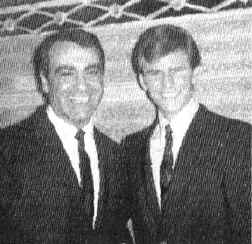 With Frankie Day
Late 1958. recorded "Fatty Fatty" for Veko Records in Baltimore. The release went nowhere, the promoters disappeared with the masters and Rydell's father was left with the bill for the sessions

Bernie Lowe
Finally, Day approached Bernie Lowe, the owner of Philadelphia's Cameo Records, who had been Rydell's vocal coach when he was ten. In January 1959, Rydell signed a contract with Cameo and his first single "Please Don't Be Mad" was released in February, 1959. "Please Don't Be Mad" did little better than "Fatty Fatty." Lowe then got him a guest spot on "American Bandstand." He was only interviewed and didn't sing, but he did plug "Please Don't Be Mad."
In 1959, Cameo released his second single "All I Want Is You." The record saw little action. Rydell began to become discouraged as old friend Frankie Avalon had making hit records for over a year, "Venus" was one of the biggest hits of 1959 and even Fabian who couldn't sing a note had been having hits since the first of the year.
Rydell had almost resigned himself as being a second rate drummer in a second rate combo when Bernie Lowe came up with "Kissin' Time." Released in mid-June, the record caught on in Philadelphia, followed by Detroit and Boston. Dick Clark began playing it on American Bandstand and within three weeks after it's release was a national hit. Rydell was just seventeen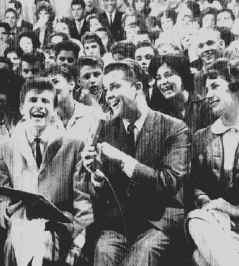 In August, Rydell appeared on American Bandstand where he lip-synched "Kissin''

Time." "We Got Love" was a solid follow up.
Rydell appeared at the Michigan State Fair in September, 1959 with a Dick Clark show. This led to him touring with Dick Clark's first rock and roll caravan that began on September 18 and was booked for forty-four shows through the end of October.

By then, "We Got Love" had gone gold and become his first Top Ten hit.
Rydell's biggest selling single, over a million copies, "Wild One" was released in early in 1960. "Swingin' School" b/w "Ding-A-Ling" was a springtime hit and third million seller. That summer "Volare" was released. The song had been pulled from a previous unsuccessful session of songs in a big band style to introduce Rydell to an older audience.
The next three years Rydell had a string of hits that sold more than a half million copies each. Several, including "Good Time Baby," "I've Got Bonnie," "I'll Never

Dance Again," "The Cha-Cha," and "Wildwood Days" even made the Top Twenty. 1963s "Forget Him" almost made #1 and sold over a million copies.
Rydell appeared in the 1963 version of the Broadway hit musical "Bye, Bye, Birdie." Though the story dealt with a rock and roll singer, Rydell was cast with Ann-Margaret as a pair of high school sweethearts.
In 1964, the British invasion began with those artist records racing up the charts and clogging the airtime. Overnight the record business changed and Rydell, among others, was shut out from the hit making machinery of the record business.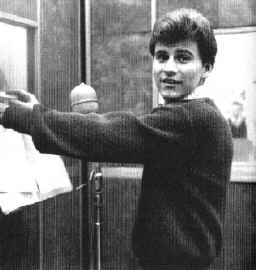 Recording at Capitol Records
Rydell left Cameo and signed with Capitol. At Capitol, Rydell was assigned to producers who wanted him to sing country or soul. By the time Rydell decided to record a ballad version of Paul Anka's "Diana" he found Capitol's financial resources diverted to other artists and projects.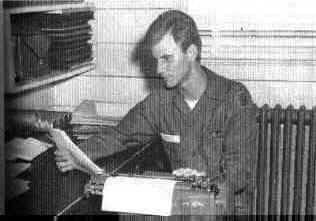 Receiving a draft notice Rydell tried to get out of service as a "hardship case." He wrote to the board that his father worked for him and was the sole means of support of his grandparents that lived with him. When the request was denied Rydell joined a local Philadelphia National Guard unit. His career was interrupted for six months of basic training in 1964.
Rydell stayed with Capitol for three years. In 1969, he signed with Reprise, a label founded by Frank Sinatra. His first single "Lovin' Things"b/w "It's Getting Better" received no promotional support. "Lovin' Things" was covered by the Grassroots and "It's Getting Better" by Mama Cass, and each became a mid-size hit. His next single "The River Is Wide" went nowhere as the Grassroots version moved up the charts. After three singles he quit.
In the late 60s Rydell joined the rock and roll revival shows at Madison Square Garden. In the 70s, he was a popular entertainer at Hugh Hefner's Playboy Clubs. He also worked at the Hyatt Regency and Waldorf Hotel chains and appeared at Disney theme parks.
In the late 70s Rydell considered moving into a "pop" direction pioneered by Barry Manilow. He appeared in a summer stock of "Bye, Bye, Birdie," this time playing the part of the father.He also appeared in a pilot comedy-variety television show "One More Time" that was to be produced by the Osmonds.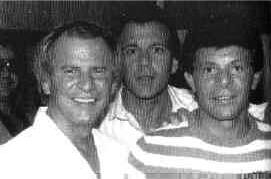 Boys of Bandstand
L to R: Bobby Rydell. Fabian Forte and Frankie Avalon
In the summer of 1985, he joined Frankie Avalon and Fabian on "Boys of Bandstand" tour. The next ten years saw Rydell performing in big band style in clubs .He also appeared on a number of Dick Clark television specials recalling the early days of rock and roll.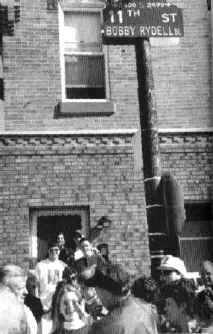 In October of 1995 the City of Philadelphia rename the 2400-2500 block of 11th Street in South Philadelpia Bobby Rydell Boulevard.
Bobby Rydell was never caught up in his fame. When asked why, Rydell always gave credit to his family roots.