Bobby Vee

One of the longest lasting of the teen idols of the early Sixties, Bobby Vee got his lucky break when he and and his band the Shadows filled in for the late Buddy Holly at a 1959 Mason City, Iowa, concert days after Holly was killed in a plane crash.


Members of the Shadows:
Bobby Velline
Bill Velline - rhythm guitar
Jim Stillman - bass guitar replaced by Dick Dunkirk
Bob Korum -drums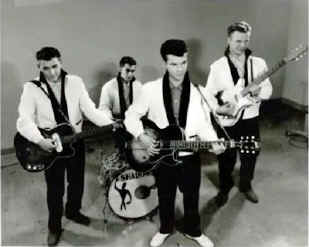 Original Shadows
(L-R) Bill Velline, Bob Korum (drums) Boby Velline, Jim Stillman
Robert Thomas Velline was born in Fargo, North Dakota on April 30,1943. The Veelines had always been musical. His father Sidney, who was a professional chef, played fiddle and piano. His uncle played piano and both brothers, Bill and Sid, Jr. played guitar and were members of a local band. Vee first played saxophone, which he studied in junior high school. Eventually, Bill taught Bobby a few chords on the guitar. From paper route earnings Bobby bought a guitar. When twenty year old Billy joined with to other nineteen year olds, Dick Dunkirk and Bob Korum to form a combo, Bobby was left out. After much persistence, Bobby was allowed to join as the lead vocalist as he was the only one that knew the words to all the songs. On February 3rd, they had been practicing regularly for two weeks.
In February, 1959 Buddy Holly was on a bus tour through the Upper Midwest, performing at shows with Ritchie Valens, the Big Bopper, Dion, and others. Tired of the bus tour and wishing to get to the next stop in order to do some laundry, Holly chartered a light plane to fly him to the tour's next stop in Moorhead, Minnesota, which is just across the state line from Fargo. Shortly after takeoff near Clear Lake, Iowa in the early morning hours, the plane developed instrumentation problems and crashed, killing Holly and the three others who were aboard the plane. The bus rolled out with the remaining members of the tour, who were unaware of the fate of Holly's plane until they arrived at their destination and saw the news on television. A decision was made to continue the tour, but the organizers scrambled to find a local act who could fill in on short notice.
It was Jim Stillman that called the Armory and asked if they could open the show. Asked if they had experience, without hesitation Sillman replied yes and got the job.

Bobby Vee and the Shadows
(L-R) Dick Dunkirk, Bobby Velline, Bob Korum, Bill Velline
The boys had three hours to come up with an act. They knew six songs maybe. After he quick rehearsal, on the way to the armory, they stopped at J.C. Penney's and bought black peg pants with tight cuffs and sleeveless sweaters accented with angora ties. They didn't even have a name, but when asked said they were the Shadows.
Contrary to popular belief the Shadows did not open the show, and their act that night wasn't a tribute to Buddy Holly. They came on after two or three other acts and played a few instrumentals and vocals. When the evening ended, the band wasn't even paid. The next day the tour moved to Sioux Falls, South Dakota with Jimmy Clanton and Frankie Avalon as fill ins. The Shadows were left in Fargo.
In the audience that night was Bing Bingtssen, who owned Fargo's drive-in. He also booked bands at high schools and offered the boys a Valentine Day's job.
On the Valentine's Day date the band had to make the forty-five mile drive in a 51 Oldsmobile to Breckenridge, Minnesota. The dance was held in the school's gymnasium that had no stage. Improvising they pushed several benches together. At one point in the performance, the benches parted with amplifiers crashing to the floor. They were paid $60.
In the next few months they decided to hire a pianist Bill knew from the local record store. The pianist said his name was Elston Gunnn, but his real name was Bobby Zimmerman, and he had recently toured with Conway Twitty. However there were two problems. Zimmerman could only play in one key and he didn't have his own piano. After a few dates, he and the band parted. Zimmerman enrolled at the University of Minnesota. Soon he fell under the spell of folk music, picked up guitar, moved to New York and changed his professional name to Bob Dylan.
Four months and two dozen shows later, n June 1, 1959, with $500 they had earned, the Shadows went to Minneapolis for their first recording session. The deal was with Soma Records to record at Kaybank Studios from nine in the morning to twelve noon. They cut four instrumentals and added Bobby's vocals to two of them before the money/time ran out. The records were credited to Bobby Vee and the Shadows. The A-side of the single was "Suzie Baby," which was a direct descendant of Holly's "Peggy Sue." Loma had local ties with the local record distributor and the record quickly began receiving air play in the upper Midwest becoming a best selling single in the area. Joe Sadd Liberty's regional promotion man heard the band while "Suzie Baby" was number one in Minneapolis. Doing his job, Sadd sent a copy to Hollywood.
Liberty offered to release the single nationally on its own label with an option for a second single. The understanding was if the records were successful there would be a long term contract. Liberty released "Suzie Baby" in the first week of August, 1959. It quickly moved into the lower part of the Pop charts by the end of the month. Vee was offered a one year contract with Liberty and as were the Shadows. Then, nothing happened. With "Susie Baby" fading from memory, Vee was rushed to Los Angeles to record under the direct supervision of Liberty's staff. Supervising Vee was Producer Thomas "Snuff" Garrett. Garret was a 19 year old hip producer from Lubbock, Texas, by way of Dallas. Garrett had moved to Los Angeles and Liberty Records in 1958. A singer named Adam Faith had come up with an imitation of Holly's style and had recorded What Do You Want? in the UK. Bobby Vee was given the assignment of covering the song to sell in the US market, but his recording

did not meet with success.
Garrett's formula was to pick up songs from the prolific songwriters in New York City's Brill Building, and to make certain that the words to the songs were sung in such a way that they could be heard clearly and understood. The breakthrough song for Bobby Vee was Devil Or Angel, one that made it to the top ten late in 1960, when Vee was only seventeen. He followed it a short time later with another top ten tune Rubber Ball, which had been co-written by Gene Pitney. Rubber Ball also served to introduce Bobby Vee to rock-and-roll fans in the UK, where it reached number four.
Recording for Liberty in the early 60's, Bobby Vee became one of rock-and-roll's biggest stars on both sides of the Atlantic. His innocent style and supply of Brill Building compositions were enormously popular. In 1961 he recorded a Carole King composition and came up with his only number one song, Take Good Care Of My Baby. His next hit Run To Him went to number two.
In January 1961, Vee and Liberty renewed their contract with a five year deal. The Shadows weren't asked to stay. The same month "Stayin' In," was released. While it had the trademarks of previous gold records, it ran afoul of conservatives because it was about a fight over a girl. It only sold 500,000 copies because of sporadic boycotts. In mid-April, Vee began a three week tour of Australia and New Zealand. While gone "How Many Tears" was released with "Baby Face" as the B-side. Within weeks, "How Many Tears" was re-released with "Bashful Bob" as the B-side. This split the sales of the single and it spent a short month on the pop charts.
"Take Good Care of My Baby' was released in July and became Vee's third million seller. "Run To Him" in November also went gold. At this time Vee became spokesman for Toter record cases, becoming one of the first rock and rollers to do endorsements.
In 1962 Bobby Vee had other hits such as "Please Don't Ask About Barbara" and "Sharing You." He recorded an album that once again linked him with Buddy Holly [whom he never met], Bobby Vee Meets The Crickets. The album was well received by critics. He had another huge hit with "The Night Has A Thousand Eyes" and some other top forty songs. He also appeared in movies: Swingin' Along, It's Trad, Dad, and C'mon Let's Live A Little, among others.
On December 28, 1963, Vee married Karen Bergan, age twenty at Holy Rosary Church in Detroit Lakes, Michigan.
The Beatles burst on the pop music scene in 1964 and altered the history of rock-and-roll permanently. Suddenly the innocent songs and the wholesome image of Bobby Vee were no longer in vogue, and even criticized in some circles. He fell off the charts completely for a few years.
In 1967, he came back in a big way. "Come Back When You Grow Up," by Bobby Vee and the Strangers, soared to number three and re-established Bobby Vee in the minds of rock music fans. He had some other minor hits before leaving the charts for good in 1968. In 1972 an album that he recorded under his own name, Nothin' Like A Sunny Day, went nowhere.
His career slowed again in 1968 and his final single for Liberty "Sweet Sweetheart" was his last to make the charts.
In 1970 Liberty was bought by United Artists and Vee had two Columbia releases that went nowhere. Vee soon left the company. In 1975-1976 Shady Brook Records released three singles in two years with the same results.
In the 80s with his records no longer selling, Vee made his living touring overseas. As Americans turn a deaf ear, Vee packed the houses in Britain, Europe and the Far East.
In 1988, he toured America with the reformed Crickets. He was asked to return to Clear Lake, Iowa to participate in the Buddy Holly Memorial Concert on February 3, 1989. The audiences reaction has caused him to be invited back every year.
In early 1992, he produced a mail order only cassette, Last of the Great Rhythm Guitars.
Bobby Vee was a polite, clean-cut singer in an era that rewarded someone with a repertoire such as his. Through all the highs and lows, Vee maintained a rock solid hold on reality. In the midst of all his success, he continued to be a full time corresponding student at North Dakota Agricultural College in Fargo. Wal married to Karen and had three sons and a daughter. He lived in Bel Air, California, but since 1981 has resided in St. Cloud Minnesota. He was often be found at Sauk Lake Rockhouse studios working on various projects. In 1999, he was given the Rough Rider Award, the highest award by the State given to a native son. Bobby made a hundred or more personal appearances with the Vees, a band that features his sons: Robby (Guitar), Tommy (bass) and Jeff (drums). He has always been well liked by people in the music business.
On April 29, 2012, Vee announced publicly that he had been diagnosed with Alzheimer's and consequently would withdraw from the music business. He had been in memory care (long-term care to meet the needs of those with Alzheimer's disease, dementia or other types of memory problems) for 13 months in a long-term care facility in Rogers, Minnesota, just outside of Minneapolis, and eventually received hospice care in the weeks prior to his death. On October 24, 2016, Vee
died from complications of the disease at the age of 73.