The Champs

The Champs were West Coast sessionmen whose first single, the instrumental "Tequila" stayed on the charts nineteen weeks, reached number one, sold more than six million records worldwide, and won a Grammy for best R&B record of 1958.


Members:
Dave Burgess - lead guitar
Dale Norris - guitar
Chuck Rio - guitar - replaced by Jimmy Seals
Ben Norman - bass guitar - replaced by Bobby Morris
Gary Alden - drums - replaced by Dash Crofts
The year 1958 saw a dramatic increase in short-lived fad rock and roll instrumental combos. Not that Rock and roll instrumentals hadn't been around before or that they wouldn't be around later. It was just that the floodgates opened wide in 1958. A year earlier, the biggest selling instrumental was "Raunchy" by it's co-composer Bill Justis. By the end of 1959, there was Santo and Johnny, Johnny and the Hurricanes, Dave "Baby" Cortez, Duane Eddy, the Fireballs, the Virtues, the Wailers, Link Wray and His Ray Men, the Royaltones, the Rock-A-Teens, Sandy Nelson, Cozy Cole and Preston Epps. However the group that really created the demand was the Champs.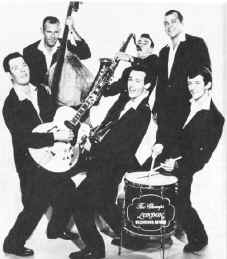 The story of the Champs began with Dave Burgess, who was born December 13, 1934, in Beverly Hills, CA. Burgess first recorded for Okeh Records, a subsidiary of Columbia that issued country, blues, and jazz records. Burgess was eighteen when he recorded his first two Okeh singles: "Don't Put A Dent In My Heart" and "Too Late For Tears." In 1955, he recorded two singles for Tampa Records "Don't Turn Your Back On Love" and "Five Foot Two, Eyes Of Blue." All were country and had no success.
In 1956, Burgess was recording for Top Records. Top would take unknown, but talented artists, have them cover the latest hits as closely as possible to the original, then issue them four-to-a-record for forty nine cents. Top's slogan was "twice the music at half the cost" and it was a bargain until the unsuspecting buyer got home and played the record. Burgess appeared on an unknown amount of records, but at least ten came out with his name in the credits.
Ethics aside, Burgess got a first hand education in recording and performing while at Top. In 1957, while working as a deejay in Lancaster, CA. to past time he composed songs and sent them off to various music houses. Two became very successful that year" "I'm Available" in the "pop" field and "I'll Be There" in the country market.
His songwriting brought him to Challenge Records, a Los Angeles company founded

in April, 1957 by Gene Autrey.. There he recorded as Dave Dupree, as well as under his own name. Four of Challenge's first singles were recorded by Burgess, who became a regular session guitarist for Challenge.
One afternoon in 1957 Burgess was working a session. With some studio time remaining, Burgess asked the other musicians to stay to help him come up with a B-side for a record he had previously recorded.One musician offered a Tex-Mex sax line, another a snappy guitar riff, the drummer played a backbeat on the bell of his cymbal and Burgess plucked the muted strings of his electric guitar.The song was called "Tequila" and was spoken after each bridge. In ten minutes they had a take.
Everyone who heard the tune liked it and Challenge decided to release it immediately. However, the group needed a name, and someone suggested Champions, after Autrey's famous horse. The Champions became the Champs, and demo copies were sent to major deejays across the country in late December, 1957. "Tequila" was topping both the "pop" and R&B charts by March 1958 and went on to sell a million copies and win the 1958 Grammy for Best Rhythm and Blues Performance.
Request soon began coming in for personal appearances. Burgess, Chuck Rios-saxophone and Gene Alden -drums (these two had played at the Tequila session) were joined by Dale Norris - guitarist and Joe Burnass- bass, made up a working combo. The group hit the road with little rehearsal or preparation and it showed. Rio, an old hand at live performing became upset with the lack of professionalism and left the group in June, 1958. Several other personal changes followed.
In April, the second single "El Rancho Rock" was released. Another Tex-Mex tune it was based on a traditional Mexican song "El Rancho Grande" and sold about a half million copies in two and a half months. The third single "Chariot Rock" released in July sold moderately well
With constant personal changes there was little loyalty between members and performing became a "job." After "Chariot Rock" it wouldn't be until "Too Much Tequila," that the group would have another hit in early, 1960. The single sold well enough to keep the band on the road for another couple of years.
They went almost another two years before they had a hit "Limbo Rock." "Limbo Rock" remained popular through the summer of 1962 until Chubby Checker's vocal version came out. They were again rejuvenated as a touring unit. Again the group faced personal changes, including a brief membership by guitarist/vocalist Delaney Bramlett (later of Delaney and Bonnie), before disbanding in 1965. To other ex-Champs, Jimmy Seals and Dash Crofts, went on to form the Dawnbreakers before they reemerged in 1970 as Seals and Crofts.