The Robins/Coasters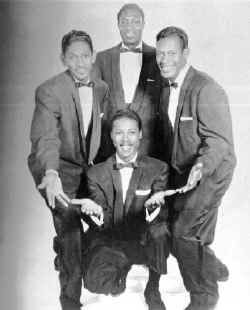 Left clockwise: Carl Gardner, Billy Nunn, Leon Hughes, Billy Guy
The Coasters comic vocals plus the writing and production of Jerry Leiber and Mike Stoller resulted in a string of wisecracking hits in the late fifties. they were among the first black singing groups to cross over and to be considered rock and roll.


Members:
Robins
Carl Gardner - lead
Bobby Nunn - bass
Ty Terell - tenor
Grady Chapman - tenor
Billy Richards
Ray Richards

Coasters
Carl Gardner
Bobby Nunn - replaced by Young Jessie - replaced by Cornell Gunter- replaced by Earl "Speedo" Campbell in 1960
Leon Hughes - second tenor - replaced by Will "Dub" Jones (1958) - replaced by Ronnie Bright (60s)
Billy Guy - first tenor


In Oakland, California in 1945 two brothers William and Ray Richards, with a friend, Ty Terell formed a trio. A year later they traveled to Los Angeles where they hoped to make it into the music business, Their main influence was secular music, rather then the rhythm and blues artists who had direct religious backgrounds. Originally called the A Sharp Trio they had trouble finding work. They soon began hanging out at the Barrelhouse Club, a Watts hangout for aspiring young R&B artists, owned by Johnny Otis. Otis took an interest in them and set a date for a recording session. Bobby Nunn on bass was added and the group became the Four Bluebirds.. The Richard brothers sang baritone and Terell lead tenor. At the session they cut "My Baby Done Told Me' b/w "Courtroom Blues" on Excelsior. The groups name changed once again to the Robins.

The Robins - 1953
(l to r top : Roy Richards, Bobby Nunn)
( l to r bottom: Grady Chapman, Ty Terell, Billy Richards)
The Robins recorded for Aladdin and it's subsidiary, Score, in 1949. By this time they were a featured attraction with the Johnny Otis Show. In 1949 and 1950 they often backed Little Esther or Mel Walker on sessions produced by Otis for Savoy Records.
The group began in Los Angeles in the late forties and were known as the Robins. In 1950 they had a number one hit with "Double Crossing Blues" featuring Little Esther Phillips. In 1953 they met Leiber and Stoller when they moved from Crown Records to RCA. In 1954 Robins followed Leiber and Stoller to Spark Records
Richard Berry was borrowed from the Flairs to sing bass lead on the Robins first release for Spark Records "Riot In Cell Block #9". While not a national hit it did sell 100,00 copies in Los Angeles and the Bay area.
The Robins became the label's most successful act with "Riot In Cell Block No. 9," "Framed," "The Hatchet Man" and "Smokey Jo's Cafe". In 1955 Atlantic bought the Robin's catalogue and contracted Leiber and Stoller as independent producers for other Atlantic acts.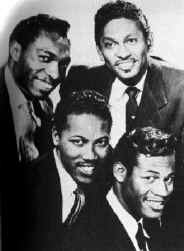 Coasters 1957-1958
Clockwise from top left: Bobby Nunn, Carl Gardner Billy Guy, Leon Hughes
At that time the group split with Carl Gardner and Bobby Nunn staying with Leiber and Stoller and Billy Guy, a comedic singer with unlimited vocal inflections and Leon Hughes were added. The new group was named the Coasters. Their first single "Down In Mexico" went top ten R&B in 1956. The next single "One Kiss Led To Another" went nowhere. Next "Searchin" b\w "Young Blood" went #1 pop and #3 in 1957. The record quickly sold two million copies as deejays first played one side then the other. However, there were people that didn't care for their clowning about sexual subjects.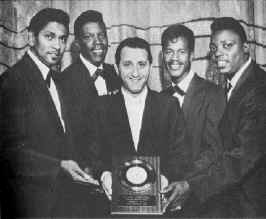 Coasters, manager Lester Sill with gold record for Yakety Yak
The next three singles barely sold. It wasn't the material or the delivery but, rather that they got caught in a backlash against rock and roll. Leiber and Stoller and the group moved to New York in 1957. Cornell Gunter, who had sung for the Flairs, replaced Jesse Obe. Bobby Nunn quit and was replaced by Will "Dub" Jones formerly with the Cadet Jacks in 1958 The next record to chart was "Yakety Yak" (#1, 1958) "Yakety Yak" was aimed at teenagers, talking to them about problems they actually experienced.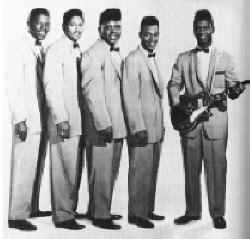 Coasters 1958-1960
L to R: Will "Dub" Jones, Carl Gardner
Cornell Gunther, Billy Guy, Adolph Jacobs
Followed by "Charlie Brown" (#2, 1959), was written to appeal specifically to teenagers. The Coasters and Leiber and Stoller now had a proven formula. "Along Came Jones" (#9, 1959) dealt with America's preoccupation with Westerns and "Poison Ivy" (#7, 1959) preached the lesson of "look but, don't touch". By the end of the Fifties the Coasters were America's most popular black rock and roll group.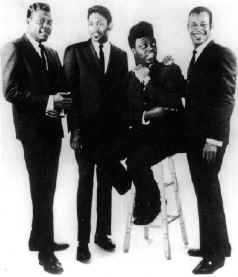 From left: Will "Dub" Jones, Carl Gardner, Cornell Gunter, Billy Guy
The Coasters had four records make the top forty in 1960 and 1961 and continued to record for Atco until 1966. Their last record to chart was with a Leiber and Stoller re-produced "Love Potion #9" in 1971. "If I Had A Hammer" was their last record released in 1976. Since then, Nunn, Gardner, and Hughes individually, and Guy and Jones together, at one time or another all led groups billed as the Coasters.
In 1988 Gardner, Guy, Jones, and Gunter (with Tom Palmer) performed at Atlantic Records' 40th anniversary concert in New York City. Gunter was murdered in Las Vegas in 1990. Nunn died in 1986 of a heart attack.
The Coasters were inducted into the Rock and Roll Hall of Fame in 1987
Carl Gardner and the Coasters
Claus' Coasters Page - Those Hoodlum Friends of Mine