Eddie Cochran

One of Rock and roll's first "legends" due to an early accidental death, Eddie Cochran was an early performer of rockabilly music and one of its most exciting and dynamic guitar players.






Eddie circa 1943

Eddie circa 1945


Cochran Family
Top: Frank, Alice Cochran Eddie
Bottom: Patty and Gloria

Born October 3, 1938 in Albert Lee, Minnesota, Eddie was the youngest of Alice and Frank Cochran's five children. At age eleven his family moved to Bell Gardens, California to join his brother Bill who had moved there when he got married after leaving the Military Service.
In 1951 Eddie was enrolled at Bell Gardens Junior High. It was here that he met Fred Conrad Smith, and a lifetime friendship.
At the age of 12 Cochran wanted to join the school orchestra as a drummer, opted for the trombone when he discovered that he would have to take piano lessons in order to play drums.

Cochran at about 15
When the director of the school band informed the family that Eddie didn't have the "lip" for trombone he suggested clarinet instead. Cochran refused to even consider it and stated that
he would quit the band if he couldn't play what he wanted. He then asked his brother Bob to show him some chords on Bill's old Kay guitar. Then he got a chord book and seemed to just naturally take it from there".
In September 1951 he met Fred Conrad Smith while attending junior high. Smith who shared the

same interest in music as Eddie played upright bass in the school band and would later became his bass guitar player. In late 1953 they formed The Melody Boys. Together with Al Garcia on lead guitar, Connie on steel guitar and Eddie playing rhythm they began playing country music as backup guitarists for singer Hank Cochran. Cochran began recording in 1955 with Hank Cochran (no relation) and they toured as the Cochran Brothers until 1956. After seeing Elvis Presley in Dallas in late 1955, Cochran switched to rock and roll. Cochran demonstrated his skill as a rockabilly guitarists at number of sessions in Los Angeles.
| | |
| --- | --- |
| The Cochran Brothers | Eddie with Jerry Capehart |
In the fall of 1956, while buying guitar strings in the Bell Gardens Music Center Eddie was introduced to Jerry Capehart, would later become his mentor, manager and co-writer.

Capehart who couldn't sing was looking to for someone to demo his songs. Eddie said that he and Hank would for a small fee. Shortly thereafter, they recorded three or four songs, but nothing came of these dubs. Capehart knowing he never make it as singer attempted to form a relationship with the Cochrans by using them as a backing band and offering to promote their careers. Eddie and Hank split up in 1956.

While recording background music for a low budget film Boris Petroff, the producer, asked him to appear and sing his song "Twenty Flight Rock" in The Girl Can't Help,one of the first color rock and roll movies. September 8th 1956 he was signed a one year contract with Liberty Records. Cochran appeared in two other films: Untamed Youth in 1957 singing "Cotton Picker" and Go, Johnny, Go in 1959, singing Teenage Heaven."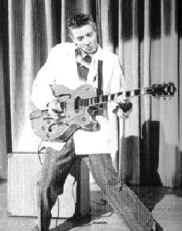 Photo from The Girl Can't Help It
His first hit was a cover of "Sittin in the Balcony" by Johnny Dee aka John D. Loudermilk, which had strong regional sales. Cochran's more polished version won out charting at #18. Coming at the same time as The Girl Can't Help It established Cochran on the rock and roll scene.

Eddie Cochran and Sharon Sheeley
June 11, 1958 "Summertime Blues" was released and then C'mon Everybody" both which were written by Cochran and Capehart. Cochran, an exceptionally talented guitarist, energetic stage performer, began touring extensively. A master of studio over dubbing Cochran sang all the parts on "C'mon Everybody" and "Summertime Blues".
| | | |
| --- | --- | --- |
| With Gene Vincent | | Memorial at crash site |
In early 1960 he toured the United Kingdom with his girlfriend, songwriter Sharon Sheeley, and fellow superstar performer Gene Vincent. The tour was a resounding success. Outside of London on the way to the airport to return to the United States, their cab was involved in a fatal accident in Chippenham, Wiltshire on April 17. Sheeley was not seriously hurt, but Vincent sustained injuries that left him with a limp for the rest of his life. Eddie Cochran was killed.
| | |
| --- | --- |
| Grave April 1960 | Gravestone at Forest Lawn Cemetery Cypress, California, USA |
Eddie Cochran was inducted into the Rock and Roll Hall of Fame in 1987

We'll Always Remember