Del Shannon

One of the best and most original rockers of the early '60s, Del Shannon was also one of the least typical. Although classified at times as a teen idol, he favored brooding themes of abandonment, loss, and rejection. In some respects he looked forward to the British Invasion with his frequent use of minor chords and his ability to write most of his own material.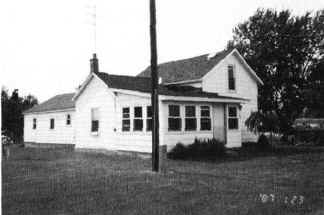 Boyhood Coopersville house
Charles Westover (nee Del Shannon) was born in Grand Rapids, Michigan on December 30, 1934. The son of Bert and Leone. Westover grew up in nearby Coopersville, a small farming town where he married his childhood sweetheart when he was seventeen. Shannon was fourteen when he learned to play the guitar and began performing in local school shows. After graduating from high school, he took his stage name from a friend (Mark Shannon) and his bosses car (a Cadillac Coupe DeVille) Shannon happened upon a gripping series of minor chords while playing with his band in Battle Creek, MI. The chords would form the basis for his 1961 debut single, "Runaway," one of the greatest hits of the early '60s.
Westover was drafted into the U.S. Army in 1956. Stationed in Stuttgart, Germany, he polished his guitar playing skills in the 7th Army's Get Up And Go program. Discharged in 1958, Westover returned to Michigan with wife Shirley where they settled in Battle Creek, Michigan.

At the Hi-Lo Club
After his discharge, he put together the Midnight Ramblers and started playing clubs between Grand Rapids and Detroit. He sold carpet during the day while the Midnight Ramblers became the house band at the Hi-Lo Club. The act was a mixture of influences that varied from rock and roll to Hank Williams to the Ink Spots. Shannon made two important changes. He assumed the stage name Del Shannon and added keyboard player Max Crook.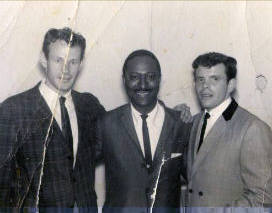 L-R: Max Crook, Ollie McLaughlin, Del Shannon
It was Crook that introduced Shannon to Ollie McLaughlin, a black deejay from Ann Arbor, who began to champion the band. McLaughlin made a few demo tapes and brought them to Irving Micahnik and Harry Balk of Embee Records. In October,1960 they signed them to Detroit's Big Top Records. He was then sent to New York to Bell Recording Studio. The results were four unsatisfactory songs. Shannon returned to Battle Creek and the Hi-Lo with instructions from Balk to write better songs..

Platinum Record earned for Runaway
Photo courtesy of the Coopersville Historical Society


Max Crook
One night four months later, Crook was playing the same two chords A-minor and C Major, A-minor and G-Major, over and over. Shannon and the rest of the band joined in. For fifteen minutes they played the hypnotic tune. Shannon began adding lyrics "As I Walk Along, I Wonder What Went Wrong..." The next day they completed the song, and Balk and Micahnik accompanied Shannon to New York This trip Shannon recorded "Runaway'"with its galloping beat, Max Crook's proto- synthesizer Musitron solo, and Shannon's nearly hiccuping falsetto. "Runaway" went all the way to number one in 1961. Shannon followed it up with the similar "Hats Off To Larry"

(#5), "So Long Baby" (#28), and "Hey! Little Girl" (#38) in 1961 and "Little Town Flirt" in 1962. Shannon's hit streak suffered somewhat in early '62 with two big flops, "Ginny In The Mirror" and "Cry Myself To Sleep," although the latter proved to be the chief inspiration for Elton John's "Crocodile Rock." His managers concerned, Shannon was flown to Nashville to develop a new sound. Shannon was given Roger Miller's "The Swiss Maid" to record.

These songs were even more successful in England, where Shannon was huge. On one of his European tours in 1963, he played some shows with the Beatles, who had just scored their first big British hits. Shannon, impressed by what he heard, would become the first American artist to cover a Beatles song when he recorded "From Me to You" for a 1963 single (although it would give him only a very small hit). Shannon's melodic style had some similarities with the burgeoning pop/rock wing of the British Invasion, and in 1965 Peter & Gordon would cover a Shannon composition, "I Go to Pieces," for a Top Ten hit.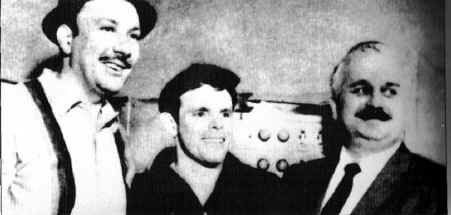 L to R: Harry Balk, Del Shannon, Irv Micahnik
In 1963 Shannon had legal problems with Balk and Micahnik, which went on for the next ten years. Shannon then formed Berlee Records and had a minor hit with "Sue's Gotta Be Mine" in late 1963. Switching to Amy Records, Shannon had a Top 25 hit with "Handy Man" and got into the Top Ten with a late-1964 single, "Keep Searchin'," that was one of his best and hardest-rocking outings. But after the similar "Stranger in Town" (#30, 1965), he wouldn't enter the Top 40 again for nearly a couple of decades. By 1966 Shannon had moved to Los Angeles and switched to a bigger label (Liberty), where producer Snuff Garrett and arranger Leon Russell attempted to mold him into a teen idol. It didn't bring the expected commercial results, although he was continuing to release quality singles. Part of the problem was that some of these were a bit too eager to recycle some of his stock minor-keyed riffs, as good as his prototype was. Shannon was asked to record "Action" the theme for the television show "Where the Action Is," which he turned down and became a top twenty hit for Freddy Cannon.
A brief association with producer Andrew Loog Oldham (also manager/producer of the Rolling Stones) found him continuing to evolve, developing a more baroque, orchestrated pop/rock sound, and employing British session musicians such as Nicky Hopkins. Much to Shannon's frustration, Liberty decided not to release the album that resulted from the collaboration (some of the material appeared on singles, and much of the rest of the sessions would eventually be issued for the collector market).
| | |
| --- | --- |
| Shannon with Jeff Lynne | Shannon with Tom Petty |
By the late '60s, Shannon was devoting much of his energy to producing other artists, most notably Smith and Brian Hyland ("Gypsy Woman"). Shannon was a perennially popular artist on the oldies circuit (particularly in Europe, where he had an especially devoted audience), and was always up for a comeback attempt on record. Sessions with Jeff Lynne and Dave Edmunds in the '70s didn't amount to much, but an early '80s album produced by Tom Petty (and featuring members of the Heartbreakers as backing musicians) got him into the Top 40 again with a cover of "Sea of Love." However, Shannon was unable to sustain a career outside the oldies revival circuit.
Through the remainder of the decade Shannon continued to perform, although he was financially secure. He was working on another comeback album (later released after his death as Rock On) with Jeff Lynne, and sometimes rumored as a replacement for Roy Orbison in the Traveling Wilburys.
On February 3, 1990, Shannon performed at the annual Buddy Holly concert in Clear Lake, Iowa. Five days later, back home in Santa Clarita Valley, California, unexpectedly killed himself while on anti-depressant drugs. At that time he was married to his second wife, Beverly LeAnne Gutierrz and had three grown children from his first marriage to, Shirley.
Shannon's wife filed suit a year late against the makers of the drug Prozac claiming that its use contributed to Shannon's death.
| | | |
| --- | --- | --- |
| Del Shannon / Runaway "Historic Site" Marker, dedicated September 29, 1990 in Battle Creek, Michigan | Del's daughters Kym and Jody with his manager Dan Bourgoise at the Rock and Roll Hall of Fame Ceremonies | Memorial in Shannon's hometown Cooperville, MI |
Max Crook died July 1, 2020.
Del Shannon was inducted into was inducted into the Rock and Roll Hall of Fame in 1999

Del Shannon