Dion DiMucci and the Belmonts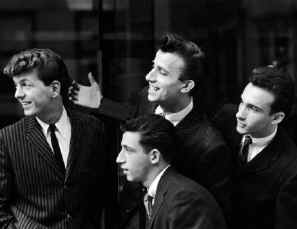 (closewise from the left) Dion DiMucci, Angelo D'Aleo, Fred Milano, Carlo Mastrangelo
The most successful white doo wop group, Dion and the Belmonts were perhaps the suavest of New York City's late-fifties white teen idols. Dion DiMucci broke from that clean-cut pack with an engagingly cool, streetwise swagger epitomized by "The Wanderer."


Members:
Dion DiMucci - lead
Angelo D'Aleo - first tenor
Fred Milano - second tenor
Carlo Mastrangelo - bass
| | | |
| --- | --- | --- |
| Pasquale and Frances DiMucci | Dion age three | Dion age twelve |
Dion DiMucci was born July 18, 1939 in the Bronx the eldest of the three children of Pasquale and Frances DiMucci. He had two sisters Joanie and Donna. His father was a professional puppeteer who spent his summers performing in the Borscht Belt, a collection of lounges, theaters and hotel showrooms from Boston to Philadelphia. Frances did piece work in the garment district.
He began singing at the age of five. A few years latter his Uncle Lou would buy him a guitar and teach him a few chords. His father introduced him to Paul Whitman, a 1920s bandleader who by the 1950s, was best known for discovering and promoting young talent. At about twelve Dion began appearing with Whitman on radio and television programs along the East Coast, including Whitman's own Teen Club.
As a teenager Dion had two things, other than girls, to occupy his time when he wasn't in school. One was the local gang, he belonged to the Fordham Daggers. The other was spending evenings singing on street corners.
Early in 1957, Dion booked some studio time and recorded four rock and roll songs as a Valentines Day present for his mother. The demo reached the producers of Teen Club TV show out of Philadelphia, where he made his performing debut in 1954.
Dion's reputation eventually spread far enough to reach Irv Spice who owned Mohawk Records. Using unknown studio musicians and backing vocalist Dion recorded "The Chosen Few" and "Out Of Colorado." After selling a few copies locally it was released by Jubilee, a larger New York record company. However, it was still unable to find an audience.

When approached by Spicer to record a second single Dion said he'd only do it with his own backing group. Spicer agreed and Dion found the three best street singers he knew. Two were Carlo Mastrangelo and Freddy Millano, members of rival gang, the Imperial Hoods. Along with Angelo D' Aleo they made up the Belmonts named after Belmont Avenue.
Dion began listening to street doo wop and composing in this style, and in early 1958, Mohawk issued "Tag Along" b/w "We Went Away."
With a sound that was raw and crude it's no wonder that few records were sold. However, they served another purpose. The opened the door for them to join another record company.
In 1958 Bob and Gene Schwartz, Elliott Greenberg and Allen Sussel began Laurie Records. Gene Schwartz had written "Tag Along," so when looking for an opening act for Laurie, Schwartz looked no further than Dion and the Belmonts. Laurie Record's first single "I Wonder Why" was recorded on afternoon at New York's Bell Sound Studios. Dion's vocal was slightly flat with slight nasal overtones - a style that would become his trademark, but the Belmonts were right on the money. "I Wonder Why" wasn't really what Dion and the Belmonts were all about, but it made people sit up and listen.
Released the first week of May, 1958 it was on the national charts two weeks later. Before the month was out, they were on Dick Clark's Saturday night CBS-TV show. For Dion, there would be no turning back. Immediately they were booked on a one-nighter tour that crisscrossed the country. He also began dabbling in drugs where he picked up a heroin habit that he didn't kick until 1968.
The Belmonts second single "I Wonder Why" was a hit, almost making the Top Twenty. "No One Knows" and "Don't Pity Me" followed, but the Belmonts big break out hit came in the spring of 1959 with "A Teenager in Love" (#5). The next year "Where or When" made it to #3.

Playing guitar at the Winter Dance Party
The Belmonts toured frequently, often on package tours with other stars. In February 1959, Dion passed up a plane ride on the chartered plane that later crashed, killing Buddy Holly, Ritchie Valens, and the Big Bopper.
By the early 60s Dion and the Belmonts broke up. The main reason was Dion's heroin habit which he had been nurturing since he was sixteen. At first, those around him tried to cover it up. In October 1959, While "When and Where" was nearing the top of the charts, Dion was hospitalized; in an attempt to kick the habit. Variety magazine quietly noted that he had been ordered by his doctor to "take a leave of absence." The outward impression was that Dion was overworked.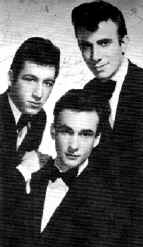 (L- R) Angelo D'Aleo, Fred Milano, Carlo Mastrangelo
The cohesiveness of the group was gone. Dion was busy with his new music publishing firm, Donna-Joan Music, named after his sisters. The Belmonts decided they could make it on their own and in the summer of 1960 they broke with Dion. Their first single on Laurie was "We Belong Together," but it failed to catch on. They moved to Surprise Records for "Tell Me Why" which was a nice up-tempo ballad, much like their earlier ones with Dion. In the spring of 1961, "Tell Me Why" was switched to Sabrina and eventually entered to Top Twenty. The Belmonts released a dozen singles on Sabrina in 1964. Sales were moderate to good along the East Coast, and their hits included "Don't Get Around Much Anymore" and "Come On Little Angel."
In an attempt to exert his independence, Dion's first three solo singles were distinctly different than those done with the Belmonts. "Lonely Teenager" featured a backing group with a female lead. With a bouncy rhythm it was near the Top Ten in the late fall of 1960. "The Kissing Game" an over produced record was another complete departure and was a disaster. Finally "Somebody Nobody Wants" was a tired record and it was obvious that a change was needed.

The Del-Satins
By early 1960 the unaccredited Del-Satins brought in to sing background vocals in the style of the Belmonts.. He had Top Ten hits with "Runaround Sue" (#1), "The Wanderer" (#2), "Lovers Who Wander" (#3), and "Little Diane" (#8) in 1962 .
With his contract up with Laurie in June, 1962, Dion jumped to Columbia. He brought along the Del-Satins and had hits with "Ruby Baby" (#2) "Drip Drop" (#6), and "Donna the Prima Donna" (#6) in 1963. By this time he was recording for Columbia Records. Dion also appeared in the film Teenage Millionaire in 1961.
DiMucci dropped The Del Satins in late 1963. In 1964 Dion released a string of unsuccessful covers and then began recording blues material around 1965 with little commercial success.
In 1967 he reunited with the Belmonts and they recorded "Mr. Movin' Man," "Berimbau," and an album Together Again for ABC Records in 1968. In early 1968 he moved with his wife and daughter to Miami, where with the help of his father-in-law, he finally kicked his heroin habit. Later that year he recorded the "Abraham, Martin, and John," a #4 hit ballad tribute to Lincoln, King, and Kennedy. The follow-up, a cover of Jimi Hendrix's "Purple Haze" omly reached #63 on the charts.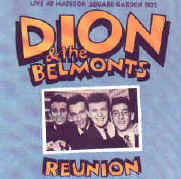 The next few years was spent on the singing in coffeehouses. Now with Warner Brothers, his debut album, Sit Down Old Friend, featured just his voice and acoustic guitar on eight songs. He next released was the anti-drug single "Your Own Backyard." Neither sold well, and Dion reunited with the Belmonts. The group played Madison Square Garden in mid-1972, as documented on the Reunion album. Dion briefly re-entered the show business mainstream, frequently appearing on TV variety shows. In the mid-Seventies Dion with Phil Spector recorded Born to Be with You, but it was only released in the U.K.


Dion returned to rock and roll in June 1987 with a series of sold out concerts at Radio City Music Hall. His autobiography The Wanderer was published in 1988. In 1989 with the assistance of Paul Simon, Lou Reed, and k.d. lang, Dion recorded Yo Frankie under producer Dave Edmunds, managing a minor hit with "In the Still of the Night." In 1990 he toured with Edmunds, Graham Parker, and Kim Wilson of the Fabulous Thunderbirds. By the mid-90s Dion had moved back to New York and formed the group the Little Kings with guitarists Scott Kempner of the Dictators and Del Lords, bassist Mike Mesaros of the Smithereens, and Frank Funaro of the Del Lords for engagements on the East Coast.
Dion was inducted into the Rock and Roll Hall of Fame in 1989.
Fred Milano passed aawy from lung cancer January 1, 2012 at the age of 72.
Carlo Mastrangelo passed away April 4, 2016 at the age of 78.