The Doo-Wop Groups
The Belmonts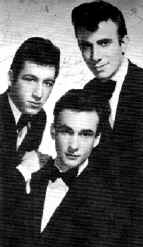 (l to r) Angelo D'Aleo, Fred Milanop, Carlo M<astrangelo
The Belmonts got their name from Belmont Avenue in the Bronx.


Members:
Carlo Mastrangelo - lead - replaced by Frank Lyndon (1962) repaced by Warren Gradus (1972) replaced by Freddie Cannon (1976)
Angel D'Aleo - first tenor
Fred Milano - second tenor
In 1960, Dion decided to pursue a solo career and parted company with the Belmonts. The usual perception is that the group disappeared after this, but the truth is that the Belmonts continued to enjoy success for the first year after his departure. The trio remained with Laurie Records for one single, "We Belong Together," featuring Carlo Mastrangelo as lead singer, and then formed their own label -- originally named Surprise, and then Sabrina, it was finally christened Sabina Records when those two earlier choices proved to belong to other companies. The label became active (as Surprise) in March of 1961 with the recording of "Tell Me Why," which rose to number 18 nationally. The follow-up record late that summer, "Don't Get Around Much Anymore," rose to a modest number 57, and the next release, "I Need Someone," only got to 75.

The Belmonts' fortunes picked up again with their Sabina single "Come On Little Angel," written by Ernie Maresca. Produced by Gerry Granahan, an established songwriter and recording star (as Dickie Do & the Don'ts), who also oversaw the operations of the company, the single got to number 28 during the summer of 1962. The group also made a bad miscalculation around this time when Maresca offered them the first crack at a song entitled "The Wanderer," and the Belmonts turned it down, only to see it become a massive hit -- indeed, a signature tune -- for Dion. A major lineup change then occurred, when a split developed within the group over their business affairs and the financial condition of Sabina Records; Mastrangelo exited the Belmonts in favor of trying to record solo for Laurie Records. The group carried on, replacing him with Frank Lyndon, and released their first LP, Carnival of Hits, late in 1962 to try and capitalize on "Come on Little Angel."
Sabina Records began diversifying its catalog slightly, releasing "Time to Dream," which was credited to Buddy Christie and Buddy Sheppard, with the Belmonts singing back up as "the Holidays." They also recorded material by a friend of theirs from the Bronx, Pete Barin, but the label couldn't seem to click with any records except those by the Belmonts themselves, and that was changing. By 1963, the Belmonts were not only struggling for a hit, and battling the woefully under-financed condition of their record label, but also changes in public taste. Dion had managed to keep his music current as a solo performer and racked up some huge hits in the process, through 1963, but the Belmonts, by the nature of their name and their harmony sound, seemed more dated. A brief revival in doo wop music in 1961 had been a godsend to the trio, in terms of bookings as well as record sales, and there'd been lots of work in New York and the surrounding area, at a time when they were just coming off of several big hits with Dion. By this time, there were other harmony-based groups out there recording and adding their own respective wrinkles to the music, including the Beach Boys and, closer to home, the East Coast-based Jay & the Americans and the Four Seasons, both of whom had a more commercial sound than the Belmonts. The sales of their own records began declining around this time, "Diddle-Dee-Dum" getting to number 53 and "Ann-Marie" to number 86 in 1963.

Sabina Records struggled on through a handful of additional releases by the Belmonts that never charted, and finally, in 1964, folded. The group moved to United Artists Records that year, and cut their final recordings from this part of their history there in 1966. The trio disbanded that year, although they were back together in 1967 on ABC Records with Together Again, an album that reunited them with Dion. The group remained active after this, cutting an album entitled Summer Love on the Dot Records label in 1969.

The group next became visible in the early '70s, amid the oldies boom. They cut an album for Buddah Records entitled Cigars Acappela Candy, on which they performed several classic oldies tracks and also applied their sound to contemporary hits like "My Sweet Lord" and "Na Na Hey Hey (Kiss Him Goodbye)." In 1972, however, they reunited with Dion for what proved to be the biggest single gig in their history, a performance at New York's Madison Square Garden, which was not only a sell-out event but also recorded for posterity and released as Live at Madison Square Garden 1972. Milano, Mastrangelo, and D'Aleo were the participants in that performance, which was reportedly released two different ways -- the original Warner Bros. LP was heavily sweetened in the studio, where the subsequent reissues (including the Rhino CD) were made from untouched tapes from the original show. The Madison Square Garden show and its aftermath, which included performances together in 1973 as well, basically allowed all concerned to grab their moment of glory. Dion resumed his solo career, while the Belmonts continued working and got another LP of their own out in 1978, entitled Cheek to Cheek, and generated a nostalgia-laced hit in 1981 entitled "Let's Put the Fun Back in Rock N Roll," on which they were teamed with Freddy Cannon, another veteran of early '60s rock & roll. The group's vintage post-Dion work resurfaced on Relic Records and the Ace label from England, which has made it part of it's reasons for existence to reissue seemingly every available note of music by both Dion and the Belmonts, and as of 1996, Fred Milano remained active representing the Belmonts.
Fred Milano passed away from lung cancer January 1, 2012 at the age of 72.
Carlo Mastrangelo passed away April 4, 2016 at the age of 78.

The Bop Chords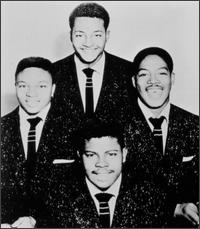 The Bop Chords were a musical group from Harlem, New York, founded in 1955. They had a hit record titled Castle in the Sky.


Members:
Ernest Harrison - lead
William Dailey - first tenor
Ken Hamilton - second tenor
Morris Smarr - baritone
Leon Ivey - bass
Harlem's Bop Chords formed in 1955 in the same building where the Ladders, Channels and Willows got their start. Lead vocalist Ernest Harrison, William Dailey, Ken Hamilton, Leon Ivey, and Morris Smarr had all sung with other neighborhood groups, and Hamilton had recorded with the Five Wings earlier in the year on a tribute to Johnny Ace that was issued by King. The Bop Chords recorded for Holiday in 1956, and the midtempo "Castle In The Sky" was a local and regional hit. Their second single, "When I Woke Up This Morning," also did well on the East Coast, but internal clashes over song content and wardrobe soon caused lineup defections and changes. Dailey and Smarr left and were replaced by Skip Boyd and Peggy Jones, their first female vocalist. They recorded "Why" in 1957, then disbanded. Harrison did background vocals for Shep and the Limelites and recorded "We Need Love" for Asnes in 1962 as Ernie Johnson. A new edition of the Bop Chords resurfaced in 1971, with lead vocalist Johnson, Hamilton, Boyd and Ivey. They never recorded, but were a popular attraction at various New York locations and oldies shows in the '70s. ~ Ron Wynn, All-Music Guide
The Cadets aka Jacks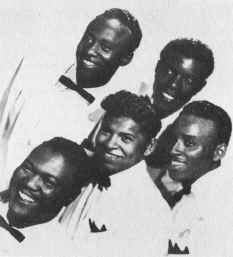 Clockwise from top: Willie Davis, Willie "Dub" Jones, Aaron Collins, Ted Taylor, Lloyd McGraw
The Cadets had the most intriguing dual careers in rock and roll history. From 1955-1957 they recorded and performed as both the Cadets and Jacks. Each had their own hits, different sound and direction


Members- Cadets:
Aaron Collins - lead Cadets/second tenor
Will "Dub" Jones - lead - Cadets and Jacks/ bass - replaced by George Hollis
Ted Taylor - first tenor
Willie Davis - second tenor
Lloyd McCraw - baritone - replaced by Thomas "Pete" Fox
Artist Biography by Ron Wynn

This West Coast group used two names for recording sessions. They called themselves the Jacks when doing dates for Modern and the Cadets on RPM. They began as a gospel group during the late '40s in Los Angeles. Ted Taylor, Aaron Collins, Lloyd McCraw, and Will Jones were the original lineup, and the Cadets were among the more popular bands doing R&B covers. The Cadets' lone hit was "Stranded in the Jungle," which they recorded for Modern as the Jacks in 1956. It peaked at number eight R&B and number 15 pop. Davis and Collins would later join the Flares in 1961, while Taylor would enjoy solo success as a blues, soul, and gospel vocalist. Jones joined the Coasters in 1958 and remained there for over a decade. Collins' sisters, Betty and Rose, also recorded for Modern/RPM as the Teen Queens.
The Cadillacs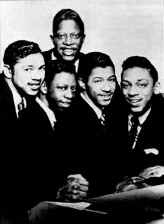 From top clockwise: Earl Carroll, Earl Wade, Charles Brooks, Robert Phillips, LaVerne Drake
A distinguished 50's R&B group whose legend has grown over the years, the Cadillacs considered uptempo like "Speedo" their forte, although later day fans often prefer their slow ballads


Members:
Earl Carroll - lead
Robert Phillips - bass
Laverne Drake - tenor replaced by J.R. Bailey May 1956
Gus Willingham - replaced by Charles Brook
James "Papa Clark" - tenor - replaced by Earl Wade

Equally adept at polished ballads or torrid rockers, the Cadillacs were one of New York's top doo-wop groups. The Harlem quintet signed with Josie in 1954 and debuted with the beautiful

"Gloria," but with Earl Carroll's (b. Nov 2, 1937) prominent energetic lead vocals, the Cadillacs became known for humorous jump material and hot choreography after

"Speedoo" hit big for them in 1956. Tapping into the novelty R&B market pioneered by the Coasters, the Cadillacs cut a load of great rockers during the late 50s, such as "Peek-A-Boo" and "Please, Mr. Johnson," and performed in the quickie flick Go, Johnny, Go! in 1959.
Carroll left to join the Coasters in 1958 but the group persevered, eventually signing with Mercury. Carroll has re-formed the Cadillacs in recent years. ~ Bill Dahl, All-Music Guide
The Capris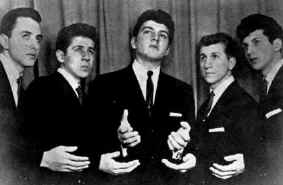 (L-R) Nick Naccarto, Mike Miniceli, Nick Santo, John Cassese, Frank Reina
The Capris met while playing baseball for Saint Athony's High in New York City in 1957.


Members:
Nick Santo - real name: Santamaria - lead
Mike Miniceli - first tenor
Frank Reina - bass
Vin Naccarato - second tenor
John Cassese - bass
The only major Capris hit, the romantic "There's a Moon Out Tonight," is a New York street-corner harmony classic. Doo-wop was back in fashion by 1961, and it was no longer limited to R&B aggregations. The Capris met while playing baseball for St. Anthony's High School in New York in 1957. Led by Nick Santo (born Nick Santamaria in 1941), the Capris named themselves after the Isle of Capri in Italy. The Queens, NY, natives originally cut "There's a Moon Out Tonight" for the obscure Planet imprint in 1958, but when the song was reissued on Lost Nite (and eventually on Old Town) it became a national smash its second time around in early 1961. After many moons out of the spotlight, the Capris came back triumphantly in 1981 with an album on Ambient Sound and an appearance on the PBS-TV series "Soundstage." ~ Bill Dahl, All-Music Guide
The Cellos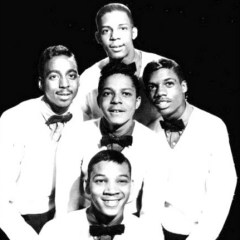 A New York street corner group that could really sing, the Cellos choose to make their niche oddball world of novelty records.


Members:
Alton Campbell - lead
Billy Montgomery - first tenor
Cliff Williams - second tenor
Bobby Thomas - baritone
Alvin Williams - bass
This five-man group formed in 1955 in Manhattan, influenced by local high school stars (the Kodoks, the Crests, the Schoolboys, and the Keynotes). After school harmonizing led to the Cellos making a $4 demo, which in true Hollywood movie tradition got them a recording contract! Though their moment in the spotlight was relatively brief, hitting the charts with their first single -- "Rang Tang Ding Dong (I Am the Japanese Sandman)" -- their street-corner sound nonetheless exemplifies New York doo-wop in its earliest stages. ~ Cub Koda, All-Music Guide
Earl Lewis and the Channels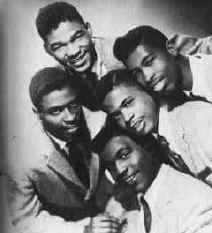 Clockwise from the top: Larry Hampden, Billy Morris, Edward Doulphin, Earl Lewis
The Channels were a group that became very popular despite not having a national hit


Members:
Earl Lewis - lead
Larry Hampden - first tenor
Billy Morris - second tenor
Edward Doulphin - baritone
Clifton Wright - bass
While never having a run of hits, the Channels were among the most popular East Coast doo wop ensembles. Larry Hampden, Billy Morris, and Edward Doulphin were charter members of the Channels, who formed in 1955. They started with two part-time members, but then absorbed lead vocalist Earl Michael Lewis and Clifton Wright from the Lotharios. Lewis became their principal songwriter and he penned their best-known hit, "The Closer You Are." The Channels also brought a fresh style to doo wop singing with their practice of opening a verse in five-part harmony, then having Lewis sing lead in the bridge. Later releases like "The Gleam in Your Eye" and "I Really Love You" were superbly performed, but never got the push needed for national recognition. They later recorded for Gone, Fury, Port, Hit, Enjoy, and Groove with numerous personnel changes. ~ Ron Wynn, All-Music Guide
The Charms


( l to r): Donald Peak, Richard Parker, Otis Williams, Roland Bradley, Joe Penn
The Charms were one of the most popular rhythm and blues acts of the mid-50s


Members:
Otis Williams - lead
Donald Peak - first tenor
Roland Bradley - second tenor
Joseph Penn - baritone
Richard Parker - bass
A Cincinnati vocal group who landed a number-one R&B hit for almost ten weeks in 1954 with "Hearts of Stone," a song that remains among the most enduring doo wop anthems. Otis Williams, Richard Parker, Donald Peak, Joe Penn, and Rolland Bradley first recorded for Rockin' in 1953, but did "Hearts of Stone" for Deluxe the next year. They had several other hits, among them "Ling, Ting, Tong," "Two Hearts," "Ivory Tower," and "United," all of which made the Top Ten on the R&B charts between 1955 and 1957. Their songs were issued as Otis Williams and His Charms in 1956 and 1957. Williams later tried his hand at country. -- Ron Wynn, All-Music Guide