Everly Brothers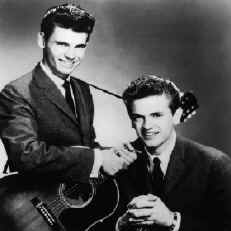 The Everly Brothers' teen hits brought into rock-'n' roll a tradition of close-harmony singing which stretched back through Appalachian country duos like the Louvin Brothers to centuries of Scottish and Irish folk music. It was essentially from this that their sharply observed - though sometimes maudlin -vignettes of girl or parent trouble gained their emotional whack. The Everly Brothers were one of the top acts in rock-and-roll history and, perhaps, are more responsible than anyone for moving country songs onto the pop charts.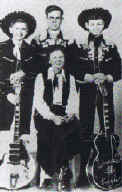 Everly family 1952
Photo courtesy Heide Ploen Collection
Ike Everly and to a lesser extent, his wife Margaret, were well-known in the South and the Midwest as folk and country music performers. Ike decided early in life to be a musician. Ike with his brothers Charlie and Leonard would have the most popular group in Muhlenberg county. Ike's guitar playing was influenced by Merle Travis, Sam McGee and other country music artists earlier in the Twentieth Century.
It seems that the brothers had composed an instrumental combining bluegrass and ragtime called "That's The Mood I'm In." Due to their lack of knowledge of the business side of music, they never copyright it. Later it was altered a bit and became a hit for Glenn Miller as "In The Mood" under another writers name. The brothers played everywhere and eventually ended up in Chicago for four years before they broke up. From Chicago Everlys moved to Iowa for seven years.
| | | |
| --- | --- | --- |
| | | Don and Phil in 1941, ages four and two |
Isaac Donald Everly was born in Brownie, Kentucky in 1937 and his brother Philip was born in Chicago two years later. The Don and Phil were taught guitar at an early age and began singing with their parents at ages eight and six respectively, a practice that they continued through high school.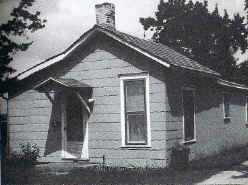 By 1945 they had moved to Shenandoah where Ike was appearing three times a day on a local radio station. Eventually, Margaret and the boys would join him over time. By 1950 The Everly Family Show was the most popular in the region. Eventually they moved from Shenandoah to Evansville, Indiana. As the demand for live radio performers declined they took to the road once again traveling from town to town singing at county fairs, political meetings and revivals.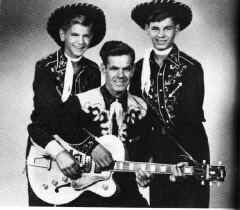 Photo courtesy Don Wayne Collection
Finally they settled in Knoxville where they appeared on radio from 1953 to 1955. Ike knew Chet Atkins who was becoming a success in Nashville as a session guitarist and recording star for RCA Victor. When he was introduced to Phil and Don Atkins liked what he saw and through his contacts Atkins got the brothers a six month contract with Columbia Records.
They only had one recording session with Columbia in November, 1955. Four songs were recorded but, only "The Sun Keeps Shining" b\w "Keep A' Lovin' Me" were released. There was really nothing there to set it apart from other singers from Appalachia. Only the vocals showed any promise. The little airplay that the records received was from deejays that knew the family.
Lack of success was nothing new to the Everlys. Don was asked to be a songwriter with Hill and Range, a major Nashville Publishing house. They continued to sing. Don switched to Acuff-Rose publishing. Here he wrote "Thou Shalt Not Steal" for Kitty Wells. His first royalty check was for $600

With Wesley Rose - 1957
Photo courtesy Heidi Ploen Collection


With Archie Bleyer


Wesley Rose, Ike and Chet Atkins 1957
Photo courtesy Jay Berman collection
Wesley Rose was aware that Archie Bleyer was looking for country talent and signed Phil and Don to Archie Bleyer's Cadence label in 1957. Their first Cadence session was in March, 1957 and overseen by old family friend Chet Atkins.
The first song that they recorded "Bye Bye Love" had been written by Felice and Boudleaux Bryant, a middle-aged husband and wife songwriting team who had an unerring ability to catch the angst and self-absorption of the average teen.
"Bye Bye Love", had already been rejected by thirty other acts. This time the boys and their musical mentor, Chet Atkins had something new to add. The new Everlys sound kept the high, keening harmonies, but backed them with robust acoustic guitars and a rock 'n' roll beat that owed something to Bo Diddley.

At the time country music was in a bit of decline as rock-and-roll music, led by Elvis Presley, Chuck Berry, Little Richard and others was becoming increasingly popular. The Everly Brothers' recording of "Bye Bye Love" rejuvenated the music business in Nashville, and it established Don and Phil Everly as legendary performers.
| | |
| --- | --- |
| Don Everly | Phil Everly |
Cadence label and suddenly had their first big hit with "Bye Bye Love," which reached number one on the country charts and crossed over to reach number two on the pop charts. For many acts the second release is more important then the first.a million-seller. The first time they have the advantage of being fresh and different. The second time can upset listeners by being to close to the original or being to different.