Fabiano "Fabian" Forte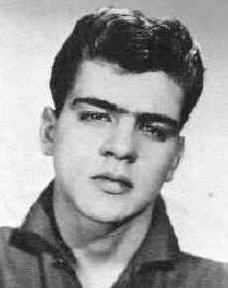 Fabian was marketed alongside several other late-fifties Philadelphia teen idols.


Fabian was born Fabiano Anthony Forte on February 6, 1943. He grew up in the Philadelphia's South Side, within blocks of Frankie Avalon and Bobby Rydell. He attended South Philly High and belong to the same boys clubs as Avalon and Rydell.
At age ten, he was working as a janitors assistant in the apartment building his family lived. At fourteen his father, a Philadelphia police officer, suffered a heart attack. Fabian was forced to work extra jobs to help his family pay the bills.
In junior high he tried out for a few sport teams and auditioned for the glee club. He had little ability in either. However, he had looks to die for. According to Dick Clark Fabian had "it."
| | |
| --- | --- |
| Peter DeAngelis | Bob Marucci |
Frankie Avalon's success led Bob Marucci and Peter DeAngelis to scour the South Philadelphia neighborhoods in search of talent. Avalon suggested they visit the Forte family and discovered Fabian sitting on the front porch. Legend has it he was crying over his fathers health and the plight of his family. Marucci approached him and asked him if he ever thought of being a rock and roll star.
Marucci and DeAngelis gave Fabian a complete makeover. Dressed him in V-neck sweaters to accentuate his facial features. Piled his hair high in a pompadour. On occasions covered his acne with pancake makeup. After his first recording session, he was enrolled with a vocal coach in hope that he could develop a passable singing voice.
In June, 1958 Fabian's first release on Chancellor Records was "I'm In Love." To promote the single Fabian was sent on a short trip of the Midwest and East Coast to visit with deejays. On June 19 he had a non-singing appearance on "American Bandstand. the girls went wild. On June 30, he made a second non-singing appearance on "Bandstand" and that evening made his first personal appearance in Albany, New York.
His first two singles "I'm In Love" and "Lily Lou" went nowhere and his third "I'm a Man" released in November looked like it would suffer the same fate.

Fabian appeared on American Bandstand on December 6, at which time he was allowed lip sync while the record played. Finally after a January 17 appearance the magic of "Bandstand" kicked in and "I'm a Man" began selling.
Marucci and DeAngilis decided to that the route to success was to promote an older image of Fabian. In his next record "Turn Me Loose" gone was the whining vocal replaced by self-assured, growling baritone. The next single "Tiger", relied even more strongly as promoting Fabian as a dangerous date for the teenage female fan and became his only gold record.
Fabian was a marketable product in the eyes of Hollywood. His first movie was "Hound Dog
Man" where he sang the title tune along with three other songs. His acting was nothing to brag about, but showed his drawing power with teenagers. He went on to co-star in "High Time" with Bing Crosby and and "North to Alaska" with John Wayne (both in 1960).
Fabian was voted most promising vocalist in a1959 poll. His recording career was pretty much over after having a Top Ten hit with "Hound Dog Man" in late 1959.
He moved to Los Angeles and appeared in a number of forgettable movies for the next ten years.
In the Seventies he attempted a singing comeback with the rock and roll revivals. in New York. He was so frightened that he couldn't sing.
In 1973 he posed for a semi-nude layout in the September, 1973 issue of Playgirl. He was sued for assaulting his wife and mother-in-law. After his divorce, he fell behind in his child support payments. He eked out a living acting until 1986. His continued failure to find success led to long periods of psychoanalysis.

The Boys of Bandstand
(Left to Right: Fabian, Frankie Avalon and Bobby Rydell)
Like Frankie Avalon, Fabian continued his association with Dick Clark. Through the 1980s Fabian often headlined Clark's traveling revues, acting more as an emcee than aging teen idol.. In the summer of 1985, he appeared with Frankie Avalon and Bobby Rydell on the Boys of Bandstand tour. In the late 1980s, Fabian became a producer of films and events. In 1993, he was music producer for the Time-Warner television series The Real West.